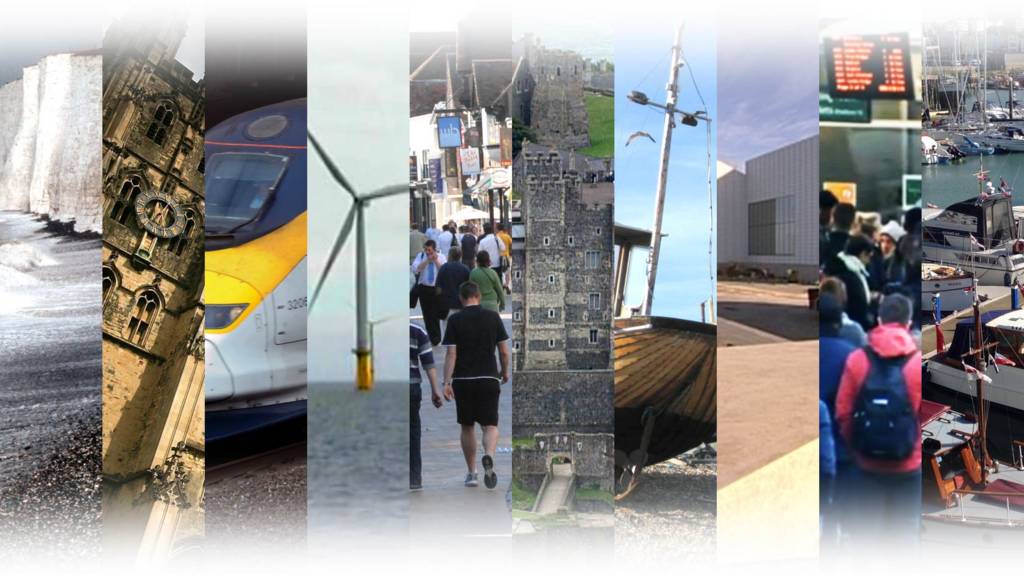 How are the roads looking in the run-up to rush hour?

The roads are running relatively smoothly in Kent at the moment. For a more detailed look visit the BBC Travel website. 

Image caption: How the roads are looking in Kent at the moment

Annual Ramsgate Regatta kicks off

Hundreds of sailors from the UK and Europe are in Ramsgate this week to take part in the town's annual yachting regatta.

It's been running since 1898 and attracts thousands of visitors to the Thanet coast.

Here's Maria Ramos' report.

Tributes for Kent scout who died

Twelve-year-old Charlie Girling died after collapsing in Finland at an international gathering. He was from the 1st Aylesford group.

You can leave your tributes on our Facebook page. 

A young scout dies, a rail fire near Gatwick, and students struggle to find anywhere to go. Here's your top headlines with Claire Cottingham.

South East Olympian to represent Zimbabwe

Three-day eventer Camilla Kruger has lived in the South East for almost two decades. 

Her family home is in Kent while her horse "Sam the Man" is stabled in Sussex. But in two weeks time, she will become the first equestrian competitor ever to represent the country of her birth, Zimbabwe, at the Olympics in Rio.

Death of a 12-year-old Aylesford scout

The scout who collapsed and died at an international gathering in Finland has been named as 12-year-old Charlie Girling from the 1st Aylesford group. 

Image caption: Charlie Girling died at a scout jamboree

A spokesman for the Scout Association said: "Our thoughts and prayers are with the family and friends of this young scout during this difficult and challenging time." 

Image caption: The death occured at Roihu 2016 - an international scout jamboree in Finland

  Full story here

Respects paid to young scout

Finnish scouts have paid their respects to the young Kent scout that died at the International Finnish Jamboree. 

Quote Message: The Guides and Scouts of Finland and Finnjamboree Roihu express their deepest condolences to the friends and family of the tragic medical situation that resulted in the death of a scout. We feel deeply sorry for their loss.

Quote Message: The loss has moved thousands of people within and outside the camp." from Anna Munsterhjelm Chief Scout, Guides and Scouts of Finland

'Too many prisoners feel unsafe'

The latest inspection of Swaleside Prison on Sheppey has found it to be "dangerous".

The Chief Inspector of Prisons, Peter Clarke, has been explaining his findings.

Minister sends condolences to scout's family

Aylesford and Chatham MP Tracey Crouch sent her condolences after a scout from Kent died during a jamboree event in Finland.

Breaking

Young Kent scout dies in Finland

A Kent scout has died after collapsing at Roihu 2016, the International Finnish Jamboree on Sunday evening.

Medical teams and paramedics from the local hospital were on the scene, but were unable to save him. 

Quote Message: Our thoughts and prayers are with the family and friends of this young Scout during this difficult and challenging time. We will be working with the Finnish Scout Movement and the relevant local authorities to establish the full details of this tragic incident." from Wayne Bulpitt Spokesperson, Kent Scouts

Gatwick rail delays: 'Difficult to estimate when services will resume'

There are warnings of significant delays to holidaymakers trying to get to Gatwick Airport by rail due to a track fire. Network Rail says the damage is "quite extensive" and it's "difficult to give an estimate when the railway will return to normal." Southern says disruption is expected to last all day.    

It's noticeably cooler than previous days

Kate Kinsella

Weather presenter

There's a distinct drop in temperature from previous days. Here's my lunchtime forecast.

Relief after Operation Stack, seagull attacks investigated and the South East faces drought - it's #onthisday

'I've been spat at and pushed around'

Traffic wardens in Gravesham have been issued with body cameras to try and reduce the risk of attacks.

They began wearing them this week.

Images released in relation to Dover violence

Eight images have been released by Kent Police in their investigation into criminal activity during demonstrations in Dover. 

Seventy-four arrests have been made in connection with the march and separate counter-protest held in the town on 30 January.

Image caption: Eight people Kent police want to talk with

Levels of violence 'too high' at prison

A jail where a prison officer was attacked two years ago is still "not safe" with "far too high" levels of violence, an inspection has found.  

Chief Inspector of Prisons Peter Clarke described Swaleside Prison, on the Isle of Sheppey, as "dangerous". However, he said there were signs "it had started to stabilise".  

Read the story here.

Gatwick rail delays 'expected all day'

A rail track fire at Gatwick airport has caused huge delays to commuters and holidaymakers this morning.

Delays are now expected to last all day, according to National Rail Enquiries.  

This morning's top stories

A prison criticised, beach incident latest and traffic wardens with body cameras. Here's our #3in30 

Groundbreaking dialysis research in Kent

Mark Norman

BBC South East Health Correspondent

NHS patients undergoing kidney dialysis in Kent are taking part in a groundbreaking clinical trial described as the largest ever of its kind.

We've been given exclusive access.