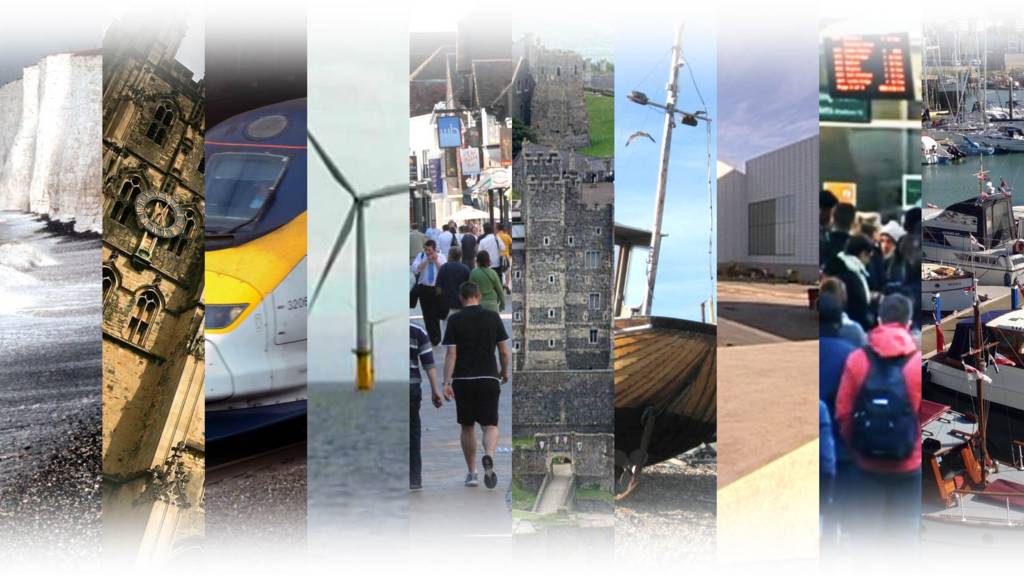 Summary
Updates on Monday 13 June 2016
Residents in west Kent are warned to be on their guard for a potential scam after phones were delivered to people's homes without them being ordered. 

Men then turned up on the doorstep demanding the phones be returned. Read the Kent and Sussex Courier's story here.

Port of Dover delays due to Euro 2016

Heightened French security for Euro 2016 continues with tourists being warned of queues at border control.

Crack cocaine and heroin found after police chase

A "large quantity" of crack cocaine and heroin was found in a car which failed to stop for Kent Police in Chatham.

Officers pursued the car for a short distance before stopping it and arresting a 41-year-old man and two 16-year-old boys on Sunday.

Image caption: Kent Police arrested three people in Chatham

Shepherd Neame buys eight pubs

Faversham brewer Shepherd Neame has announced it will buy eight pubs in Kent, Sussex and Surrey.

It has also said it will transfer a further five pubs in Canterbury and Faversham - which it leases to firm UES - back under its control.

Both deals are worth a total of £13.4m, the company said.

EU Referendum panel discussion

BBC Radio Kent's Lembit Opik hosted an EU Referendum panel discussion in Ashford earlier.

We streamed it live on our Facebook page where you can watch the recording now. 

Should the England football team be sent home?

This morning on BBC Radio Kent, Julia George asked, "should the England football team be sent home if there's more violence at the Euros?"

This is what you had to say on Twitter. 

Kent Speedway has called off this evening's National League meeting against Rye House Raiders due to rain.

It has been rearranged for Monday 11 July 18:30 BST.

Image caption: Kent Speedway were due to race Rye House Raiders

Farage's Brexit battle bus

Our Political Editor Helen Catt is following UKIP leader Nigel Farage around Kent on the Brexit battle bus.

A royal honour, a major development at Pfizer and a safety charity gets celebrity endorsement - here's today's #OnThisDay.

Sailor reunited with rescuers

KentOnline

Newspaper/website

A father-of-four who was lucky to survive after falling from a boat in the pitch black has been reunited with the Sheppey RNLI crew who pulled him to safety. Read KentOnline's story here.

Laurel and Hardy visit Brands Hatch

Something to cheer up your Monday morning.

Laurel and Hardy battled through the rain to entertain motor racing fans at Brands Hatch this weekend as part of the American SpeedFest.

Dramatic thunder storm photograph

Kent's Conor Washington features at #Euro2016

Unlucky first match for Chatham's Conor Washington at Euro2016.

The last thing anyone wants on a Monday morning is getting stuck in traffic... make sure you keep up to date with the latest on the roads and rail here.

Labour and Portslade MP Peter Kyle believes being in the EU makes the UK more secure.

Here's why the Remain camp feels Britain is stronger in Europe.

Maria Caulfield on security

During the BBC South East debate on the EU referendum, security was discussed. Here's what the Lewes MP - and Vote Leave supporter - Maria Caulfied had to say.

Here are the Vote Leave arguments on intelligence sharing and Brexit.

Replacement buses until noon

More in our travel bulletins on BBC Radio Kent breakfast with Maggie Doyle and Kate Recordon. Listen here. 

Weather warning issued for west Kent

Yellow alert for rain in Kent - more from the Met office here.

Image caption: Met Office warning

Top stories in Kent this morning

EU debate gets heated, rail rows continue and clampdown on smoke alarms. I've had a look at the headlines in Kent today.