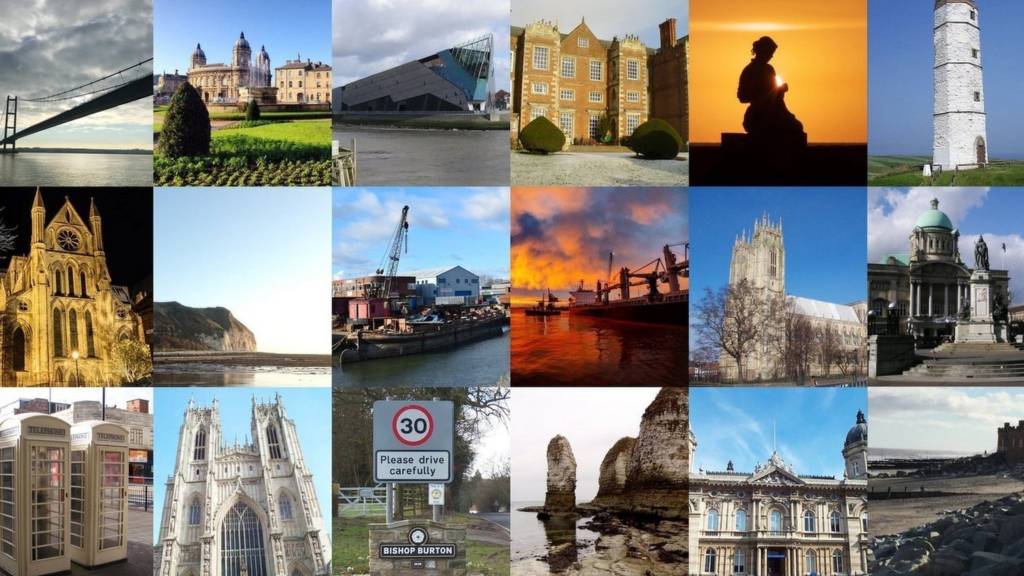 East Yorkshire and northern Lincolnshire breaking news: Latest updates
Five things we've learned today

Hayley Ritchie

BBC Local Live

That's all from me for today, but we'll be back from 08:00 on Monday with more news, travel, sport and weather updates.

Before I go, let's have a look at five things we've learned today:

Watch: A blustery evening ahead

Abbie Dewhurst

Weather Presenter, BBC Look North

Most place will become dry overnight with clear periods, although a few showers may continue to affect the Pennines.

Staying rather breezy through the night.

Here's the full forecast:

Tips for a special parkrun weekend

It's a special weekend in parks around the country.

Tomorrow, those who take part in their local parkrun might find themselves jogging alongside some of the country's sporting stars.

It's all part of campaign for National Lottery funded athletes to give back and say thank you.

And, if you've never heard of of done a parkrun, it's really easy to get involved. Here's Team GB rowing legend Katherine Grainger to give you the low down in five simple steps....

North Ferriby man takes on epic round-the-world challenge

Victoria Holland

BBC Look North

An East Yorkshire man is preparing to take on an incredible challenge - to sail around the world.

Copyright: Clipper Round The World

Ewan Masson, 60, is due to take part in the Round the World Clipper Yacht Race, which sets off from Liverpool on Sunday.

Mr Masson, from North Ferriby, has sailed all his life and previously completed two legs of the competition back in 2007-08, but this time he plans to finish the full journey around the world.

Cleethorpes newspaper closes due to 'tough trading conditions'

Harry Parkhill

BBC Local Live, Lincolnshire

The Cleethorpes Chronicle has unexpectedly announced that it has printed its last edition.

Copyright: Cleethorpes Chronicle

The weekly newspaper, which was launched in 2008, called itself the "only locally owned newspaper" in the area.

In a statement, the owners of the paper say that it's due to "tough trading conditions".

They say a "shrinking advertising market" means they're unable to produce a paper to the level their customers are "accustomed to and deserve":

Quote Message: We take an enormous amount of pride in what we have achieved since March 2008, producing a well-read, highly-respected local newspaper every week during turbulent economic times." from Mark Webb and Nigel Lowther Directors, Cleethorpes Chronicle

Destination Hull: European visitors on the rise

Leanne Brown

BBC Look North

Tourism organisations are reporting a rise in the number of people visiting our region from mainland Europe.

Hull City Council says its work to attract tourists from countries like Belgium, Holland and Germany is paying off.

According to the council, in 2015 - the latest figures available - there was a 16% increase in tourism from the Continent.

East Yorkshire farm installs milk vending machine

Kate Sweeting

Reporter, BBC Look North

For more than a decade, dairy farmers in East Yorkshire and northern Lincolnshire have faced increased pressure to keep prices low, with almost 30% of farms closing in the last 15 years.

But some farms, like Cherry View Milk in Cherry Burton, are finding new ways to cut out the supermarkets by selling milk directly to customers at the farm gate - using a vending machine.

Delivered from Italy, the new machine dispenses fresh, cold milk into villagers' own bottles.

It means the farm gets £1 per litre for its product, as opposed to 25p from the supermarket.

Fancy a trip up Hull Minster?

Kofi Smiles

BBC Face of Hull 2017

Ever wanted to get a bird's eye view of Hull?

Now's your chance, with Hull Minster offering free tours to the very top of the landmark building's tower.

As I've been finding out, you can get a 360-degree view of the city - and what a view it is:

Hull vigil for Spain and US attack victims

David Harrison

BBC Radio Humberside

A vigil is due to be held outside Hull's Paragon Station for those killed and injured in the Barcelona, Cambrils and Charlottesville attacks.

Fourteen people have now died and more than 100 people were injured in two attacks in Spain yesterday.

Meanwhile, one woman died and dozens were hurt when a driver ploughed into a crowd of counter protesters during a white supremacist rally in Virginia last weekend.

The vigil in Hull is due to start at about 17:00.

Northern rail strikes set for September

Further rail strikes have been set for next month to coincide with schools going back in the row over driver-only-operated trains.

Arriva Rail North, Merseyrail and Southern RMT staff will walk out from Friday 1 September with the last strike on Monday 4 September.

The RMT said no progress had been made over the future of the role of guards, due to safety and job loss fears.

Arriva Rail North said it is prepared to guarantee jobs.

Workers from the company - which operates under the brand Northern - will walk out on Friday 1 September and Monday 4 September.

Revving up for the weekend: Superbike Championship gets into gear

Lincolnshire's Cadwell Park plays host to the British Superbike Championship this weekend - and there'll be plenty of East Yorkshire interest in the event.

Copyright: 4SR/For Street Racing

The Cadwell Park track is described as one of the most challenging of the BSB circuit, attracting thousands of fans from across East Yorkshire and Lincolnshire.

And James Westmoreland (pictured), from Hedon, near Hull, is one of the motorcycle racers taking part this weekend.

Organisers hope the event will bring a huge benefit to the local economy.

'Amazing' response to Humberside Police's recruitment call

It seems many people across East Yorkshire and northern Lincolnshire are keen to become police officers.

Humberside Police say they have had an "amazing response" to their latest phase of recruitment which closed on Monday, with 1,551 people applying to work for the force.

The force's new chief constable, Lee Freeman, who started work in June, says he wants to take on 300 new officers over the next 18 months.

If you missed the opportunity to apply this time, don't worry as Humberside Police say they will be recruiting again soon.

Bridlington coach park move gets green light

Plans to relocate a coach park in Bridlington closer to the coast have been approved by East Riding of Yorkshire Council.

The authority says the planned coach park move to Limekiln Lane will support its overall regeneration plan for Bridlington and will help to attract further investment to the town.

A petition set up by campaigners against the move (pictured) has attracted about 1,000 signatures, with protesters saying they may now take further action against the move.

Anger at phone mast put up 'without permission' in Grimsby

A mobile phone company has "ridden roughshod over democracy" by installing a phone mast in Grimsby without permission, a councillor claims.

Steve Beasant, Liberal Democrat councillor for East Marsh, is unhappy with EE's decision to put up the temporary mast in the town.

It comes just a few months after the company was told it wasn't allowed to build a mast just a few metres away.

EE has told the BBC its current mast in the area is due to be removed this month, and this new mast is just temporary until the firm can secure a new location.

North East Lincolnshire Council says it is now investigating whether the siting of the mast needs planning permission.

Your headlines this lunchtime

Richard Madden

BBC Radio Humberside News

The top stories form across East Yorkshire and northern Lincolnshire so far today include:

Hull man describes "mayhem" after Barcelona attack
More than 1,500 people apply to join Humberside Police in the last few days
There are fears some music venues may close in Hull after a decline in audiences

Weather: A mixed bag this afternoon

Abbie Dewhurst

Weather Presenter, BBC Look North

A day of sunshine and blustery showers. Some of the showers are likely to be heavy with a risk of thunder.

A windy day generally, the winds especially gusty near showers and it will feel cool.

Most places becoming dry overnight, staying breezy and turning chilly.

Hull man describes 'mayhem' after Barcelona attack

A man from Hull who's currently in Barcelona says "mayhem" followed yesterday's terror attack in the city.

Fourteen people have now died and more than 100 were injured in the attack, when a white van was driven into people on Las Ramblas, the famous boulevard in central Barcelona which was packed with tourists.

So-called Islamic State has since said it carried out the attack.

Nick Mouncey, from Hull, was on Las Ramblas when it happened and he's told BBC Radio 5 Live that he "heard a loud bang followed by screaming".

He described the aftermath as "mayhem" as a crowd rushed towards him and he saw bodies on the road. He went into a cafe and hid in a corner with his girlfriend.

Mr Mouncey and his family are now safe.

Hull City turn down £12m Swansea City bid for Sam Clucas

Swansea City have had a bid of about £12m turned down for Hull City midfielder Sam Clucas.

The Swans are looking for a replacement for Gylfi Sigurdsson after the Iceland international moved to Everton in a deal worth up to £45m.

Clucas was also wanted by Swansea's Premier League rivals Burnley, who had a £10m bid for him turned down.

The 26-year-old, who has two years left on his contract with the Tigers, has been with Hull since his 2015 move from Chesterfield and has made 84 league appearances.

Hospital seeks new staff as 'temporary' ward suspension continues

Chris Arundel

BBC Radio Humberside

The search is on for new staff for Withernsea Hospital, it's been confirmed.

Earlier this week, ward admissions at the community hospital were suspended amid "staffing shortages".

Healthcare providers said the closure at Withernsea Community Hospital, East Yorkshire, was temporary, and current inpatients were unaffected.

The Community Healthcare Partnership says it's now advertising for new staff .