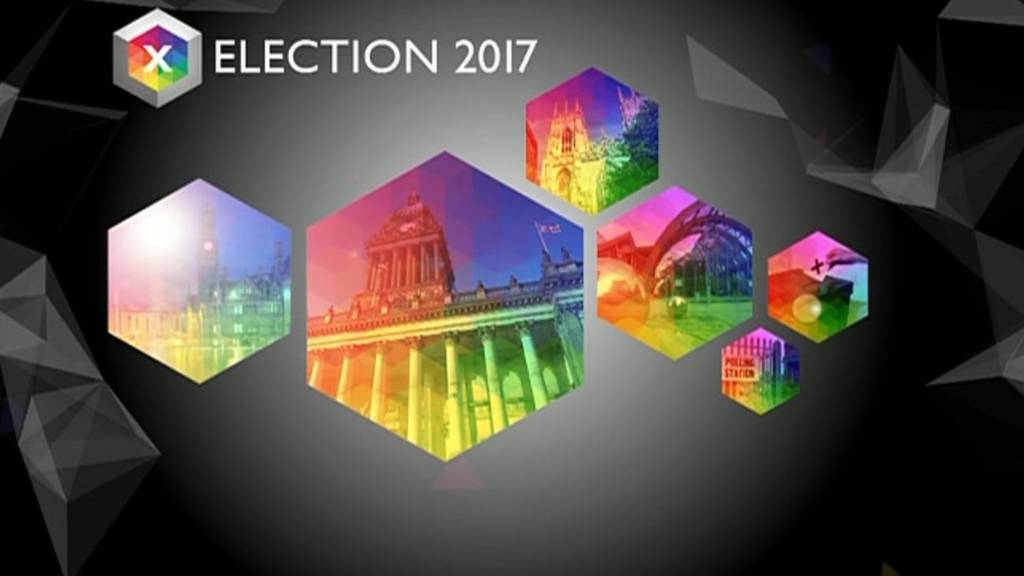 Election 2017: The Yorkshire debate
Summary
Debate takes place at the Square Chapel in Halifax
Conservatives represented by Rishi Sunak (Candidate for Richmond)
Labour represented by John Healey (Candidate for Wentworth and Dearne)
UKIP represented by Stephen Place (Candidate for Bradford South)
Liberal Democrats represented by Di Keal (Candidate for Thirsk and Malton)
Green Paty represented by Natalie Bennett (Candidate in Sheffield Central)
Yorkshire Party represented by leader Stewart Arnold
If you missed the debate or simply want to watch again, you can watch the Yorkshire debate below.
That's the end of our debate
Thanks for your time in following this.
We hope it's helped you clarify any questions you had about the general election.
You can always find out more on the BBC's politics page online.
Healey: Current government 'picking on' young people
John Healey, from Labour, says the government was "picking on" younger people as they were less likely to turn out to vote.
Speaking about the current government, he said: "[They have been] axing housing benefit support for the under 21s, locking out first time buyers from the housing market and slamming the door with raised tuition fees."
Young people 'being left behind', according to Place
UKIP's Stephen Place says it was "criminal" that young people are being "left behind", with the situation arising where they will be "worse off than their parents".
He criticises the loss of apprenticeship programmes and technical colleges.
Green Party: Schools are 'exam factories'
Natalie Bennett says schools have become "exam factories".
The Greens want to abolish SATs and OFSTED and get schools "providing an education for life, not just exams", she says.
'Young voters not represented' says questioner
Ms Hennessy-Jackson, who asked the question, responds: "Young voters don't feel like they're being represented.
"We're a very student-heavy constituency in Leeds North West and we got leaflets through our door that don't even mention students," she says.
North-south divide 'also in education'
There's a north-south divide in education spending as well as infrastructure, according to the Yorkshire Party's Stewart Arnold.
"Some kids in London are getting twice as much spent on them as kids in York", he says.
Keal: 'More affordable housing for young people'
Di Keal, of the Lib Dems, says "we should support people right across the board", but we did need "more affordable housing for young people".
Free child care for the under twos should also be a priority to help support young families, she adds.
How do you end the generation gap?
Georgia Hennessy-Jackson asks: "Political rhetoric is aimed more towards older people and they seem to benefit the most.
"How will you end the generation gap which sees more young people hit hard, while older voters keep getting richer?"
Healey: North-south divide runs 'deep'
We have a "deep" north-south divide, says Labour's John Healey.
He continues: "Over the next few years, over half the total investment in transport is set to be in London.
"Of all the regions, Yorkshire is set to get the least - we have to change that."
Conservative treatment of the NHS criticised
There's critical voices of the Tories' treatment of the NHS in the audience, with one NHS worker claiming nurses were having to "get food from food banks".
In response, Rishi Sunak says there's £8bn more going into the NHS "over the next few years", which is what the CEO of the NHS "said that he wanted".
HS2 a 'white elephant', says Nigel
Mr Durbin, who asked the original question about tackling a north-south divide, describes HS2 as a "white elephant".
"It doesn't need to be built, put the billions of pounds into the NHS", he says.
HS2 a 'vanity project', says UKIP
Stephen Place, of UKIP, says "you can double" the estimated £60bn cost of HS2, simply to get someone "from Birmingham to London 30 minutes quicker".
He describes the whole project as a "fallacy" and a "vanity project".
Bennett came to debate on 'slow and rattly train'
Natalie Bennett, of the Green Party, says she travelled to the debate on a "slow and rattly" train from Sheffield.
"We need investment in our regional trains and bus services", she says, with Bennett opposing HS2.
Northern Powerhouse to continue, says Sunak
Rishi Sunak, from the Conservatives, says George Osborne was "passionate in creating a Northern Powerhouse", with his work now to be carried forward.
He says the new transport body for the north of England will help to get the money going to where it should be and help our cities to "punch our economic weight".
Fracking concerns 'ignored by government'
Di Keal says there is "overwhelming opposition to fracking in the north of England", but concerns have been "ignored by this government".
The Lib Dem candidate says the Conservatives will "take democracy away from people in the north".
Arnold: Yorkshire needs to 'set own priorities'
The Yorkshire Party's Stewart Arnold says powers needed to be devolved up to the county so we "set our own priorities" and "spend accordingly".
He says: "There's things happening to us that we don't neccessarily want, like fracking and HS2."
Third question: Tackling the north-south divide
Nigel Durbin asks: "How would the panel decrease the north-south divide and ensure a greater distribution of wealth away from London and the south east?"
Does Yorkshire have a Brexit voice?
The Yorkshire Party's Stewart Arnold says he believes the county has 'no voice' on Brexit:
Your responses to the debate
Twitter users have been commenting using our #ge2017yorks hashtag.
Straighforward leadership for a good deal say Conservatives
Conservative Rishi Sunak says you know what you are going to get from his party.
He adds:
It's straightforward. Brexit is an opportunity for this country."
He adds:
We will be back in control of our borders, our laws and our money and those are the things which are paramount in that negotiation."
Labour's Healey on who's best for Brexit
Labour's John Healey, know for his plain speaking, says he believes the Conservative leader is 'weak and wobbly' rather than strong and stable:
Audience reaction to Brexit debate
There has been a variety of audience reaction on the subject of Brexit.
This answer was probably the most passionate:
Liberal Democrats' "completely different attitude"
That's what candidate Di Keal says her party have on Brexit.
She says: "We don't believe the country under Therea May or Jeremy Corbyn would be going in the right direction because they are talking about a hard Brexit."
She says her party believes that the British people have a right to a say on the deal obtained.
Greens have their say on Brexit
Natalie Bennett says it's not a clear cut choice between Conservatives and Labour.
She says her party are looking to get more MPs in order to give their views a stronger voice.
Watch the rest of her answer below:
A fresh voice to stop 'backsliding' say UKIP
UKIP's Stephen Place says "it certainly isn't" Labour leader Jeremy Corbyn who can get the best deal for Yorkshire.
He also pours scorn on Conservative leader Theresa May, accusing her of 'back-sliding'.
He adds:
We (UKIP) are not a spent force. I'm not getting that on the streets and on the doorsteps.
However, he admits that you would have to "delude yourself" to believe UKIP would be in power next week, suggesting instead the party is offering voters a fresh voice.
Second question: The best Brexit deal?
The second question of the evening is from audience member Tim Newton.
He asks:
A year ago, we voted to leave the EU, that's why we are having this general election. Of the two prospective Prime Ministerial candidates who can best be trusted to get the best Brexit deal for Yorkshire and the north of England?
Arnold: Loss of officers 'got to be rectified'
Yorkshire Party's Stewart Arnold says if you take police "off the street" and out of intelligence services, "surely that's going to have a knock-on effect".
The county's significant loss in police officers "has got to be rectified", he added.
'Revoke their passports', says Place
A post-Manchester review by Labour and a Tory commission into child sexual exploitation are about as much use "as a chocolate fireguard", says UKIP's Stephen Place.
"Anybody who has left this country and gone to ISIS, we should immediately revoke their passports and citizenship," he says.
Bennett: Prevent strategy 'demonizes communities'
The Greens' Natalie Bennett thinks we need to "support human rights around the world" to help prevent future terror attacks, with the UK's foreign interventions and arms deals criticized.
She also attacks the Prevent strategy for "demonizing communities" locally in Britain.
'Community cohesion' a focus for Keal
Lib Dem Di Keal feels we need to focus on "bringing people together".
She says: "Yes, we do need more police, but we also need to work really hard on community cohesion."
Healey: Tory cuts to police forces 'due to continue'
The number of counter terror cases the police are having to deal with "is increasing all the time", Labour's John Healey says, with "neighbourhood policing needed "more than ever".
He criticizes the Conservatives for the level of cuts we have seen to our police forces, with it "due to continue for the next five years" if the Tories remain in power.
Sunak: 'We need to focus on prevention'
Conservative candidate Rishi Sunak pays tribute to the "incredible professionalism" of the emergency services responding to the Manchester terror attack.
He said we should focus on our intelligence services remaining "the best in the world", giving them the tools they need and to focus on "prevention".
Presenter Harry Gration put to him the numbers of police officers in West Yorkshire had been cut by a fifth, with Mr Sunak countering the "counter-terror budget has increased".
First question: How will you prevent another terror attack?
Morgan asks: "Manchester is just 30 miles from where we sit tonight, what will your party do to reduce the chance of another terrorist attack following last week's atrocity?"
Yorkshire debate: Please welcome tonight's panel
Appearing on tonight's Yorkshire debate, we have:
Natalie Bennett, Green Party candidate for Sheffield Central
John Healey, Labour candidate for Wentworth and Dearne
Rishi Sunak, Conservative candidate for Richmond
Di Keal, Liberal Democrat candidate for Thirsk and Malton
Stephen Place, UKIP candidate for Bradford South
Stewart Arnold, leader of the Yorkshire Party
Which constituency are you in?
The BBC has a Reality Check service which aims to sort the facts from the spin.
Whether it's education funding, housebuilding or police numbers, our service aims to cut through the bluster and deliver you the facts you need to make your decision.
You can find out more here.
It can be tough to figure out who stands for what.
The BBC has created a manifesto guide to get you to the heart of what each party stands for and what they are proposing.
Take a look here.
Will the polls be right this time?
Pollsters have had a rough ride in the last couple of big votes we have seen in this country.
In 2015's election they didn't get it bang on and many got it wrong on the Brexit decision.
Check what the latest opinion polls say and follow updates from the BBC's senior elections and political analyst Peter Barnes
Welcome to our debate for North, South and West Yorkshire ahead of the general election on Thursday June 8.
Tonight's debate comes from Halifax's Square Chapel.
In front of a studio audience, candidates will answer the questions put to them by people just like you.
You can also watch the debate on BBC One in Yorkshire from 22:45.
To get involved, use Twitter with the hashtag #ge2017yorks.