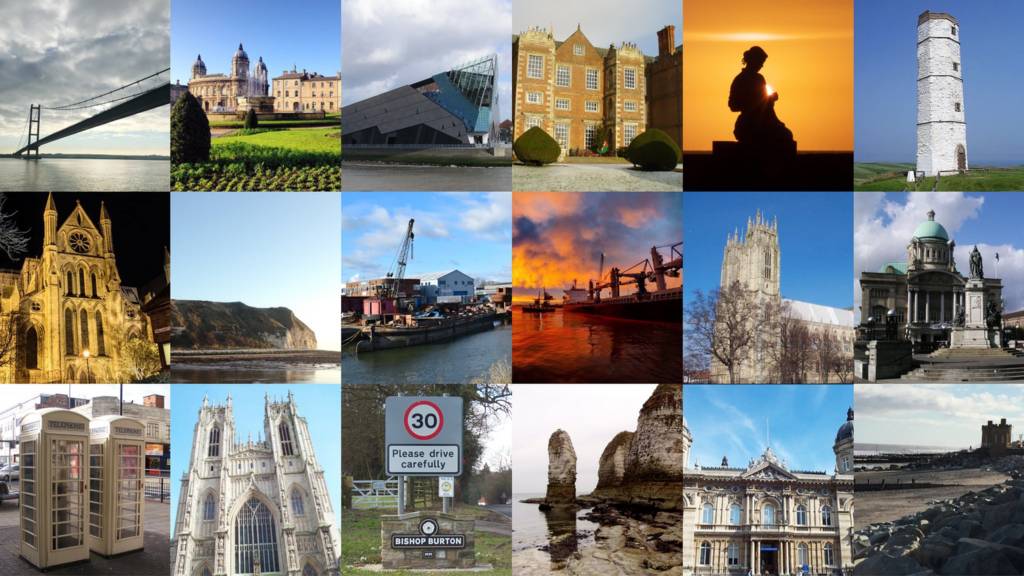 East Yorkshire and northern Lincolnshire breaking news: Latest updates
Five things we've learned today

Hayley Ritchie

BBC Local Live

That's all from me for today, but we'll back from 08:00 on Monday.  

Until then, I'll leave you with five things we've learned in East Yorkshire and northern Lincolnshire today: 

Have a lovely weekend and enjoy the sun!

New Hull Paragon Station artwork focuses on migration

Matthew Bone

BBC Look North

If you're in Hull's Paragon Station today and you happen to look up, don't be surprised to see a brand new art installation.

Copyright: Sean Spencer/Hull News & Pictures

In Victorian times, about 2m people passed through Hull from Europe and Scandinavia on their way to new lives both here and in America.

It's this heritage as a main route for migrants that's being celebrated by Claire Barber's new installation called The Train Track and the Basket.

It can be seen in the windows at the station and explores how migration has shaped and inspired the city which Hull has become. 

It is the latest in a series public artworks commissioned by Hull 2017 to make people look at and experience the city in new ways.

Keeley Donovan

Weather presenter, BBC Look North

It's going to be a lovely weekend - but just how nice?

Here's my full forecast:

Edmund loses Davis Cup match

Kyle Edmund has lost his Davis Cup tennis match against Lucas Poille from France.

The player from Tickon in East Yorkshire was beaten in three sets. 

He is back in action for Great Britain on Sunday when he faces world number 68, Jeremy Chardy.

A wheel-y good plan: New life for old bikes

Do you have a bike or any bike parts gathering rust in the shed? North East Lincolnshire Council might take them off your hands.

Copyright: Laurence Coss/BBC

The authority's running a scheme where young people from the Youth Offending Service repair old bikes and give them a new home. 

The revamped bikes are often donated to someone in need, such as people who need a bike to get to work or school, want to get fit or reduce their travel costs and are not able to meet the cost of a new bike. 

David Harrison

BBC Radio Humberside

The UK City of Culture means art is now reaching corners of Hull which it never ventured to before. 

Now, a new B&B has opened which aims to showcase local grassroots artwork to visitors, right where they're staying. 

It's called the "Art House" and will also become a creative space.

Andy Comfort

BBC Radio Humberside

You've heard of supermarkets only being allowed to sell a limited number of packets of aspirin - but Easter eggs? 

Scott Thomas, a history teacher from Grimsby, wanted to buy 10 Easter eggs for prizes for children in his classes, but staff at the shop told him he could only buy a maximum of eight. 

Mr Thomas explains what happened

Morrisons told BBC Radio Humberside "We apologise that we couldn't meet this customer's request this time but we are doing our best to meet orders for large numbers of Easter eggs from charities and schools."

Yorkshire Ambulance Service wins patient transport contract

The Yorkshire Ambulance Service will continue to run the non-emergency patient transport service across the East Riding for the next five years.   

Copyright: YORKSHIRE AMBULANCE SERVICE NHS TRUST

The organisation has been awarded a new contract the East Riding Clinical Commissioning Group and will support local residents to get to appointments and enable them to get home after they're discharged from hospital.

Watch: Hull icons feature in new Monopoly game

A version of Monopoly featuring Hull landmarks and icons has been released as  part of the 2017 City of Culture celebrations .

Hull's very own " Bee Lady " was there to see the new game unveiled at the Ferens Art Gallery, after being recognised in a Community Chest card which credits her charity work. 

Six special playing pieces, including a toad inspired by poet Philip Larkin and a trawler, were chosen after a public vote:

Northern Rail strike tomorrow

Staff from Northern Rail are due to stage another day of strike action tomorrow.

Copyright: Simon Clark/BBC

It's the latest in an ongoing dispute over staffing and the role of conductors . 

Northern, which runs services from Hull and Bridlington, says it'll run a revised service.

This weekend sees a variety of sporting events taking place across the north of England, including the Grand National at Aintree and several football fixtures.

Northern Rail says it expects to run 822 trains, more than 32% of its normal services.

These services will cover many, but not all, of the routes and stations across the north of England, the rail operator says.

Allotment 'den' is new study space for Hull youngsters

An allotment den designed by pupils from Oakfield Residential School in Hull opens today.

Copyright: Barnaby Perkins/BBC

The Made in Oakfield project has seen young people design a shelter against poor weather when working on their allotment. 

Oakfield Residential School caters for students who have not managed in mainstream education and are helped by specialists so they can reach their full academic potential.  

The den, which is a learning centre, will give children aged between 11 and 16 a space of their own to work in when the weather is poor.  

Working together, they came up with the design and it's the first time for some of them that they have a dedicated space of their own.  

Hull care home residents and primary students strike up friendship

Hayley Ritchie

BBC Local Live

A Hull care home is teaming up with a primary school to provide activities and friendship for residents and students.  

The partnership with Woodlands Primary was set up to support the residents of Wilton Lodge in a bid to keep their involvement in the local community.

Quote Message: The residents really enjoy spending their time with the children. It brings a sense of nostalgia and joy which leaves lasting memories. The impact is especially noticeable in our residents with dementia." from Penni Brown Chief executive at Hica Group

Sixty new jobs at Scunthorpe crisp factory

Leanne Brown

BBC Look North

Scunthorpe's Golden Wonder factory has today revealed another 60 jobs have been created at the plant .

The news emerged as the town's MP, Nic Dakin, visited the factory on Colin Road.

Recent investment in the factory has seen an improvement in its production capabilities, the firm says.

This afternoon's weather forecast

Abbie Dewhurst

Weather Presenter, BBC Look North

It'll feel rather warm in sunnier eastern parts this afternoon, but much cooler where cloud persists.  

A dry night to come with some places having long clear spells. 

Your headlines this lunchtime

Richard Madden

BBC Radio Humberside News

The top stories from our newsroom so far today include:

Get your Big Weekend tickets from Monday

Hayley Ritchie

BBC Local Live

Don't forget, 50,000 free tickets for BBC Radio 1's Big Weekend in Hull will be released during The Radio 1 Breakfast Show this coming Monday at 09:10.

The two-day event takes place at Burton Constable Hall on Saturday 27 and Sunday 28 May and acts such as Katy Perry, Little Mix, Kings of Leon, and Stormzy performing. The full line-up is still to be announced.

For this year's event, more Big Weekend tickets than ever will be made available for people living locally.

Hull transformation a 'nightmare' for small businesses

Leanne Brown

BBC Look North

Small traders in Hull are asking for compensation for the disruption caused during the ongoing improvement works in the city centre.

It's been two years since work started to transform the city centre, and during that time some businesses say takings have been down by tens of thousands of pounds.

One shop owner has told BBC Look North it's been a "nightmare", causing damage to their building as well as affecting trade. 

The Federation of Small businesses is asking Hull City Council to give people money back on their business rates. 

The council says it'll will help with any damage caused by the contractor and says businesses have already had at least a 10% reduction in their business rates.