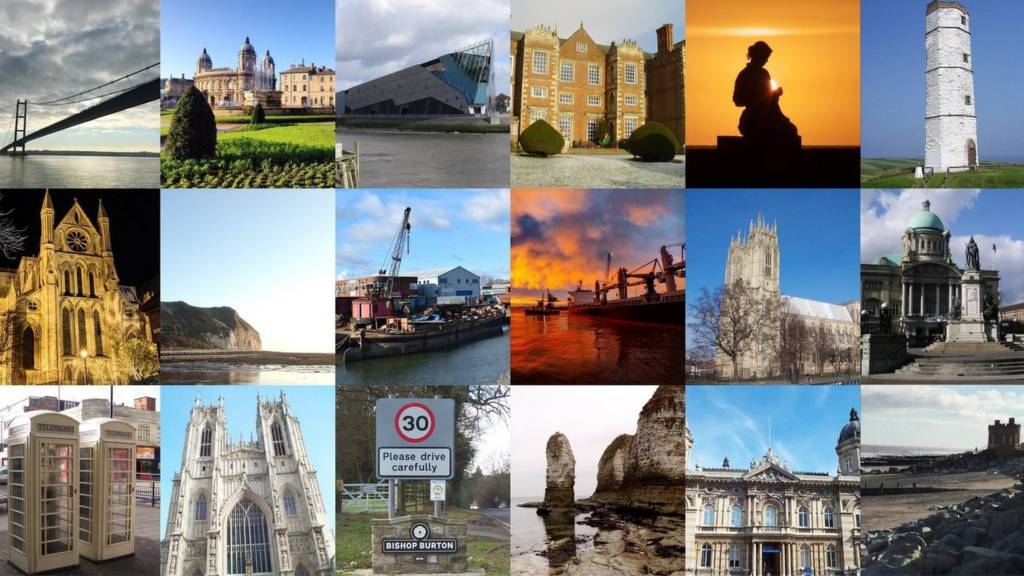 Breaking news in East Yorkshire and northern Lincolnshire
That's all from Thursday...

Those are all the updates from Thursday 27 April 2017.

Want to find out what's happening on the first day of the Tour de Yorkshire which sets off from Bridlington on Friday 28 April? Just click here.

M180 clears near Scunthorpe

In the early hours of this morning part of the M180 eastbound near Junction 4 was blocked by scrap metal.

That has now been cleared and traffic is returning to normal.

Five things we've learnt today

Andy Marsters

BBC Local Live

That's all from me today, join us tomorrow for news, sport and weather along with our extra Tour de Yorkshire coverage from 09:00.

Updates will continue here throughout the evening.

Before I go, let's have a look at five things we didn't know when we woke up.

People aged over 50 invited to play football

Andy Marsters

BBC Local Live

The East Yorkshire branch of the Football Association have launched a new club to encourage people over the age of 50 to play football.

It's called Men City and the session is designed for people of all abilities and fitness levels.

The first session is on Tuesday 2 May.

Is it Driffield or Hollywood?

Chris Arundel

BBC Radio Humberside

We love all your pictures of towns and villages getting ready for the Tour de Yorkshire tomorrow.

I think currently Driffield take the crown for the most excited.

They've gone all Hollywood by putting up a special blue and yellow themed town sign:

This year is the first time that the race has gone through the town.

We'll have a special live page tomorrow with more pictures from along the race route, we can't wait!

Company unable to fully pay patient transport staff this week

Richard Madden

BBC Radio Humberside

Some staff working for Hull's patient transport service won't receive their full pay this week. 

The Thames Ambulance Service, who took over the contract at the start of this month, say it is unable to pay overtime payments on the expected date, which is tomorrow.

It says basic wages will be processed as normal and all overtime will be paid next week, but unions are concerned and are considering taking action.

Quote Message: We have contacted the company demanding that the staff are paid in full tomorrow and failing to do that will lead to litigation.'' from Ray Gray Unison union spokesperson

Weather Watchers: Showers in our area

It appears the rain has arrived in our area.

You've been sending in your Weather Watchers pictures, with a few drops of rain getting on the lens!

Here's Pete the Sweep's view of Flamborough and John's Eye's picture from Wetwang:

Copyright: BBC Weather Watchers Pete the Sweep and John's Eye

Evening weather: Temperatures falling

Paul Hudson

Weather presenter, BBC Look North

Showers mostly clearing this evening although they may continue to affect some coastal parts overnight. 

Clear spells will lead to a cold night with a frost forming in some rural areas.

Traffic and Travel: Rawling Way reopens

Rawling Way in Hull is open again following a crash involving a number of vehicles this afternoon. 

One man has been arrested on suspicion of driving offences, he is now in custody after earlier attending Hull Royal Infirmary.

Humberside Police say they were monitoring one of the cars involved in the incident, but it was not a pursuit.

Tour de Yorkshire 2017: The basics you need to know

The Tour de Yorkshire 2017 gets under way tomorrow and thousands of people are expected to line the route during the three-day event.

So what are the basics about the race and what how can you get more information? Look no further!

What time does the Tour de Yorkshire start?

Stage 1 - Bridlington - 12:35
Stage 2 - Tadcaster - Women's 09:20 - Men's 14:10
Stage 3 - Bradford - 12:30

What's the route of the Tour de Yorkshire?

This is an easy one, for all the route information on all three stages have a look here.

Can I keep up-to-date with the race if I stay at home?

You can! We'll be running a special text service for all three of the stages and you can watch the action on ITV 4.

Traffic and travel: Problems on the A63

The earlier closure of Rawling Way in Hull is causing problems elsewhere on the roads.

There is now congestion on the A63 Clive Sullivan Way eastbound back to Priory Way. 

Your headlines this afternoon

Richard Madden

BBC Radio Humberside News

The top stories from our newsroom so far this afternoon include:

Listen: Hull sex workers share stories in new book

Carl Wheatley

Presenter, BBC Radio Humberside

A charity which supports sex workers in Hull has published a new book telling some of their stories.

An Untold Story, by The Lighthouse Project, includes the women's writings, poetry and drawings, as well as transcripts of conversations. 

One of the book's contributors has been speaking on BBC Radio Humberside today, and she read an excerpt from her own story:

Cleethorpes train cancelled

If you're travelling by train in North Lincolnshire later, you might need to be aware of this:

Traffic and travel: Delays in Hull after collision

Police are at the scene of a road traffic collision in Hull, with a number of vehicles believed to be involved.

The junction of Rawling Way and Anlaby Road is currently closed to help police deal with the incident.

Weather: Showers coming soon

Paul Hudson

Weather presenter, BBC Look North

I'm afraid the weather forecast isn't promising for this afternoon and evening.

But, don't despair, it's looking better for the Tour de Yorkshire weekend - and, of course, it's a bank holiday weekend too:

New life for old bank in Market Weighton?

This old Barclays Bank in Market Weighton could be turned into a new town hall.

Market Weighton Town Council is seriously looking at the idea of buying the building and has called a public meeting.  

It'll take place a week today to sound out local opinion.

Tour de Yorkshire: Check before you travel

Be aware if you are planning to travel to watch the Tour de Yorkshire via rail tomorrow.

The RMT Union has called a strike on Northern rail services -  the latest industrial action in an ongoing dispute over staffing and the role of conductors.

Northern says it expects to run over 40% of its normal services.

You can find out all the latest information here.