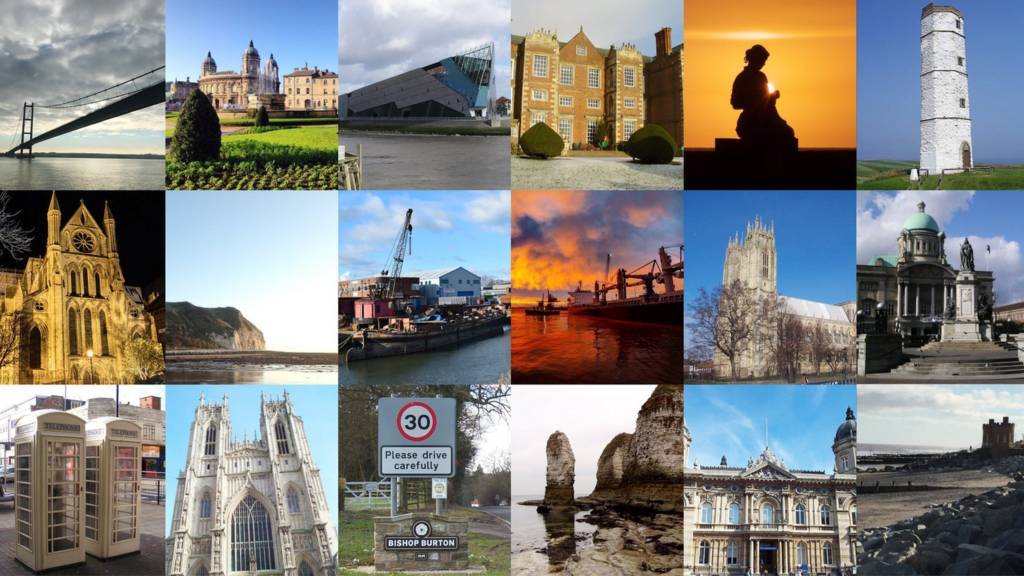 Breaking news in East Yorkshire and North Lincolnshire
Five things we've learned today

Clare Crooks

BBC Local Live, Hull

Where did the week go? That's all from us here until Monday morning at 08:00.

Before I go, here's five things we didn't know when we got up this morning:

Enjoy your weekend!

Watch: Staying dry and cloudy

Keeley Donovan

Weather presenter, BBC Look North

It will be a cloudy but mainly dry and a mild night.

Here's my full forecast:  

Anne-Marie Tasker

BBC Look North

These are a bit WOW!

They are on display at Hull City Hall for the City of Culture's Women of the World festival this weekend. 

Trailblazing women from Hull are being celebrated during the event which is one of a series taking place around the world.

It has everything from a red carpet film screening and debates to a live performance from Hull actors Maureen Lipman and Lucy Beaumont.

Do you know any of these people?

Clare Crooks

BBC Local Live, Hull

Police have released CCTV images of people they want to talk to following a serious assault in Hull on Sunday 26 February.

Copyright: Humberside Police

An 18-year-old man was outside Piper Night club on Newland Avenue when another man took exception to something he said and along with a second man assaulted the victim leaving him unconscious.

Listen: 'Still time to talk' ahead of Northern rail strike

Clare Crooks

BBC Local Live, Hull

The Transport Minister Andrew Jones has called for fresh talks to try to prevent Monday's rail strike in our area.

The RMT union's called industrial action over Northern's plans to introduce trains where drivers, not guards, are responsible for opening and closing the doors.

But Mr Jones says RMT union members are wrong to go ahead with a walk out when only 40% of services are expected to run and the two sides should "sit down and talk":

Richard Madden

BBC Radio Humberside

The top stories across East Yorkshire and northern Lincolnshire include:

Grimsby stadium plans to be revisited

Lara King

North East Lincolnshire reporter

A decision last week on plans for a new community stadium in Grimsby will have to be looked at again.

Copyright: Extreme Leisure

Last week cabinet members in North East Lincolnshire supported a recommendation for Grimsby Town and their developers to purchase council-owned land on Peaks Parkway. 

But that decision has now been called in by two Liberal Democrat councillors which means it'll have to be discussed again.

We're afraid it's looking rather grey out there after that fabulous start this morning.

Weather Watcher  Dimplayer took this picture of low tide at the Humber Bridge and says it's all grey skies, grey mud and grey water!

Copyright: BBC Weather Watchers

Breaking

Man hurt in Hull blast dies from injuries

Clare Crooks

BBC Local Live, Hull

A 31-year-old man has died at Hull Royal Infirmary following a serious house fire at a flat in Hull this morning. 

The incident is not being treated as suspicious.

Farmer cleared over shooting says it shouldn't have got to court

Clare Crooks

BBC Local Live, Hull

An 83-year-old farmer, who's been cleared over shooting a man on his land , has said he doesn't think he should have been prosecuted in the first place.

Speaking outside court, Mr Hugill said he was very pleased with the verdict but that he didn't feel his prosecution was justified.

The Crown Prosecution Service has released a statement in the wake of family criticism about the Kenneth Hugill case:

Quote Message: We considered all the evidence in this case extremely carefully, and took full account of the situation Mr Hugill found himself in that evening. We are satisfied that there was sufficient evidence to put the matter before a court and that it was in the public interest to do so. The jury has now returned their verdict and we respect their decision." from Gerry Wareham Chief Crown Prosecutor for Yorkshire and Humberside

Special Hull screening of film director's latest release

Clare Crooks

BBC Local Live, Hull

Critically acclaimed film director Gurinder Chadha is in Hull this weekend for a red-carpet film screening of her new film.  

Viceroy's House. stars Gillian Anderson and Hugh Bonneville and tells the story of the last days of British rule as seen through the eyes of Lord Mountbatten, the last Viceroy and the person charged with handing India back to her people.

It will be the closing event of the WOW (Women of the World) festival on Sunday March 12.

Andy Comfort

BBC Radio Humberside

Floating stages are appearing in Hull's Victoria Dock for Slung Low 's sold out performances next month.

Flood: Abundance (Part 2) is part of a year-long epic commissioned for Hull 2017.

Recruitment for new Chief Constable

Clare Crooks

BBC Local Live, Hull

Are you an exceptional individual with the appropriate experience, ambition and vision to lead Humberside Police?

The job advert for the top job at Humberside Police we told you about earlier is now up on the Police and Crime Commissioner's website .

Copyright: Humberside Police

The closing date for applications is midnight on 2 April 2017.

Guess where's a great place to live?

Clare Crooks

BBC Local Live, Hull

Hull has made it on to the Sunday Times Best Places To Live guide which will be published this weekend.

The city is listed among 15 in the north that have been chosen by a panel of judges based on quality of life, community spirit and attractive outdoor spaces.

Weather: Here's how the afternoon is looking

Keeley Donovan

Weather presenter, BBC Look North

Mild with most places staying dry and despite there being a lot of cloud it will appear bright at times. 

Highs of 12C (54F).

East Yorkshire farmer who shot a man in the foot acquitted

Clare Crooks

BBC Local Live, Hull

An elderly East Yorkshire farmer who shot a man in the foot has been cleared of all charges at Hull Crown Court.

Eighty-three-year-old Kenneth Hugill was accused of causing grievous bodily harm.

The Wilberfoss farmer denied the charges against him after he shot Richard Stables in the foot in darkness thinking he was a burglar. 

The pensioner admitted firing the gun twice after he was woken in the night by lights shining through his window. Mr Stables claimed he and a friend had mistakenly driven onto the farm after getting lost on their way to Bridlington. 

Today at Hull Crown Court it took a jury just 24 minutes to return their verdict and find Mr Hugill not guilty.

Lizzie Rose

BBC Radio Humberside

Here's the line up of guests (including me in the middle there!) contributing to Woman's Hour today as part of the first Women of the World Festival being held in Hull.

Jessica's bench now in place

James Piekos

Reporter, BBC Hull and East Yorkshire

You may remember the memorial bench that Jessica Lawson's family campaigned for outside her primary school in Kirk Ella.

Well here it is, finally in place.

Westella and Kirk Ella parish council initially rejected the black and red colour scheme for the bench - you might remember the "Disneyland" comment.

But East Riding Council made it happen. This is the plaque:

Jessica, who was a student at Wolfreton School, died during a school trip to France.