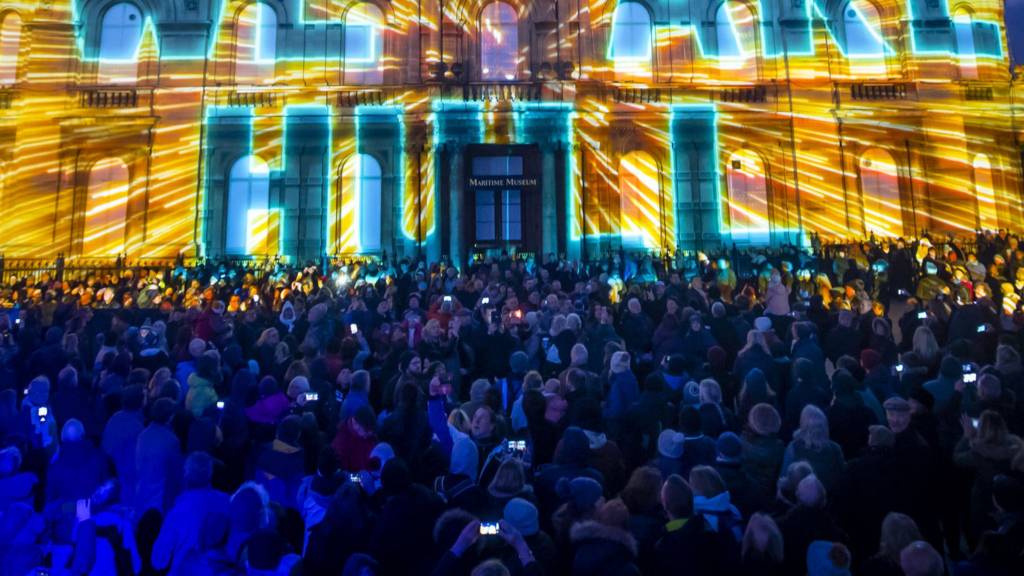 Hull 2017 UK City of Culture live
Summary
Live updates from Hull's year as UK City of Culture
This page is updated with stories, pictures, videos and more as they are made
Scroll back down the page to see what's happened so far in February 2017
Weekly guide to what's on - 2nd March

Kofi Smiles

BBC Face of Hull 2017

Here's my guide to what you can do in and around Hull this week:

Rehearsals begin for Jane Eyre

Clare Crooks

BBC Local Live, Hull

Here's a sneak peek at the first touring show that will arrive at Hull New Theatre when it reopens later this year following a £16m revamp.

The National Theatre started rehearsals for Sally Cookson's new adaptation of Charlotte Brontë's masterpiece, Jane Eyre this week.

Copyright: National Theatre

Watch: When I met Tony, the Director General of the BBC

Kofi Smiles

BBC Face of Hull 2017

I met the Director General of the BBC and gave him some uniquely Hull gifts...

When Kofi met Tony, the Director General of the BBC

Kofi met Lord Tony Hall at the Season 2 & 3 launch, and gave him some uniquely Hull gifts...

Ben Horrigan

Digital Video Producer

Hull's women form a strong part of the city's lifeblood, and its artists are no exception.

The Female Gaze opens this Friday at Kingston Art Gallery celebrating some of the city's wonderful female artists.

The exhibition features the work of Anna Bean, Susan Beaulah, Lesley Bradshaw, Cath Cassidy, Lou Hazelwood, Glynis Neslan, Chloë Roach, Julia Roach, Pauline Scott, Sally Tebb.

Get your dancing shoes on!

Clare Crooks

BBC Local Live, Hull

According to The Times, the Hull-born Director of The Royal Ballet believes the city produces more male principals per resident than anywhere else in the UK.

The company will be opening Hull New Theatre in September .

Kofi Smiles

BBC Face of Hull 2017

Baby footprints are being made into art

Katy Austin

BBC Look North

The first piece of a new artwork celebrating the birth of babies in Hull in 2017 has been put up in Hull Women and Children's hospital today.

It'll be made using more than 5,000 footprints from babies expected to be born in the City of Culture year.

Here's what it will look like when complete.

Every baby born in the city will have the chance to take part.

LOL Comedy Club comes to Hull City Hall

Every month, Laugh Out Loud Comedy Club brings pro comedians to the City Hall. Kofi went down to check it out (and try a bit of stand-up himself).

Amanda White

BBC East Yorkshire and Lincolnshire

Every baby born in Hull during 2017 is to be part of this lovely fresco at the Women and Children's Hospital.

The panel made of footprints from babies born in January is being hung today.

Hull's a hotbed of ballet talent

Kofi Smiles

BBC Face of Hull 2017

A dance teacher in Hull says the city has provided more dancers to the Royal Ballet company than anywhere else:

Quote Message: I would say quite comfortably we have had the most students go to the Royal Ballet Company alone than any other city in the world. I can put my hand on my heart when I say that.'' from Vanessa Hooper Skelton Hooper School of Dance and Theatre

It follows hot on the heels of  the news  that the company will perform at the Hull New Theatre this summer as part of the City of Culture celebrations.

It'll be curated by Hull born Kevin O'Hare.

Copyright: Johan Persson / ROH

LISTEN: Seasons two and three of City of Culture in less than a minute

David Burns

BBC Radio Humberside

The launch of the next six months of Hull's City of Culture year has taken place today.

Among the highlights are the first UK Pride event and the Royal Ballet performing at Hull New Theatre.

The Chief Executive of the year, Martin Green, has been telling me what he's looking forward to...

Lottery funding for Hull's 'Cabinet of Curiosity'

Andy Marsters

BBC Radio Humberside

Items such as 'unicorn horns' and 'scrimshaw' and doodles by Hull poet Philip Larkin (pictured) will go on display in Hull later this year.

It's after the council won £100,000 of National Lottery funding to create an exhibition about the city's more intriguing artifacts.

'Unicorn horns' are more commonly known as narwhal tusks and 'scrimshaw' are bone and ivory carvings.

Hull museums exceed visitor expectations

James Piekos

Reporter, BBC Hull and East Yorkshire

It seems the City of Culture effect is being felt by Hull's museums.

I've been out this morning finding out how many people have been walking through the doors of places like the Maritime (pictured) and the Streetlife Museums.

Quote Message: We knew it was going to be a busy year, we're getting close to our annual visitor figures already'' from Robin Diaper Hull Museums Service

First UK Pride festival coming to Hull

Kofi Smiles

BBC Face of Hull 2017

More details of the first UK pride event , which will be held in Hull later this year, have been announced.

It'll mark 50 years since the start of the decriminalisation of homosexuality in the UK.

The headline act will be Soft Cell's Marc Almond (pictured), who will perform the band's number one song Tainted Love.

The second and third seasons of Hull 2017 are announced in London; here's a taster of what's to come.

Here's our former producer at the top of the Humber Bridge in the name of culture.

It was for BBC Radio 2's Jeremy Vine programme which came live from Hull today.