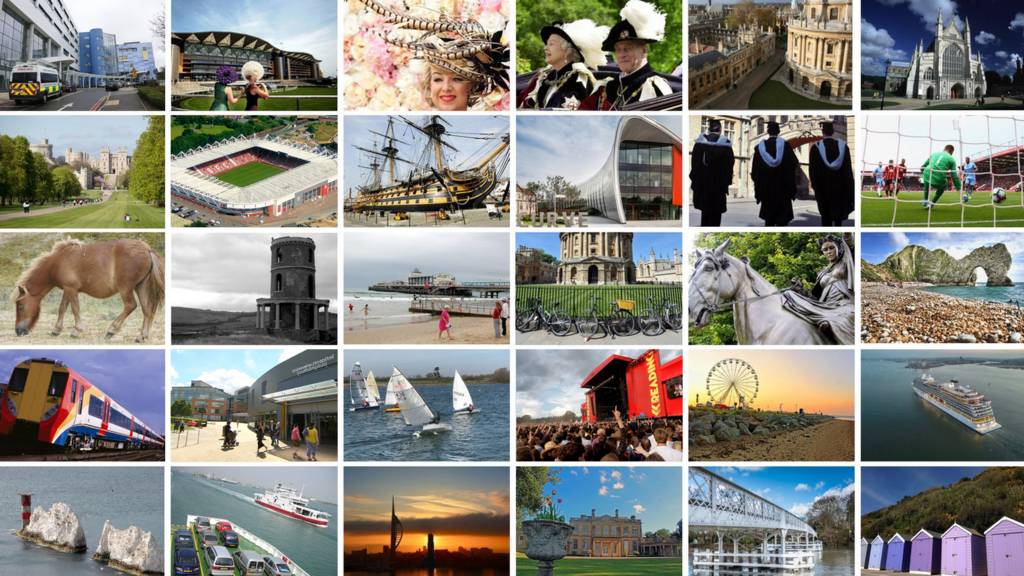 South Live: Wednesday 10 July
You can get in touch by email, on our Berkshire, Oxford, Hampshire and Dorset Facebook pages or on Twitter @BBCBerkshire @BBCOxford @BBC_Hampshire and @BBCDorset.
Crews tackling large heath blaze

Severe accident: A321 Berkshire both ways

BBC News Travel

A321 Berkshire both ways severe accident, from Matthewsgreen Road to Jubilee Avenue.

A321 Berkshire - A321 Milton Road in Wokingham closed in both directions from the Matthewsgreen Road junction to the Jubilee Avenue junction, because of an accident involving lorry and car. Traffic is coping well.

To report traffic and travel incidents dial 0330 123 0184 at any time

Male airlifted after chalk pit fall

A male has been rescued and flown to hospital after falling four storeys into a disused chalk pit on the Isle of Wight.

He fell into the pit in Newport on Tuesday night at about 18:20 BST.

An Isle of Wight NHS Trust spokesperson said he was flown by air ambulance to Southampton General Hospital.

His injuries have not been revealed by the trust.

Portsmouth road reopened after earlier traffic incident

Diversions in place for road closure

A main road through the centre of Portsmouth has been closed by police.

Traffic is being diverted but motorists are being advised to avoid the area.

Warning to drivers over fresh road surface

South West Water has 'unacceptable level of performance'

South West Water (SWW) has achieved just two stars out of a possible four for an "unacceptable level of performance", the Environment Agency has said.

The agency's annual report said only one of the nine major water companies in England was performing at the expected level, with most likely to miss 2020 targets.

SWW was also given a red rating for pollution incidents for "consistently demonstrating unacceptable performance".

Trade body Water UK said the report was "disappointing" and the situation was "never black and white".

SWW said it recognised there was "still more to do and we have an action plan in place to continue to drive improvement".

SWW provides water and sewerage services to Devon, Cornwall, plus parts of Dorset and Somerset.

Call to abandon hospital road junction plans

Campaigners are calling on BCP Council to abandon plans for a major new link road and science park on the edge of their village.

The Wessex Fields scheme, including a new junction linking the A338 and Bournemouth Hospital, was approved by Bournemouth council planners in January.

But opponents, including Bournemouth East MP Tobias Ellwood, say the scheme is flawed because the council is the landowner, developer and decision maker.

The scheme is being funded by the Local Enterprise Partnership and has been backed by the Royal Bournemouth Hospital.

BCP says it's reviewing the scheme.

Severe disruption: M4 Berkshire eastbound

BBC News Travel

M4 Berkshire eastbound severe disruption, after J12 for A4 Bath Road.

M4 Berkshire - One lane closed and it's slow on M4 eastbound after J12, A4 (Theale), because of a break down.

To report traffic and travel incidents dial 0330 123 0184 at any time

Severe disruption: M27 Hampshire eastbound

BBC News Travel

M27 Hampshire eastbound severe disruption, from J9 for A27 Segensworth Link Road Segensworth to J10 for A32 Wickham Road.

M27 Hampshire - Two lanes closed and it's slow on M27 eastbound from J9, A27 (Segensworth) to J10, A32 (Wickham), because of a break down.

To report traffic and travel incidents dial 0330 123 0184 at any time

Wellow Primary School near Romsey has been forced to closed today after it was broken into overnight.