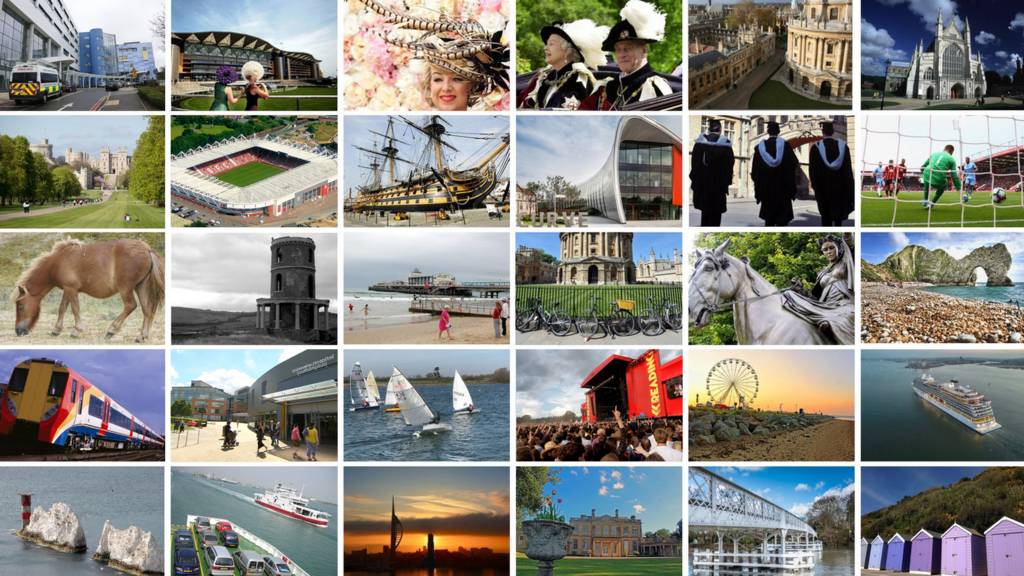 South Live: Friday 5 July
You can get in touch by email, on our Berkshire, Oxford, Hampshire and Dorset Facebook pages or on Twitter @BBCBerkshire @BBCOxford @BBC_Hampshire and @BBCDorset.
Good evening.

We will be back on Monday with more news, travel and sport from across the region.

Major disruption to rail services continues into evening

A fault with signals between Leamington Spa and Banbury is still causing disruption to services between these stations, the National Rail website reports.

Alterations, cancellations and delays of up to 40 minutes could continue until 20:00.

Chiltern, CrossCountry and Great Western Railway services are affected.

RNLI summer beach patrols begin

Copyright: RNLI/Alice Higgins

Lifeguards are to return to beaches in Lyme Regis, West Bay and Greenhill in Weymouth tomorrow for the summer season.

RNLI lifeguards will be on patrol daily from 10:00 to 18:00 until 1 September.

Lifeguard patrols began on Weymouth's main beach on 4 May.

Lambs found dead after 'dog attack'

Five lambs have been found dead with neck injuries suggesting they were attacked by a dog.

The dead animals were found in their paddock on Thursday morning at Ox Drove in Picket Piece, near Andover.

Police said the dog responsible would have been covered in blood and its owner would have been aware something had happened.

Anyone with information is urged to contact Hampshire Constabulary.

Landslip forces closure to beach steps

A landslip has forced the closure of steps to the beach at Alum Bay on the Isle of Wight.

Beachgoers have been advised not to attempt to use the steps, which will remain cordoned off until they have been made safe.

Severe disruption: M271 Hampshire southbound

BBC News Travel

M271 Hampshire southbound severe disruption, from J1 for Brownhill Way to A33 Redbridge Road.

M271 Hampshire - One lane closed and queues on M271 southbound in Nursling from J1, Brownhill (Nursling) to A33, Redbridge roundabout, because of a car that's broken down.

To report traffic and travel incidents dial 0330 123 0184 at any time

Severe accident: A27 Hampshire westbound

BBC News Travel

A27 Hampshire westbound severe accident, at A3.

A27 Hampshire - Temporary closure, stationary and delays on A27 westbound at the A3(M) J5 (Bedhampton junction, because of an accident.

To report traffic and travel incidents dial 0330 123 0184 at any time

Severe accident: A35 Dorset both ways

BBC News Travel

A35 Dorset both ways severe accident, at A3066 Sea Road North.

A35 Dorset - A35 Sea Road South blocked and queues at Esso roundabout, because of an accident involving two vehicles.

To report traffic and travel incidents dial 0330 123 0184 at any time

CCTV released after wallet stolen

CCTV has been released by police investigating the theft of a wallet in Newbury.

It was stolen from the pocket of a 70-year-old man who was returning to his car at Sainsbury's in Hectors Way on Friday afternoon.

The cards were later used to withdraw money and buy goods.

Thames Valley Police says three men in the images may have information that could help the investigation.

A34 among England's 'worst roads'

The A34 between Hampshire and Oxfordshire has been rated one of England's worst roads.

Transport Focus published findings of its Strategic Roads User Survey of major A-roads managed by Highways England.

Worst ranked was the M20 in Kent which was described as "bumpy" and "full of potholes".

The best road, according to the survey of 8,500 people, is the A19 in the North East of England.

Woman rescued after getting lost

Copyright: Wyke Coastguard Rescue Team

A woman had to be rescued from dense vegetation on the Dorset coast after getting lost.

The woman called coastguards at about 18:00 on Thursday saying she was lost in the Ringstead area.

Wyke and Lulworth rescue teams scoured the area and spotted the woman waving for help.

They used deer paths and beat back vegetation to reach her and guide her back to the path.

RNLI supporter marks 100th birthday with boat launch

Copyright: RNLI/Nathan Williams

An RNLI supporter from Basingstoke celebrated her 100th birthday by ringing the ceremonial bell at the launch of a new lifeboat.

Joan Webb was the guest of honour at the launch of the Shannon class boat in Rhyl.

She has been a volunteer at the Basingstoke and District RNLI Branch since the early 1980s.

Federer 'met Prince George at grandparents' home'

Swiss tennis star Roger Federer has revealed he visited the home of the Duchess of Cambridge's parents in Bucklebury to meet Prince George.

Speaking after his second-round victory over Britain's Jay Clarke at Wimbledon, the eight-times champion described the five-year-old as "cute" and said he had a "good" tennis technique.

He added: "I'm the only player he's ever met. Then you have a little head start in who is your favourite player."

Severe accident: M25 Buckinghamshire clockwise

BBC News Travel

M25 Buckinghamshire clockwise severe accident, between J16 for M40 J1A and J17 for A412 Denham Way.

M25 Buckinghamshire - One lane closed and it's very slow on M25 clockwise between J16 M40 J1a and J17, A412 (Maple Cross), because of an accident.

To report traffic and travel incidents dial 0330 123 0184 at any time

Severe disruption: M4 Berkshire westbound

BBC News Travel

M4 Berkshire westbound severe disruption, at J10 for A329.

M4 Berkshire - One lane closed on M4 westbound at J10 A329(M) Wokingham, because of a break down. Traffic is coping well.

To report traffic and travel incidents dial 0330 123 0184 at any time

Volunteer astronomers help defence space project

Volunteer astronomers are helping the Ministry of Defence monitor objects in space.

Members of the Basingstoke Astronomical Society are investigating whether a low-cost network of cameras could improve awareness of objects - some as small as freezers - as space becomes increasingly congested.

The group hopes to help track more than 22,000 artificial satellites for the Defence Science and Technology Laboratory space programme.