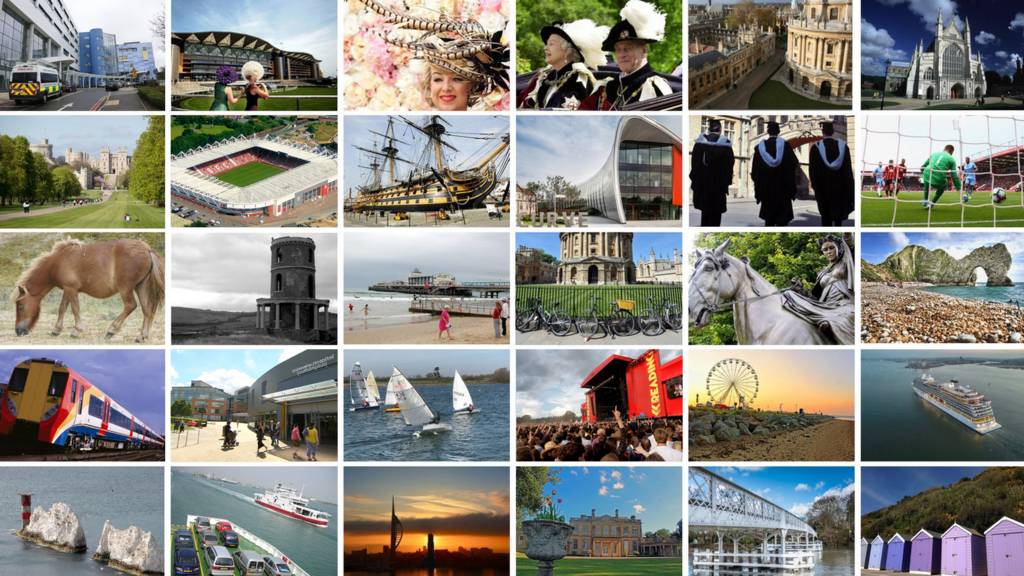 South Live: Thursday 11 April
You can get in touch by email, on our Berkshire, Oxford, Hampshire and Dorset Facebook pages or on Twitter @BBCBerkshire @BBCOxford @BBC_Hampshire and @BBCDorset.
Summary
Updates from Thursday 11 April
That's all for BBC Local Live for today.

The service resumes at 08:00 tomorrow. We hope to see you then.

Severe disruption: M40 Oxfordshire northbound

BBC News Travel

M40 Oxfordshire northbound severe disruption, from J9 for A34 to J10 for A43 Brackley.

M40 Oxfordshire - One lane closed and queuing traffic on M40 northbound from J9, A34 (Bicester) to J10, A43 (Brackley), because of a broken down car.

To report traffic and travel incidents dial 0330 123 0184 at any time

Hospital campaigners have appeal dismissed

Bethan Nimmo

Political reporter, BBC Radio Oxford

Campaigners and councils have lost their case for a judicial review after maternity services were downgraded at the Horton Hospital in Banbury.

The unit was changed to mid-wife led by Oxfordshire Clinical Commissioning Group.

Those against the decision said the consultation on it and changes to other NHS services were unfair.

But judges have dismissed their appeal in the case.

The Clinical Commissioning Group said it was "pleased" with the decision.

Severe accident: M3 Hampshire southbound

BBC News Travel

M3 Hampshire southbound severe accident, from J10 for A31 to J11 for B3335.

M3 Hampshire - Two lanes closed, long delays and queuing traffic on M3 southbound from J10, A31 (Winchester) to J11, B3335 (Winchester South), because of an accident. Congestion to J9 (Winnal Roundabout / Winchester North). Travel time is 40 minutes.

To report traffic and travel incidents dial 0330 123 0184 at any time

Search continues for missing flautist

Thames Valley Police officers have been handing out leaflets in Oxford as the investigation continues into the disappearance of flautist Maja O'Brien (pictured with her daughter Petra, above).

Today the force spoke to commuters in Wytham Street near near the 78-year-old's home. She was last seen two weeks ago.

Officers are still trying to trace a man who she may have been on her way to meet, after a note was found at her home.

It suggested she was going to get her flute cleaned by the man, who is thought to be originally from Croatia or Eastern Europe.

A man was arrested as part of the investigation but later released.

Severe accident: M3 Hampshire southbound

BBC News Travel

M3 Hampshire southbound severe accident, at J11 for B3335.

M3 Hampshire - One lane blocked and very slow traffic on M3 southbound at J11, B3335 (Winchester South), because of an accident.

To report traffic and travel incidents dial 0330 123 0184 at any time

Yoga studio given go-ahead

Local Democracy Reporting Service

A controversial yoga studio which residents say will "shatter" their peaceful street along the River Thames will be built.

A single-storey building in East Street, first built in 1926, will be demolished and the two-storey building put up in its place.

The current building was used as a dairy, a boiler room for a house next door and then an artist's studio.

Seven city councillors voted in favour of the application, while one voted against.

More than 30 objections were submitted to the city council, with 24 sent to it in favour.

Hot chocolate tub causes kitchen fire

A tub of hot chocolate granules accidentally placed on a hot ceramic hob caused a kitchen fire in Oxford this morning.

Two fire engines responded to the fire in Townsend Square off Donnington Bridge Road, Iffley, at about 01:00.

Crews put the fire out and used large fans to clear large amounts of toxic smoke from the property. A neighbour who had inhaled smoke was seen to by South Central Ambulance Service.

Crew manager Nik Brown said: "This is a timely reminder not to store anything on the hob as they can ignite combustible materials very easily creating toxic fumes.

"This is especially important with ceramic hobs as it is not always immediately obvious when a ring is switched on.

"The smoke detector was instrumental in alerting the resident of the fire and allowed for an early evacuation."

Severe disruption: M27 Hampshire eastbound

BBC News Travel

M27 Hampshire eastbound severe disruption, at J5 for A335 Stoneham Way Southampton Airport.

M27 Hampshire - M27 lane closed on entry slip road eastbound at J5, A335 (Southampton Airport), because of a broken down vehicle. Traffic is coping well.

To report traffic and travel incidents dial 0330 123 0184 at any time

Oxford twinned with seventh city

Oxford has been twinned with a seventh European city after an agreement was formally signed by its Lord Mayor, Colin Cook, in Padua, Italy.

Oxford City Council said it was keen to link up with more European cities ahead of Brexit and just last year it formalised a link with another university city, Wroclaw, in Poland.

Oxford first twinned up with Leiden, in the Netherlands, and Bonn, in Germany, in the years following the end of World War II.

It also has formal links with Leon, the second largest city in Nicaragua, Grenoble, in southern France, and Perm in Russia.

City councillors have also agreed for Oxford to twin up with Ramallah, in the West Bank, but formal documents have not yet been signed.

Sea users meet to tackle water craft fears

A group involving jet skiers, surfers and swimmers has been set up to try and tackle concerns about water bikes getting too close to people in the sea at Bournemouth.

Seafront rangers met with representatives from the open water swimming, surfing and jet ski communities following reports of dangerous incidents near the pier in February.

In one incident, riders were filmed circling surfers and paddle boarders, raising fears that someone could be seriously injured or even killed.

Bournemouth, Christchurch and Poole Council said a meeting with Dorset Police Marine section had also taken place and the situation would continue to be monitored throughout the year.

Marwell Zoo reveals Peter the red panda

A new male red panda called Peter has joined Marwell Zoo's female resident red panda, Mei Mei, in a new enclosure in the Hampshire zoo.

Three-year-old Peter arrived on March 7 from Gaia Zoo in the Netherlands as part of the European Endangered Species breeding Programme (EEP) and has been settling in behind the scenes.

Marwell Zoo keeper, Carrie Arnold, said: "Peter has settled in really well to his new home with Mei Mei. They don't seem fazed by one another and Peter has done a lot of relaxing and snoozing, which is what we'd expected."

Ms Arnold continued: "Red panda breed once per year between January and mid-March, so we're not anticipating any panda cubs soon, but we're obviously hopeful for the future."

Copyright: Marwell Zoo / Jason Brown

Ian McKellen spotted at The Hobbit pub

Acting legend Ian McKellen stopped by The Hobbit pub in Southampton yesterday.

The Lord of the Rings actor stepped in to help pay a copyright licence fee in 2012 so the pub could carry on trading as The Hobbit after Hollywood film firm the Saul Zaentz Company threatened it with legal action.

At the time Sir Ian, who plays Gandalf, described the company's actions as "unnecessary pettiness".

The pub posted a picture of the actor on Instagram, prompting one user to reply: "I have never been more jealous in my life."

New freight ferry joins Red Funnel fleet

A new £10m freight ferry is on its way to Southampton to join Red Funnel's fleet.

Red Kestrel, built by Merseyside shipbuilder Cammell Laird over nine months, will operate between Southampton and the Isle of Wight.

Fran Collins, CEO of Red Funnel, said: "We are delighted to see Red Kestrel begin her journey to Southampton for her naming ceremony and her life on the Solent.

"The addition of a new ship is always an exciting time for everyone in the company.

"We're thrilled that not only will Red Kestrel increase our total capacity and enhance convenience for our cross-Solent customers, but we also take tremendous pride in supporting the revival of world-class shipbuilding in this country."

Fires started at Christian centre in Weymouth

Police are investigating an arson incident in Weymouth after a fire was started at a Christian centre.

The fire service dealt with the fire on Friday morning at The Prayerhouse in Newstead Road.

PC Darren Tharme of Dorset Police said: "This is clearly a valued community facility that has been significantly damaged as a result of this fire.

"We are treating it as suspicious and I am appealing to anyone who witnessed any suspicious activity in the area of Newstead Road and Westwey Road between around 4:30am and 5:10am on Friday 5 April to contact us.

"I would also urge anyone who was driving in the area at the time and has dashcam fitted to their vehicle to check their footage."