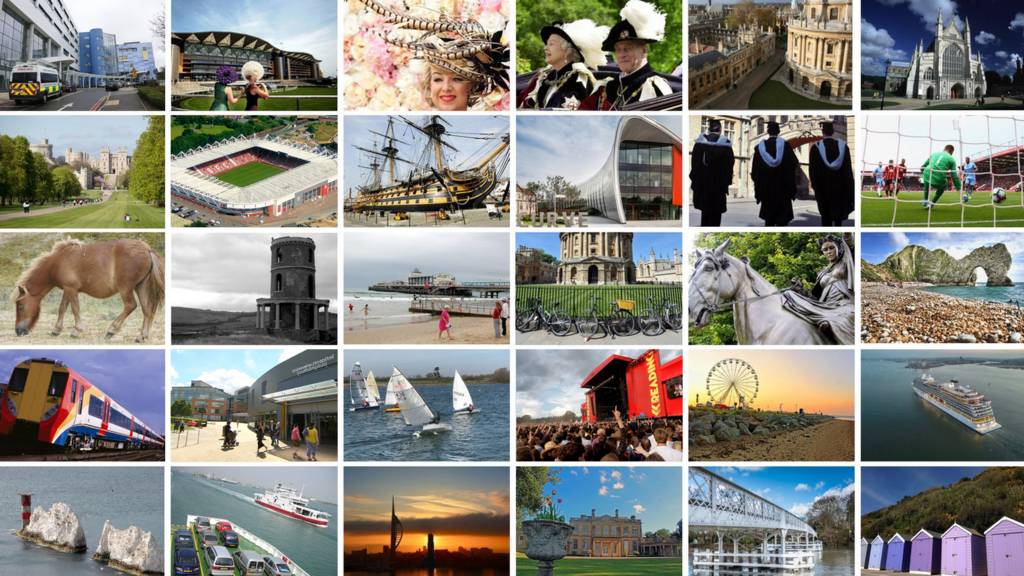 South Live: Thursday 14 March
You can get in touch by email, on our Berkshire, Oxford, Hampshire and Dorset Facebook pages or on Twitter @BBCBerkshire @BBCOxford @BBC_Hampshire and @BBCDorset.
Thanks for joining BBC South Live today.

The service resumes at 08:00 tomorrow. We hope to see you then.

What have the region's MPs been saying today?

Multimillion-pound transport funding announced

Four major transport schemes for southern Oxfordshire will benefit from a multimillion-pound investment announced in the Chancellor's Spring Statement.

The projects include a Didcot Science Bridge over the railway line near the Power Station, a new river crossing at Culham, and a bypass for Clifton Hampden.

Also announced were plans to build more than 22,000 new homes along the so-called Oxford-Cambridge Arc.

Deputy lord mayor cannot be removed by councillors

Local Democracy Reporting Service

Copyright: Oxford City Council

The deputy lord mayor of Oxford cannot be removed from his post by his fellow councillors, it has been confirmed.

Some councillors have urged Sajjad Malik to resign from the post and as a city councillor for Cowley Marsh after he was given a 28-day Domestic Violence Protection Order on 5 March.

Although his fellow councillors would be able to call a special meeting to call for his resignation, the final decision would be up to him.

A city council spokesman said: "A motion could express no confidence and call on the civic office holder to resign but would not technically remove them from office if they refused to resign."

Councillor Andrew Gant, the leader of the city council's Liberal Democrats, urged Malik to "take some responsibility" and stand down from both posts.

The next city council meeting will be held on 29 April, where a motion calling for his resignation may be tabled.

Four teenage girls arrested over violent disorder

Three 14-year-old girls and one 15-year-old girl have been arrested on suspicion of violent disorder following an incident on the Isle of Wight.

Hampshire Constabulary said it involved a group of young people in Seaclose Park just off Fairlee Road in Newport at 15:45 yesterday.

Det Insp Ron Lock said: "I'm keen to hear from any members of the public who have either recorded footage of this incident, or who have seen this being shared on social media platforms.

"My officers are continuing to speak to a number of teenagers and their parents to identify everyone who was involved. Thankfully no-one was seriously hurt."

Man summonsed to court over fatal Dorchester crash

A man is due to appear in court in connection with a fatal crash near Dorchester. At 14:42 on 31 July 2018 a black Land Rover Discovery and a blue Aprilia motorcycle were involved in an accident on Warmwell Road in Crossways. The rider of the motorcycle, 51-year-old Mark Coombs from Weymouth, sustained serious injuries and died in Southampton General Hospital.

The driver of the Land Rover, a man aged in his 40s, was uninjured.

A 40-year-old man from Coventry has been issued with a postal requisition to appear at Weymouth Magistrates' Court on Monday 25 March for an offence of causing death by careless driving.

Dixie the dog joins Reading police unit

More than 100 attend IoW meeting on primary school future

More than 100 residents on the Isle of Wight attended a vocal and heated meeting where the possible closure of a primary school was discussed, the Local Democracy Service reports.

All Saints' Primary School's future remains in doubt, as the Isle of Wight Council looks to close schools to deal with falling student numbers on the island.

It said the nearby St Saviours RC School could expand, but parents are protesting against this proposal.

Parent Carly Wyre-Nick said: "We are not a failing school, we are an improving school.

"We don't think it is fair that one person is making this decision, and we feel we are being picked on as a school.

"This process is not fair and it hasn't been done fairly."

Search for man that started fire in conservatory

Police are looking for a man who snuck into the conservatory of a home in Basingstoke and set fire to a sofa.

A 39-year-old woman was looking after a three-year-old child at the property on Porter Road when the arson took place.

She saw the flames and managed to put them out with the help of a neighbour, Hampshire Constabulary said.

It's thought a man was acting suspiciously in a nearby alleyway before getting into the home through an open window in the conservatory on Monday afternoon.

Closing music venue in Oxford 'greatly missed'

Oxford man threatened with knife and robbed

A 53-year-old man from Oxford was assaulted and threatened with a knife before two people robbed him as he was walking home.

Thames Valley Police said the victim was walking home between 22:45 and 23:15 GMT on Saturday when two males approached him.

They punched him and struck him with a glass bottle to the back of the head.

A bag, a phone and car keys were among the items stolen.

He was treated at the John Radcliffe Hospital but has since been discharged.

The first offender is described as mixed race, between 14-16 years old, and around 5ft 5ins tall.

The second offender was also mixed race, in his 20s, about 6ft tall with short shaved hair.