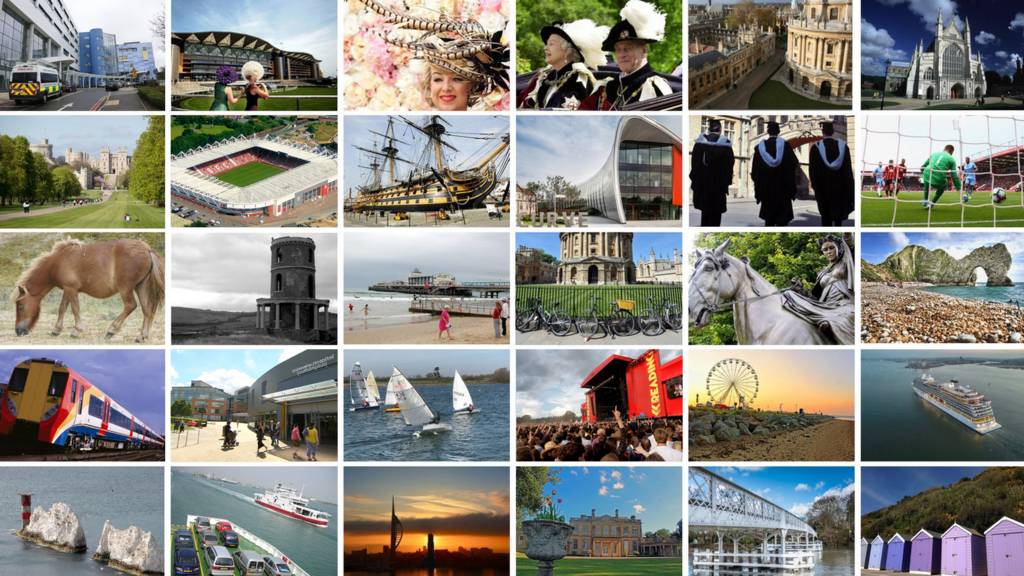 South Live: Thursday 14 February
You can get in touch by email, on our Berkshire, Oxford, Hampshire and Dorset Facebook pages or on Twitter @BBCBerkshire @BBCOxford @BBC_Hampshire and @BBCDorset.
Summary
Updates from Thursday 14 February
That's all from BBC South Live for today.

The service resumes tomorrow at 08:00. We hope to see you then.

Wrong-way M40 driver surrenders driving licence

A woman who drove the wrong way down the M40 in Oxfordshire on Monday has been traced by Thames Valley Police.

The investigating officer identified the vehicle from dashcam footage and the driver, a woman in her 80s, was visited by officers.

She admitted that it was her driving at the time of the incident and voluntarily surrendered her driving licence.

Oxfordshire County Council has since installed temporary signs at the entrance to the motorway.

In October, an SUV towing a caravan had a fatal head-on collision with a Ford Mondeo on the same stretch of road.

Severe disruption: M27 Hampshire eastbound

BBC News Travel

M27 Hampshire eastbound severe disruption, at J7 for A334 Charles Watts Way.

M27 Hampshire - One lane closed and very slow traffic on M27 eastbound at J7, A334 (Hedge End), because of a broken down vehicle.

To report traffic and travel incidents dial 0330 123 0184 at any time

Council leader 'won't mind being the man who saved Hampshire'

Local Democracy Reporting Service

Departing Hampshire County Council leader Roy Perry announced his decision at the authority's full council meeting this afternoon.

He said: "I am fortunate to continue to enjoy good health but I judge now is a good and appropriate time to allow a new leader to take over the reins.

"All local government is under pressure but Hampshire County Council has faced up to those pressures better than most and is widely admired.

"With the help of MPs and others we successfully rebuffed schemes to break this county into two.

"I won't mind being remembered as the man who saved Hampshire as a county."

Missing Reading student found

A student reported missing from Reading University has been found safe and well.

Benjamin Ballard, 20, was located this afternoon, police said.

Thames Valley Police thanked the public and media for sharing their appeal.

Your pictures: Dogs in the mist

Garry Dealey has sent us this picture of his dogs Olive and Sunny, taken at lunch time near Burford.

Over 300 strangers paid their respects at the funeral of George Osborne after an appeal on social media.

Severe disruption: A339 Hampshire northbound

BBC News Travel

A339 Hampshire northbound severe disruption, from Grove Road to A30 Ringway South.

A339 Hampshire - A339 Hackwood Road in Basingstoke closed and queuing traffic northbound from Venture Roundabout to Hackwood Road Roundabout, because of a shed load of hay.

To report traffic and travel incidents dial 0330 123 0184 at any time

Gritters take to the roads as temperatures drop

Police appeal for missing Reading student

Police are trying to trace a missing Reading University student.

Benjamin Ballard, 20, was last seen yesterday in Eastern Avenue, heading towards Reading.

Sgt Tracey Croucher, of Thames Valley Police, said: "We are concerned for Benjamin's welfare and would like to appeal to anyone who has any information as to his whereabouts to come forward."

A University of Reading spokesperson said: "We are concerned for Benjamin's welfare and are sharing the police's appeal for any information that might help them."

Reading nursery 'paid no rent for seven years'

Local Democracy Reporting Service

A nursery occupied a Reading Borough Council building for seven years without paying rent or agreeing a lease, according to the local democracy reporting service.

Stepping Stones Pre-School stayed free of charge in the Dunsfold Road, Tilehurst, building from 2011 and 2018.

The council agreed a two-year lease with the nursery in autumn 2018, covering ongoing rent, service charge requirements and the repayment of arrears.

Claire Fullbrook, who manages the nursery, said: "Stepping Stones Pre-School has been trying to enter into a lease with [the council] since the day we moved into the building but to no avail."

An internal review found council officers were reluctant to start evictions proceedings because of the service the nursery provides.

CCTV issued after Henley cafe burglary

Thames Valley Police has released a CCTV image of a man who it believes may have information in relation to a burglary in Henley-on-Thames.

It happened at about 13:30 on 28 December at the Spoon Deli and Café in Duke Street.

A man entered the store and went into a staff area where there was a safe.

He was challenged by staff and he said he was looking for the toilets. Staff directed him to the toilets, but the man then left the store with money taken from the safe.

Emergency services share messages of love...

The emergency services across the south of England are feeling the love on this Valentine's Day...

Leader of Hampshire County Council to step down

Lego dinosaurs to appear at Marwell Zoo

Work is under way to build Lego dinosaurs for an upcoming event at Marwell Zoo in Hampshire.

While not exactly 65 million years in the making, a team in a warehouse in Bordon are in the middle of a 969-day operation to put together more than two million bricks for Brickosaurs, which will run from 5 April to 1 September.

When the T-Rex is complete, it will be the largest touring Lego brick dinosaur ever made.

Ed Diment, creative director of the building firm Bright Bricks, called it a "genuine world first on a scale never attempted before".