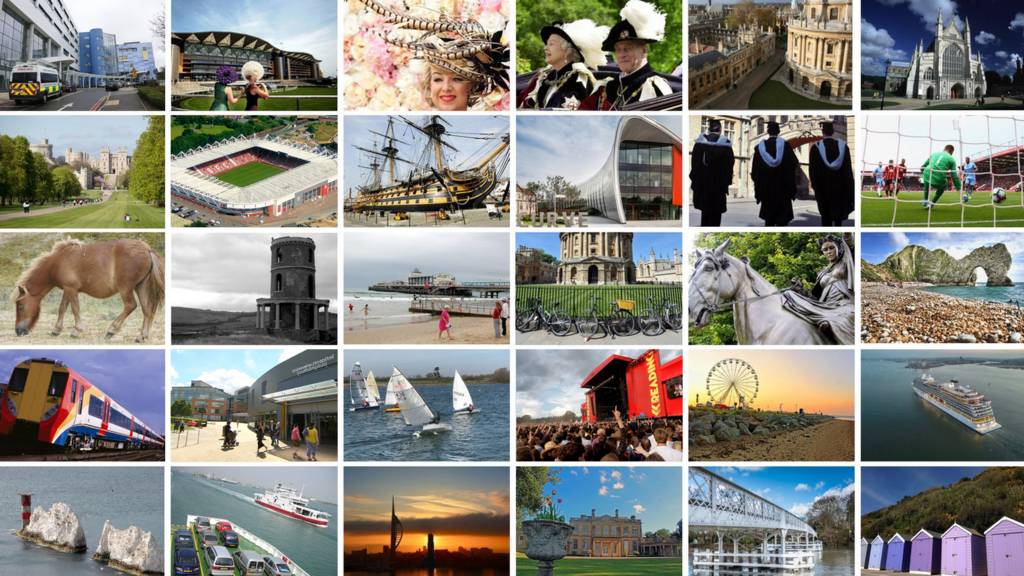 South Live: Thursday 6 December
You can get in touch by email, on our Berkshire, Oxford, Hampshire and Dorset Facebook pages or on Twitter @BBCBerkshire @BBCOxford @BBC_Hampshire and @BBCDorset.
Summary
Updates from Thursday 6 December
That's all from BBC South Live for today.

The service resumes tomorrow at 08:00. We hope to see you then.

Man charged over claw hammer attack

A man has been charged in connection with an assault in Blandford, Dorset.

Officers were called at 21:12 on 7 May to Damory Court Street following reports that a 31-year-old man had been assaulted.

The man was allegedly assaulted with a claw hammer and then driven at by a man in a Mercedes car.

A 30-year-old Blandford man has been charged with attempting to cause grievous bodily harm with intent, criminal damage and dangerous driving.

He is due to appear at Weymouth Magistrates' Court on 7 January.

Appeal after man seriously injured in six-vehicle collision

Police are appealing for information following a serious collision on the A27 at Farlington, Hampshire.

The collision occurred at about 14:20 GMT on Wednesday and involved six vehicles.

The driver of the one of the vehicles, a man in his 70s, sustained serious injuries.

PC Zoe Martin said: "I would also like to speak to anyone who was travelling along this route at the time of the incident, and has a dashcam fitted in their vehicle, to get in touch with us."

Boy, 15, robbed of bike in Bournemouth

A 15-year-old boy has been robbed in Bournemouth by two teenagers wearing ski masks.

He was pushed off his bike on a footpath close to the Mallard Road Retail Park at Castlepoint on Monday afternoon.

Police are appealing for witnesses or anyone with information to come forward after his bike, worth £1,350, was stolen.

Tesco directors acquitted in fraud trial

Two former Tesco directors have been acquitted of charges of fraud and false accounting, after the judge dismissed their case due to lack of evidence.

Chris Bush and John Scouler both denied manipulating figures that resulted in Tesco's profits being massively overstated.

A previous trial involving the pair and a third man, Carl Rogberg from Chiselhampton, Oxfordshire, was discontinued last year after he suffered a heart attack.

The prosecution says a decision will be made in due course on the charges against Mr Rogberg.

Children decorate tree with Duchess of Cornwall

Children from Oxford charity Helen & Douglas House spent some time with their patron, The Duchess of Cornwall, decorating the Christmas tree at Clarence House today.

Severe accident: M27 Hampshire westbound

BBC News Travel

M27 Hampshire westbound severe accident, from J7 for A334 Charles Watts Way to J5 for A335 Stoneham Way Southampton Airport.

M27 Hampshire - One lane closed and queuing traffic on M27 westbound from J7, A334 (Hedge End) to J5, A335 (Southampton Airport), because of an accident.

To report traffic and travel incidents dial 0330 123 0184 at any time

Severe accident: M271 Hampshire southbound

BBC News Travel

M271 Hampshire southbound severe accident, at J1 for Brownhill Way.

M271 Hampshire - M271 partially blocked and slow traffic southbound at J1, Brownhill (Nursling), because of an accident.

To report traffic and travel incidents dial 0330 123 0184 at any time

Severe disruption: M40 Buckinghamshire both ways

BBC News Travel

M40 Buckinghamshire both ways severe disruption, from J2 for A355 to J1A for M25 J16.

M40 Buckinghamshire - One lane closed on M40 from J2, A355 (Beaconsfield) to J1a M25 J16, because of a lorry having a tyre changed. Traffic is coping well.

To report traffic and travel incidents dial 0330 123 0184 at any time

Data problems hit O2 mobile network

Sam Clayton

BBC Radio Berkshire newsreader

O2, which has its headquarters based in Slough, has apologised to customers who are having problems with its data network.

It says its engineers are working "extremely hard" to resolve an issue with software provided by a third-party supplier, thought to be the Swedish technology firm Ericsson.

Voice calls are working OK.

Lines reopen following Network Rail signalling problem

Police appeal for woman after Oxford nightclub assault

Officers have released CCTV footage of a woman who may have information about an alleged assault at the Cellar nightclub in Oxford.

A female member of staff, 33, was left with a perforated eardrum after the assault which may result in permanent loss to hearing.

The assault took place at about 00:30 GMT on 20 September.