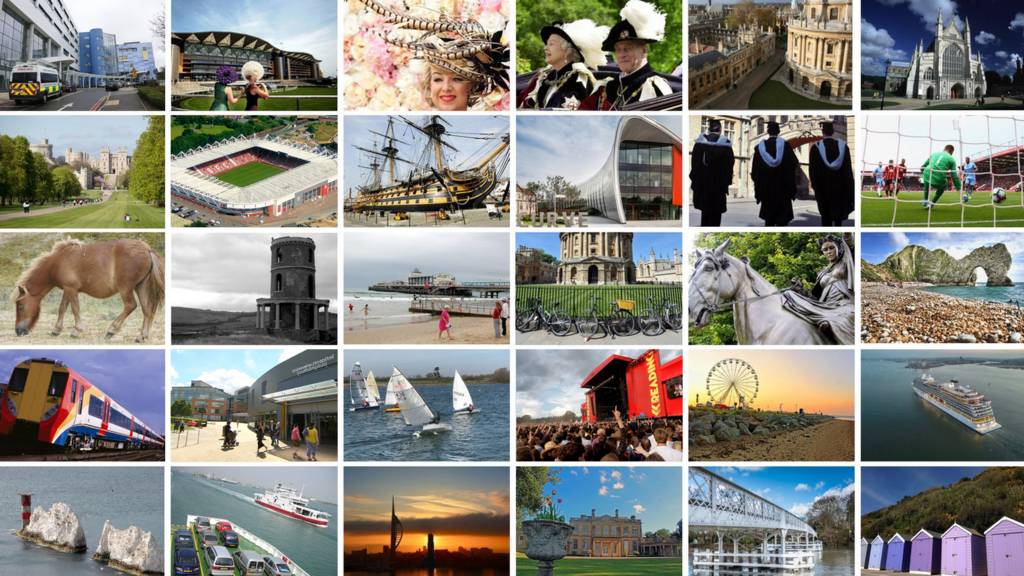 South Live: Thursday 22 November
You can get in touch by email, on our Berkshire, Oxford, Hampshire and Dorset Facebook pages or on Twitter @BBCBerkshire @BBCOxford @BBC_Hampshire and @BBCDorset.
Thanks for popping by today.

We'll be back with more news, sport, weather and travel from 08:00 tomorrow.

CCTV images released after sexual assaults in sea

Dorset Police has issued CCTV images of two men suspected of sexually assaulting three girls as they swam off Bournemouth beach. The offences happened at about 14:30 on 8 July, and the three victims, aged between 11 and 14, reported being touched inappropriately by two Asian men while swimming in the sea to the west side of Bournemouth Pier. PC Sebastian Haggett said: "We have made a number of extensive enquiries to try and identify the men pictured, including making contact with a number of other police forces. "However, these efforts have so far been unsuccessful and I am now appealing for anyone who recognises the men pictured to please contact us."

Two Mini Coopers set on fire in Southampton

The cars were set alight in the Shirley area of the city in the early hours of the morning.

The first was on Wednesday at 02:35 in Randolph Street, and the fire spread to a black Mercedes parked nearby and an adjacent house.

The second was at about 03:23 today in Hanley Road.

Det Insp Steve Spencer said: "We believe these fires were committed by the same person and we want to know who that person is before someone gets seriously hurt.

"One of these fires has spread to someone's house and endangered people's lives."

Severe disruption: M4 Berkshire eastbound

BBC News Travel

M4 Berkshire eastbound severe disruption, at J6 for A355 Slough.

M4 Berkshire - M4 lane closed on entry slip road and slow traffic eastbound at J6, A355 (Slough), because of a broken down vehicle.

To report traffic and travel incidents dial 0330 123 0184 at any time

Severe accident: M3 Hampshire southbound

BBC News Travel

M3 Hampshire southbound severe accident, from J12 for A335 to J13 for M27.

M3 Hampshire - One lane closed and queuing traffic on M3 southbound from J12, A335 (Eastleigh) to J13, M27 (Chandlers Ford), because of an accident. Congestion to J9 (Winnal Roundabout / Winchester North).

To report traffic and travel incidents dial 0330 123 0184 at any time

Seven held over cash machine thefts released

Image caption: A cash machine at a Co-op in Carterton was targeted

Seven people arrested after a spate of cash machine thefts have been released pending further inquiries.

Police raided several addresses as part of an investigation into burglaries across Oxfordshire, Gloucestershire, Wiltshire and Worcestershire.

Officers discovered a stolen firearm, large quantities of cash and drugs, and suspected stolen car parts, jewellery and power tools.

Five men aged 18, 38, 39, 43 and 53 were arrested on suspicion of conspiracy to burgle.

A 31-year-old woman was arrested on suspicion of perverting the course of justice and a 17-year-old boy was held on suspicion of burglary.

Leaf pick-up in Oxford 'expected to be 220 tonnes'

Copyright: Esther Johnson

Thanks to a mega hot summer the leaves started falling early in August, and the resulting clean-up has kept Oxford Direct Services very busy.

Working on behalf of the city council, it has to keep roads, pavements and gullies clear with its arsenal of street sweepers, leaf blowers, vacuum hoses and brooms.

The leaves are later composted in Ewelme for use on local farms.

Manager Bruce Thompson said: "By the time we finish picking them up, in December, we'll have collected around 220 tonnes."

Slough man arrested for terrorism offences

A man from Slough has been arrested on suspicion of terrorism offences.

The 37-year-old was detained yesterday under the Terrorism Act and is currently in police custody.

Det Supt Nigel Doak, from Counter Terrorism Policing South East, said: "This was a pre-planned operation by our detectives and searches are being carried out at an address in Slough, which are expected to continue for some time.

"I would like to thank the local community for their understanding and patience whilst officers carry out the searches and also to reassure them that there was no imminent threat to members of public in Slough."

In pictures: Frost in Abingdon

Becca Collacott has sent us photos of what she says was an "icy cold morning" in Abingdon, Oxfordshire.

Just looking at them is making us reach for the hot water bottle.

Copyright: Becca Collacott

Copyright: Becca Collacott

Copyright: Becca Collacott

Severe disruption: M4 Berkshire westbound

BBC News Travel

M4 Berkshire westbound severe disruption, between J8 for A404M Maidenhead and J10 for A329.

M4 Berkshire - One lane closed on M4 westbound between J8, A404(M and J10 A329(M) Wokingham, because of a broken down car. Traffic is coping well.

To report traffic and travel incidents dial 0330 123 0184 at any time

Village's vegan name change rubbished

People in Wool village, whose name has nothing to do with sheep, say a request by an animal rights group to rename it is "stupid" and "ridiculous".

Peta have written to Wool Parish Council asking them to rename the village "Vegan Wool".

The group says Wool should change its name as there is "systemic" cruelty to sheep in the British wool industry.

Wool Parish Council has posted the letter on their Facebook page asking for resident's thoughts.

Council redundancy and temp costs revealed

Local Democracy Reporting Service

Fifteen members of Dorset County Council staff were made redundant in the three months from the end of June, costing a total of £231,138.

The authority will cease to exist from April when it merges with five other authorities covering rural Dorset and Weymouth.

Meanwhile, spending on agency workers increased by 9% in the same period, according to the Local Democracy Service, with the authority spending £1.7m on temps.

Man held over bookmaker robberies

A man has been arrested over an armed robbery at a bookmakers in Bournemouth.

A female cashier at Betfred in Commercial Road was threatened with a kitchen knife on Saturday morning.

Dorset Police said £2,000 was stolen.

The 40-year-old man of no fixed address is also being held over two further robberies, two burglaries an attempted burglary, two thefts and an assault.

'Haunting Soldier' sculpture vandalised

A World War One sculpture that was made in Dorset and installed in Dublin has been vandalised with red paint.

'The Haunting Soldier' has been on display since 5 November to coincide with commemorations marking the ending of the war.

The six-metre high installation represents a soldier returned from war, battle weary and forlorn.

The soldier was made from scrap metal, including horse shoes, spanners and car jacks.

Anger over closure threat to council care homes

A protest was held at Southampton Civic Centre yesterday over council plans to close its final two care homes in the city.

The demonstration was held ahead of a full council meeting which took place in the afternoon.

More than 70 jobs could be at risk and 75 residents relocated if plans go ahead.

The council said the proposed closures would save about £1.3m per year which it said could be put towards other care options.Councillors said they would listen to concerns made during a public consultation.