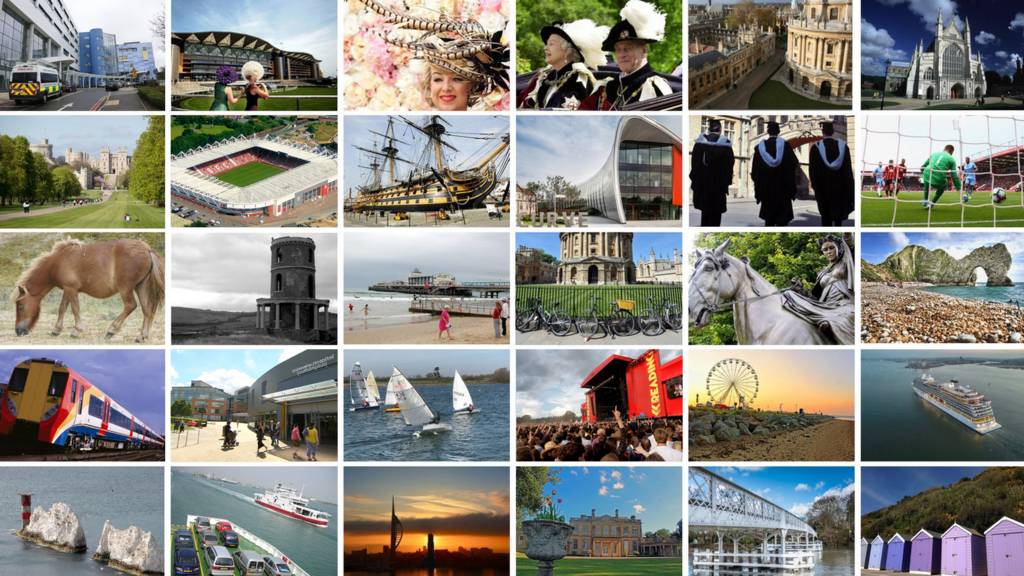 South Live: Thursday 15 November
You can get in touch by email, on our Berkshire, Oxford, Hampshire and Dorset Facebook pages or on Twitter @BBCBerkshire @BBCOxford @BBC_Hampshire and @BBCDorset.
That's all from BBC South Live for today.

The service resumes at 08:00 tomorrow. We hope you'll join us then.

BBC Sport imagines how Southampton striker Charlie Austin might react to the news that VAR will be used in the Premier League from next season.

Oxfordshire employers 'positive' about EU draft agreement

Two major Oxfordshire employers have encouraged politicians to accept Theresa May's draft Brexit deal, after seven Tory MPs resigned in opposition to the proposals.

BMW, which manufactures Minis in Oxford, has described the EU draft agreement as a "a positive step in the right direction".

It said a no-deal Brexit "would have a disruptive and detrimental effect on our business".

In a statement Siemens said: "This draft agreement is the best deal in the circumstances because it will ensure we avoid the chaos of a no deal and secures a much-needed transition period."

Fire station weighs in on Brexit chaos

Isle of Wight MP supports Brexit deal

Isle of Wight MP Bob Seely has said he backs Theresa May's EU deal.

He called it a "deal that delivers on the referendum result to leave the EU - something I voted for and the majority of people on the Isle Wight voted for".

He added: "I consider that the interests of the Isle of Wight constituency will be well served by the Brexit secured through this deal.

"Island companies also export around the world, and I am looking forward to the enhanced, post-Brexit opportunities there will be on this front."

However, he admitted the "deal is not perfect, it may be unrealistic to think it could have been".

Lorries banned from town's high street

Bethan Nimmo

Political reporter, BBC Radio Oxford

After a 20-year campaign, lorries are set to be banned from the high street of Burford in Oxfordshire.

The community will now fundraise £85,000 for signs.

The experimental weight limit, which will stop lorries more than 7.5 tonnes using the road, is set to last 18 months.

The order was met with applause from supporters when it was made at a county council meeting today.

But there's also opposition. Campaigners in Woodstock told the meeting it could mean up to 200 extra lorries through the town a day.

Southampton celebrity tattooist Cally Jo chats with Sasha Twining

Jarvis Cocker backs threatened Oxford venue

A campaign to save an iconic music venue in Oxford has raised more than £37,000.

The Cellar in Oxford can only sell 60 tickets per show after inspectors ruled its fire escape was 12 inches too short.

The #CellarForever campaign was launched to pay for a new fire exit, modernisation work and to cover the costs of its temporary closure.

Supergrass frontman Gaz Coombes and Radiohead drummer Phil Selway have backed it, and other music legends have since followed suit, including Jarvis Cocker (pictured).

Previously known as The Corn Dolly and The Dolly, The Cellar has been run by the Hopkins family since the 1980s.

Severe disruption: M3 Surrey southbound

BBC News Travel

M3 Surrey southbound severe disruption, between J3 for A322 Bagshot and J4 for A331 Frimley Interchange.

M3 Surrey - One lane closed on M3 southbound between J3, A322 (Bagshot) and J4, A331 (Camberley), because of a broken down vehicle. Traffic is coping well.

To report traffic and travel incidents dial 0330 123 0184 at any time

Oxford Dictionaries Word of the Year is...

Copyright: Science Photo Library

...toxic.

President Casper Grathwohl said: "Reviewing this year in language we repeatedly encountered the word toxic being used to describe an increasing set of conditions that we're all facing.

"...toxic seems to reflect a growing sense of how extreme, and at times radioactive, we feel aspects of modern life have become."

The Word of the Year aims to "reflect the social, cultural, political, and economic trends and events".

Other shortlisted words included gammon and gaslighting.

Flybe apologises after fog diverts planes

Copyright: AFP/Getty Images

Flybe has apologised after some of its flights were diverted from Southampton Airport because of fog last night.

A spokeswoman said: "Flybe, like every airline, has minimum acceptable weather conditions in which it can operate safely.

"As a result of the adverse weather conditions, nine Flybe flights were diverted to Birmingham and Exeter Airports.

"The airline did everything possible to ensure that the passengers involved could complete their journey to Southampton with as little further disruption as possible."

Work on Thames locks begins

Major projects at five of the 45 lock sites operated by the Environment Agency on the Thames are beginning.

The annual winter programme "enables and enhances boating activity" on the non-tidal River Thames.

In order of value the major projects are:

Teddington Lock, Teddington, Middlesex - refurbishing the concrete-lined lock chamber of the launch lock (one of three different locks at this unique site) at a cost of £450,000
Day's Lock, Little Wittenham, near Abingdon, Oxfordshire – fabricating four brand new gates at our workshop in Osney at a cost of £100,000 for installation in 2019/20
Caversham Lock, Reading, Berkshire – refurbishing the concrete-lined lock chamber at a cost of £400,000
Rushey Lock, Buckland Marsh, near Faringdon, Oxfordshire – replacing the facing timber and balance beams on all four lock gates at a cost of £100,000
Molesey Lock, East Molesey, Surrey – replacing the facing timber on all four lock gates at a cost of £70,000.

Additionally smaller works will be carried out at Cookham Lock near Maidenhead, Berkshire, structural surveys of the lock chambers at King's Lock near Wolvercote, Oxfordshire, and Whitchurch Lock near Reading in Berkshire.

Mooring facilities at Blake's Lock in Reading will also be refurbished.

Road traffic crash in Windsor

Portsmouth MP laments Brexit deal

Portsmouth South MP Stephen Morgan has described the UK's draft Brexit agreement with the EU as "a miserable failure after two years of botched negotiations" and has called for another referendum.

The Labour MP added: "Theresa May's deal is in two parts – a withdrawal agreement that includes half-baked proposals for a backstop, and a political declaration that is incredibly vague and opens the gate to a hard Tory Brexit.

"It doesn't protect jobs, rights and living standards in Portsmouth. This deal fails tests Labour has set out months ago and I will vote against it in Parliament."

Hampshire Constabulary has appealed for witnesses to the theft of a Poppy Appeal tin from a church in Ryde on the Isle of Wight.

It was stolen between 14:00 on 7 November and 17:00 on 11 November from a table at the rear of All Saints' Church near the main door.

Firefighters given notice on Isle of Wight

Seven firefighters on the Isle of Wight have been told they will not be needed after the end of the year.

The crew members are on temporary contracts which will not be renewed, the Local Democracy Reporting Service said.

Isle of Wight Council previously approved changes to the fire service including reducing the number of whole-time firefighters crewing an engine from five to four.

The plans also suggested reducing the number of whole-time crew from 58 to 50.

The authority said no full-time fire engines would be lost as a result of the changes.

Plans for changes to A40 in Oxfordshire published

Breaking

M40 pile-up that killed two 'caused by slow-moving car'

Copyright: University of Oxford

Image caption: Mark Whittow was a Medieval historian and archaeologist

A five-vehicle pile-up that killed two people on the M40 on Christmas Eve was caused by a "nearly stationary" car driven by a 77-year-old man, an inquest has heard.

Oxford University professor Mark Whittow, 60, and 29-year-old Shane Stokes from Warwickshire both died in the crash.

Oxford Coroner's Court heard Mr Wittow's Volkswagen Polo struck a slow-moving BMW driven by Bernard Guile.

Coroner Darren Salter said the pensioner was confused and probably lost because he was suffering from a urinary tract infection.

In June he was diagnosed with Alzheimer's dementia and is now residing in a care home.

Four other people were injured in the crash.