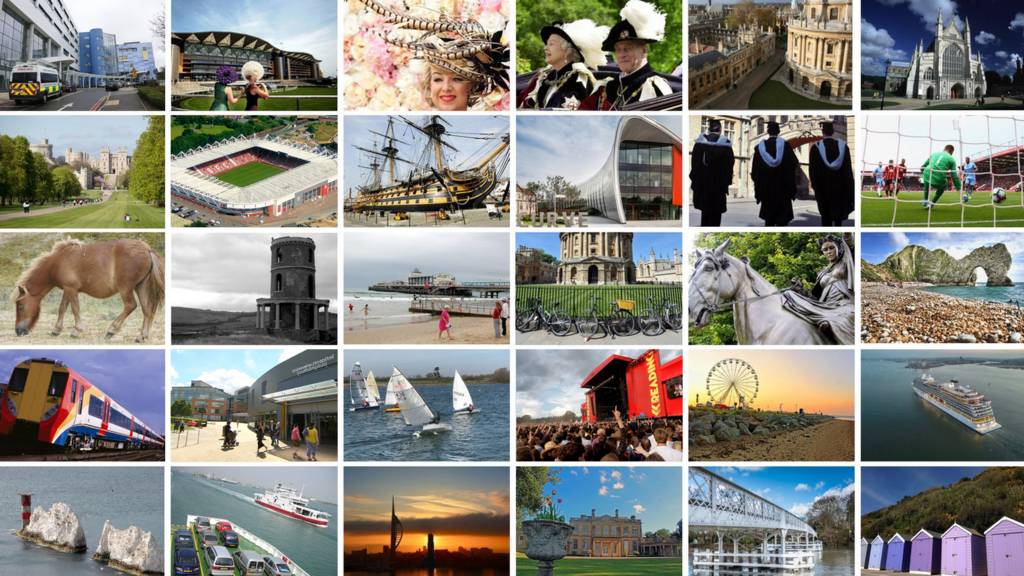 South Live: Tuesday 13 November
You can get in touch by email, on our Berkshire, Oxford, Hampshire and Dorset Facebook pages or on Twitter @BBCBerkshire @BBCOxford @BBC_Hampshire and @BBCDorset.
That's all from us today.

We'll be back tomorrow from 08:00 with all the latest news, sport, travel and weather for the region.

Councillors urged to rethink healthcare plans

Councillors in Poole are being urged to refer plans to reorganise healthcare in Dorset to the Health Secretary.

Under the CCG's Clinical Services Review, A&E and maternity services at Poole Hospital will be moved to Bournemouth.

Poole resident and Defend Dorset NHS campaigner Jeff Williams says lives will be at risk from longer journeys to hospital.

A motion to full council in Poole tonight is calling for a rethink of the plans.

Severe congestion: A35 Hampshire both ways

BBC News Travel

A35 Hampshire both ways severe congestion, near Langhorn Road.

A35 Hampshire - Queuing traffic on A35 Burgess Road in both directions in Southampton near the Langhorn Road junction. In the roadworks area.

To report traffic and travel incidents dial 0330 123 0184 at any time

Severe accident: M27 Hampshire westbound

BBC News Travel

M27 Hampshire westbound severe accident, at J10 for A32 Wickham Road.

M27 Hampshire - Slow traffic on M27 westbound at J10, A32 (Wickham), because of an accident, which is now on the hard shoulder. All lanes have been re-opened.

To report traffic and travel incidents dial 0330 123 0184 at any time

Chief warns of impact on force amid budget shortfalls

A chief constable has warned budget cuts will have a "significant impact" on his force's services.

James Vaughan said: "The budget for Dorset Police has already reduced by £25m since the introduction of the government's austerity programme and, as a direct result, we have had to reduce our workforce by 500 officers and staff."

He added he had a "growing concern" that demand for policing was "rising at an alarming rate" and said without investment crime would continue to rise.

Image caption: Dorset Chief Constable James Vaughan

Severe accident: A44 Oxfordshire both ways

BBC News Travel

A44 Oxfordshire both ways severe accident, from A3400 to B4030 Bicester Road.

A44 Oxfordshire - A44 in Southcombe closed and very slow traffic in both directions from the A3400 junction to the B4030 Bicester Road junction, because of an accident involving lorry and mini bus.

To report traffic and travel incidents dial 0330 123 0184 at any time

Bridge closed in Dorset due to crash

Number of refugee children trebles in Oxfordshire

The number of refugee children being looked after in Oxfordshire has more than trebled over the past five years, figures show.

From 20 children in 2014, social services are now caring for 70 lone asylum-seeking children.

The Home Office says "the UK has a proud history of hosting, supporting and protecting vulnerable children affected by the migration crisis".

Many children looked after in the county are deported when they reach 18.

Oxfordshire County Council said government grants to care for the children were insufficient, but the Home Office said it was reviewing its funding.

Dorchester development plans to be revealed during public events

Drivers urged to avoid section of A34

Murder investigation launched into woman's death

A man has been charged with murder following the death of a woman from abdominal injuries.

Devi Unmathallegadoo, 35, was found with fatal wounds after emergency services responded to reports of a disturbance at an address in Applegarth Drive, Ilford, at about 07.40 BST on Monday.

Despite hospital treatment she was pronounced dead at 11.00.

Ramanodge Unmathallegadoo, 50, of no fixed abode was arrested at the scene on suspicion of attempted murder. He was taken to an east London police station and was subsequently arrested and then charged with murder.

No other persons are sought in connection with this investigation. The arrested man and woman were known to each other.

Enquiries continue.