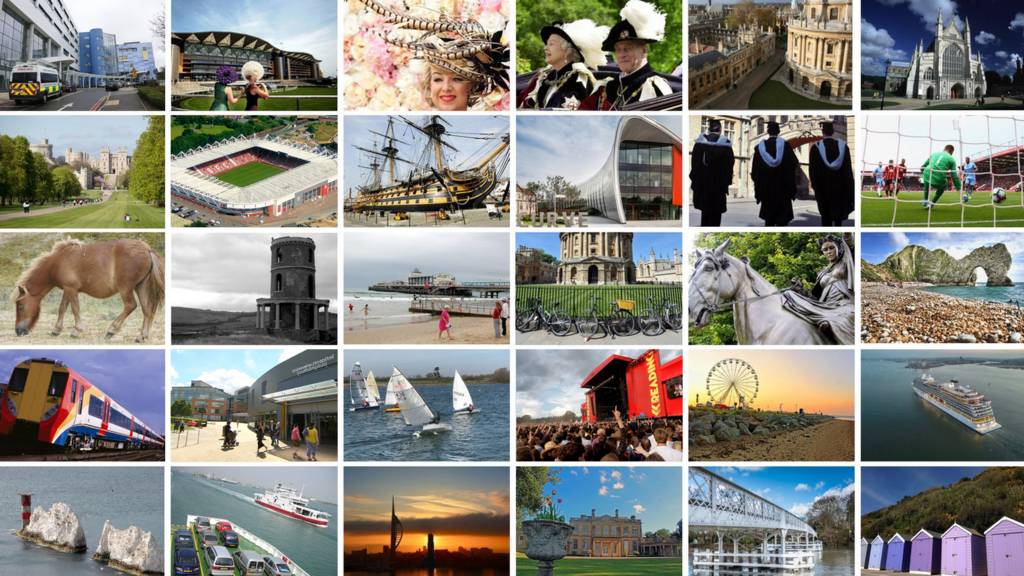 South Live: Monday 12 November
You can get in touch by email, on our Berkshire, Oxford, Hampshire and Dorset Facebook pages or on Twitter @BBCBerkshire @BBCOxford @BBC_Hampshire and @BBCDorset.
Thanks for joining us today.

We'll be back on Tuesday morning from 08:00 with all the latest news, sport, weather and travel news for the south of England.

Have a good night.

Listen: Daughter's tribute to 'Weymouth's Freddie Mercury'

Chris Argent was a larger-than-life character in Weymouth who dressed and performed as Freddie Mercury when he hit the town.

BBC Radio Solent reporter Laurence Herdman posted on social media about him, having seen the new film Bohemian Rhapsody.

Lots of people commented on the post which appeared coincidentally on what would have been Chris' birthday.

It was seen by his daughter Kirsty Sainsbury-Argent who was overwhelmed by the heart-warming tributes and stories that unfolded about her dad.

Severe disruption: A4130 Oxfordshire eastbound

BBC News Travel

A4130 Oxfordshire eastbound severe disruption, from High Street to A34.

A4130 Oxfordshire - A4130 in Steventon closed and slow traffic eastbound from the High Street junction to Milton Interchange, because of a police incident.

To report traffic and travel incidents dial 0330 123 0184 at any time

A3 crash: Police warning over driving conditions

Cancer treatment patients get beauty workshops

A cancer charity is providing practical support for people struggling with the visible side effects of their treatment.

The free Look Good Feel Better workshops, led by volunteer beauticians at Royal Berkshire Hospital, are helping women increase their self-confidence when they need it most.

Severe accident: A3(M) Hampshire northbound

BBC News Travel

A3(M) Hampshire northbound severe accident, after J1 for .

A3(M) Hampshire - One lane closed and queuing traffic on A3(M) northbound after J1, Clanfield, because of an accident.

To report traffic and travel incidents dial 0330 123 0184 at any time

Beach images honour World War One soldiers

Giant portraits of soldiers who died in World War One have been etched across UK beaches to mark 100 years since the conflict ended.

Volunteers were given stencils and rakes to create the large-scale images including one in Weymouth of Sergeant Stanley Robert McDougall, who was in the Australian Imperial Force.

The faces were later washed away by the incoming tide.

Pages of the Sea was conceived by Oscar-winning director Danny Boyle.

Severe accident: M3 Hampshire northbound

BBC News Travel

M3 Hampshire northbound severe accident, between J10 for A31 and J9 for Winnal Roundabout.

M3 Hampshire - One lane closed and very slow traffic on M3 northbound between J10, A31 (Winchester) and J9, Winnal Roundabout, because of an accident.

To report traffic and travel incidents dial 0330 123 0184 at any time

Pair taken to hospital after 'unprovoked' attacks

Two men have been treated in hospital after "vicious and unprovoked" attacks in Mill Street, Wantage.

The first victim, aged in his 40s, was punched inside the House of Spice Indian restaurant at about 18:30 GMT on Wednesday.

The second man was punched and kicked in Mill Street a few minutes later.

The victims were treated for hand and ankle injuries, police said.

Officers are searching for three men who left the scene in a white van.

Footage showing a series of near misses on a roundabout has been released by a cyclist.

Ambulance boss to leave troubled trust

Mark Norman

Health Correspondent, BBC South East

The boss of the South East Coast Ambulance Service (Secamb) is to leave the troubled trust after less than two years in the post.

Daren Mochrie was appointed chief executive in April 2017, seven months after the service was put into special measures.

He is to leave at the end of March to take up a post at the North West Ambulance Service.

His departure will leave staff uncertain about the future of a trust that serves nearly five million people across Brighton and Hove, East and West Sussex, Kent, Surrey, and North East Hampshire.

Last week, a Care Quality Commission report questioned whether recent improvements were sustainable.

The trust has been struggling for the past few years.

In May 2016 its then chief executive, Paul Sutton, resigned after he was found to have authorised a covert policy which delayed sending help for some emergency call-outs.

Later that year it was put in special measures - rated inadequate by the Care Quality Commission with the reasons including putting patients at risk.

Then in August 2017, an independent review revealed the trust had a culture of bullying and harassment - with concerns over "toxic" atmospheres.