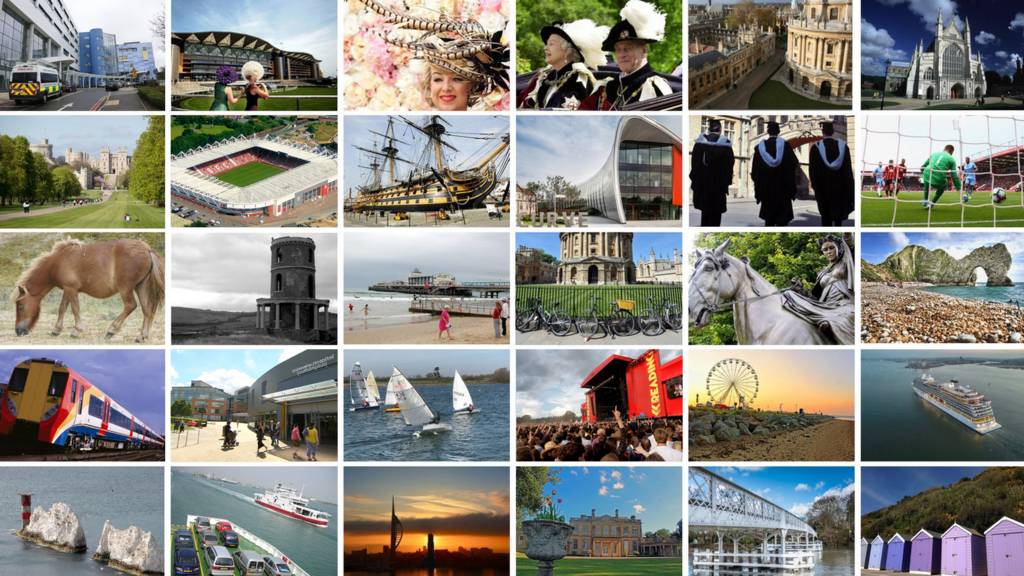 South Live: Wednesday 7 November
You can get in touch by email, on our Berkshire, Oxford, Hampshire and Dorset Facebook pages or on Twitter @BBCBerkshire @BBCOxford @BBC_Hampshire and @BBCDorset.
Thanks for reading today; we'll be back with more news, sport, weather and travel tomorrow from 08:00.

Flood barriers go up as sea levels rise

Flood barriers are being put in along the seafront at Swanage.

A stretch of road between The Square and High Street in Swanage has been closed to traffic while the barriers put in place due to high sea levels.

Swanage Town Council said the road closure will remain in place until the flood risk has receded.

Copyright: Swanage Coastguard

Butter throwing queue dispute man sought by police

Police have released a CCTV image of a man they'd like to speak to after a tub of butter was thrown at a 74-year-old woman in a supermarket queue.

A man threw the butter at the woman after she confronted him for jumping the queue in the Co-op supermarket on the High Street, Eynsham, at about 12.40 GMT on 21 October.

She suffered swelling and severe bruising to her lip.

PC Sarah Tibble said: "I would like to speak to anyone who recognises the man in this image as he might have vital information relating to this incident."

Copyright: Thames Valley Police

Severe accident: M3 Hampshire northbound

BBC News Travel

M3 Hampshire northbound severe accident, from J13 for M27 to J12 for A335.

M3 Hampshire - Queuing traffic on M3 northbound from J13, M27 (Chandlers Ford) to J12, A335 (Eastleigh), because of an accident, which is now on the hard shoulder. All lanes have been re-opened.

To report traffic and travel incidents dial 0330 123 0184 at any time

Severe accident: M4 Berkshire westbound

BBC News Travel

M4 Berkshire westbound severe accident, from J14 for A338 to J15 for A346 Marlborough Road.

M4 Berkshire - One lane closed and queuing traffic on M4 westbound from J14, A338 (Hungerford) to J15, A346 (Swindon East), because of an accident.

To report traffic and travel incidents dial 0330 123 0184 at any time

Hollybrook Cemetery memorial petition rejected

A grieving mother who launched a campaign to stop Southampton City Council forcing families to remove items from graves says she's devastated the local authority won't accept her petition.

Rowan Leach's petition has attracted more than three times the number of signatures needed to trigger a debate, but because it's not directly on the council's website, the authority is refusing to accept it.

Ms Leach, 20, put up a low fence at Hollybrook Cemetery around the grave of her son, Hadley, who died last year aged six weeks.

The city council says it's not asking loved ones to remove personal items from gravestones just things like fencing, solar lights, glassware and wind chimes for health and safety reasons.

The authority said it had paused the enforcement of item removal until 19 November in light of the petition.

'Obscene' books go on display for first time

The Bodleian Libraries in Oxford is putting its collection of 'obscene' and 'improper' books from its restricted 'Phi' category on display.

The shelfmark Φ - the Greek letter phi - was established in 1882 to protect young minds from material that was considered immoral in Victorian times.

Students had to submit a college tutor's letter of support in order to read Phi materials.

The 3,000 items in the collection include Oscar Wilde's The Picture of Dorian Gray, a signed first edition of Lady Chatterley's Lover and Sex manuals including the best-seller, The Joy of Sex.

Arrest after robbery at shop in Poole

A woman has been arrested following a robbery at a shop in Poole.

Police said two men wearing scarfs around their faces entered St Mary's News on St Mary's Road at about 11:20 on Tuesday.

Staff were threatened with a weapon, believed to be a handgun. It is not known if it was real or a replica.

A quantity of cigarettes, cash and a phone was taken before the men made off in a black Vauxhall Corsa or a similar vehicle.The 25-year-old woman from Poole has been arrested on suspicion of conspiracy to commit robbery.

Goring Gap 'ugly' rail gantries should be painted

The metal gantries installed along the railway line in Goring should be made more attractive - according to a report commissioned by Network Rail.

The report - produced by the engineering company Balfour Beatty - says the gantries currently have had a "very substantial" impact on views from the Ridgeway north of Goring, and residents of South Stoke.

Options include modifying the frames, painting them to make them blend in with their surroundings and adding screening or fencing.

Resident Emreys Barrell said: "Primarily my view is that they should be painted green to allow them to blend into the background."

Network Rail say: "We are committed to exploring the options and will continue to liaise with local stakeholders and the Department for Transport."

Copyright: Save the Goring Gap

Family tribute to 'wonderful, loving, kind and happy girl'

The family of a 19-year-old woman who died following a car crash in Warwickshire have described her as a "wonderful, loving, kind and happy girl".

Warwickshire Police said Alison Ingham, from Warwick, died in hospital on 30 October after a car left the road on a bend between Warmington and Kineton on 24 October.

Her family went on to say: "She lived her short life to the full and never had a bad word to say about anyone.

"She touched so many lives in her 19 years and her sister, mother and father are so proud of what she achieved in her short life."

Illegal "taxi-style" lift services are growing in popularity and could be putting young people in danger.

History-making Maiden yacht sets off

A famous ocean racing yacht has set off on "The Maiden Factor", a two-year global campaign to promote girls' education.

Maiden made history in 1990 when its female crew, led by Tracy Edwards, became the first to sail the Whitbread Round the World Race.

The all-female crew set sail for Kerala, India, from Hamble earlier.

Breaking

Staithes rock fall death was 'accident'

An inquest into the death of a young girl who was killed by a rock fall on a North Yorkshire beach has concluded it was an accident.

Nine-year-old Harriet Forster, from Oxford, died in Staithes in August.

She suffered serious head injuries during the rockfall while on a family visit to Seaton Garth.

The coroner said it was "simply a case of wrong place at the wrong time".