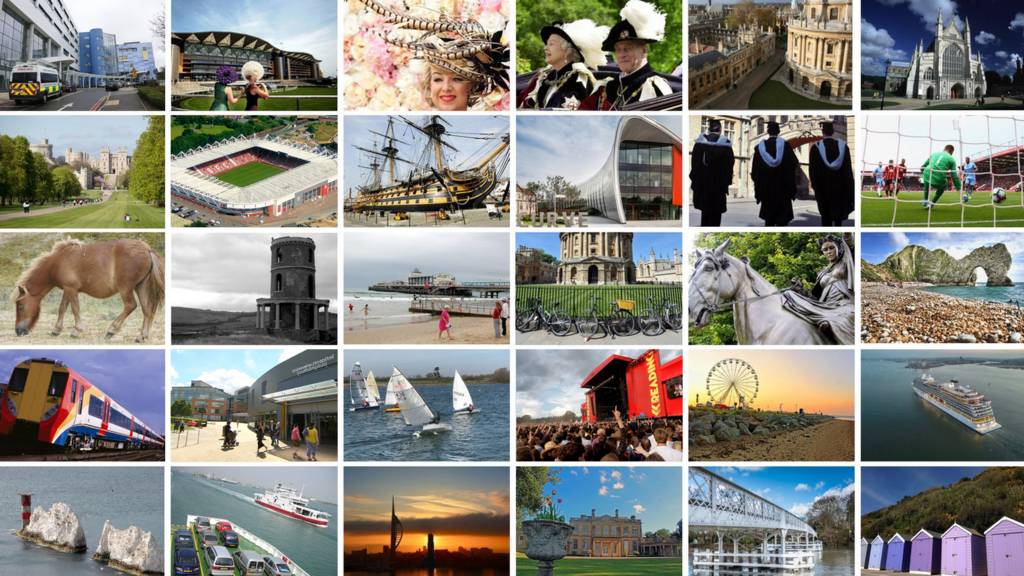 South Live: Tuesday 6 November
You can get in touch by email, on our Berkshire, Oxford, Hampshire and Dorset Facebook pages or on Twitter @BBCBerkshire @BBCOxford @BBC_Hampshire and @BBCDorset.
Thanks for reading today; we'll be back with more news, sport, weather and travel from 08:00 tomorrow.

Have a good evening everyone.

Irish call-up for Michael Obafemi

Southampton's Shane Long and Michael Obafemi along with Portsmouth's Ronan Curtis have been named in the Republic of Ireland squad to play Denmark in the Nations League.

It's a first senior call-up for Obafemi who has made two Premier League appearances this season.

The Republic play Northern Ireland in a home friendly on 15 November. Martin O'Neill's men then travel to play Denmark on 19 November in their fourth Nations League outing, having lost two and drawn one of their opening games in the competition.

Severe accident: M25 Buckinghamshire anti-clockwise

BBC News Travel

M25 Buckinghamshire anti-clockwise severe accident, from J16 for M40 to J15 for M4.

M25 Buckinghamshire - One lane closed and very slow traffic on M25 anticlockwise from J16 M40 to J15 M4, because of an accident.

To report traffic and travel incidents dial 0330 123 0184 at any time

Could the Spice Girls be heading to the Isle of Wight?

Screen time has little effect on sleep, says Oxford study

Image caption: Correlations between screen time and lack of sleep are "extremely modest", says the report

The amount of time children spend on devices has little effect on how long they sleep, a study from Oxford University suggests.

It runs counter to previous research that suggested excessive screen time was linked to children failing to get sufficient rest.

The survey concluded that the relationship between sleep and screen use in children was "extremely modest".

But one UK GP said the findings did not tally with his clinical experience.

Joe has motor neuron disease and wants to leave a unique legacy for his sons.

Severe accident: M25 Buckinghamshire clockwise

BBC News Travel

M25 Buckinghamshire clockwise severe accident, after J16 for M40.

M25 Buckinghamshire - One lane closed and slow traffic on M25 clockwise after J16 M40, because of an accident involving a car.

To report traffic and travel incidents dial 0330 123 0184 at any time

CCTV released of trio who 'used stolen card'

CCTV images have been released of three people police believe used two stolen cards in Dorchester.

Two women in their 80s had their purses stolen while shopping in the town centre on 18 October, with more than £700 of money taken from cash machines and separate spending.

Dorset Police have released footage of three people who are believed to have used the stolen cards, saying that "all the evidence" points to the incidents being related.

Image caption: CCTV images of all three suspects have been released by police

Flood warnings for Dorset coast

Four flood warnings have been issued for parts of the Dorset coast tomorrow morning.

The Environment Agency says flooding is expected in Poole's Town Quay, Preston Beach in Weymouth, Lyme Regis Harbour and West Bay Harbour at high tide early on Wednesday.

Flood warnings require people in affected areas to:

Move family, pets and valuables to a safe place
Turn off gas, electricity and water supplies if safe to do so
Put flood protection equipment in place

Girl sexually assaulted in Portsmouth by man on bike

A 17-year-old girl was sexually assaulted and then pushed into a fence by a man riding past on a bicycle in Portsmouth.

The girl was walking home alone in Arundel Street at around 00:50 on Saturday when a man cycled alongside her and smacked her on the bottom.

She shouted at him to go away and continued walking, but some time later, the same man approached her on his bike again outside St John's School and pushed her against a fence.

Hampshire Constabulary is appealing for witnesses.

Man 'woke up with broken jaw' after Bournemouth assault

A man was given a fractured jaw after being attacked on the street in Bournemouth.

Dorset Police said the victim, in his 40s, was walking along Spring Road between 00:00 and 01:00 on Saturday when two men on the opposite side of the road said something to him.

Due to being partially deaf in one ear, the victim asked what they had said. The next thing he remembers is waking up on the ground bleeding.

He has since had to undergo surgery. The force is appealing for witnesses.

By Kevin Peachey, Clara Guibourg and Nassos Stylianou

BBC News

Three break into family home in 'terrifying ordeal'

A teenager armed himself with a baseball bat against three men who broke into their house in the middle of the night, demanding money and taking jewellery.

The boy was forced inside his own home by a large man dressed in black, wearing a balaclava and gloves, at their family home in Adderbury, near Banbury, at 22.50 on 1 November.

Image caption: The attack took place on Sydenham Close in Banbury

The boy ran upstairs to his parents' bedroom, arming himself with the bat and striking one of three men who entered the home before being restrained.

Two girls were placed in another bedroom, while the boy's mother was then assaulted.

Thames Valley Police have described the ordeal as "terrifying", but said none of the victims required hospital treatment.

The force are appealing for witnesses.

Poppy tin 'stolen' from Sherborne coffee shop

A coffee house has received "countless" messages of support after it said a poppy appeal box has been stolen.

Oliver's Coffee House, in Sherborne, Dorset said it had picked up "crucial messages" about possible names of those responsible for the alleged theft yesterday, and now had a new poppy tin.

Dorset Police said the incident was reported yesterday afternoon and an investigation is underway to identify those responsible.