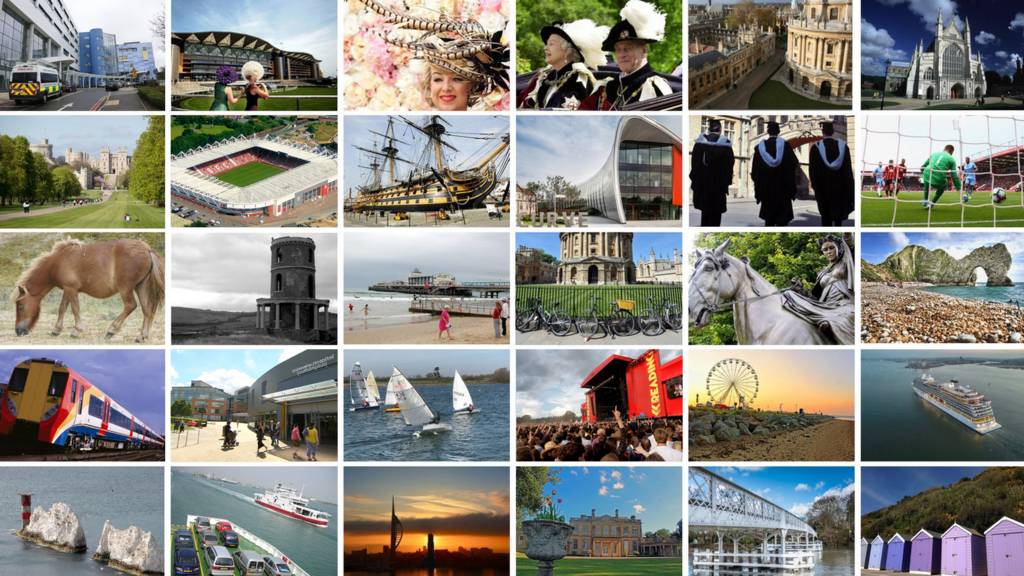 South Live: Monday 5 November
You can get in touch by email, on our Berkshire, Oxford, Hampshire and Dorset Facebook pages or on Twitter @BBCBerkshire @BBCOxford @BBC_Hampshire and @BBCDorset.
That's all for today.

We'll be back with more updates tomorrow from 08:00.

Severe accident: A35 Dorset both ways

BBC News Travel

A35 Dorset both ways severe accident, from B3150 Stinsford Hill to A354.

A35 Dorset - A35 Weymouth Road in Stinsford blocked and queuing traffic in both directions from Stinsford Roundabout to Football Ground Roundabout, because of an accident involving car and motorcycle.

To report traffic and travel incidents dial 0330 123 0184 at any time

Southampton Common death: Man named as Gerald Pragnell, 66

A man found dead in woodland at Southampton Common on Saturday evening has been named as Gerald Pragnell, 66, of Portsmouth Road, Southampton.

Mr Pragnell had been reported missing on 2 November, having not been seen since 06:30 on Thursday.

A man remains in custody after being arrested on suspicion of murder.

Another six suspects had been released pending further inquiries - they include five men, aged 20, 23, 24, 25 and 36, and a 31-year-old woman.

An area of the common remains cordoned off while police continue to search through undergrowth.

Copyright: Hampshire Constabulary

Frank Bruno awarded honorary degree by Bournemouth University

Boxer Frank Bruno has been awarded an honorary dergree from Bournemouth University.

He was made a Doctor of Arts for his role in raise awareness of mental health issues.

Copyright: Bournemouth University

Quote Message: "This honour, I would like to think, it's not only for my achievements in boxing but also in recognition of the work and the constant battle I'm trying to fight on behalf of the sufferers and carers of sufferers who have experienced this terrible curse of mental health." from Frank Bruno

Man arrested after teenager robbed at knifepoint

A 32-year-old man has been arrested after a schoolboy was robbed at knifepoint.

The 15-year-old was ordered to hand over his jumper and iPhone in Waterlooville on 29 October.

Police said the suspect from Hayling Island had been released while inquiries continue.

Severe disruption: M4 Berkshire eastbound

BBC News Travel

M4 Berkshire eastbound severe disruption, from J10 for A329 to J8 for J9 A404.

M4 Berkshire - One lane closed and slow traffic on M4 eastbound from J10 A329(M) Wokingham to J8 J9 A404(M) Maidenhead, because of a broken down vehicle.

To report traffic and travel incidents dial 0330 123 0184 at any time

Brewery shop forced to close after break-in

A Berkshire brewery has been forced to close its shop after a break-in which caused thousands of pounds worth of damage.

West Berkshire Brewery in Yattendon, near Newbury, said its team was "devastated" following the raid at the weekend.

Breaking

Murder investigation launched after Crowthorne death

A murder investigation has been launched after the death of a man found in the road in Crowthorne, Berkshire.

Police and ambulance crews were called shortly after 14:00 when the man was found injured in Nine Mile Ride. He died at the scene.

Officers have appealed for information from anyone who saw anything unusual or suspicious on Nine Mile Ride near the New Acres Caravan Site and Pineridge Park Homes.

Three in five social workers have 'no relevant qualification'

Local Democracy Reporting Service

Just two in five social care workers employed by Wokingham's council have a relevant social care qualification, according to the Local Democracy Reporting Service.

Figures also show the borough's social care workers also have an average of 7.8 years working in the industry - the lowest rate in the south east of England.

The figures come from this year's assessment of more than 150 local authorities by expert social care insight website Skills For Care.

Engine part thefts halt shuttle buses

Some shuttle buses serving Farnborough Business Park have been halted after engine components were stolen from 10 of the vehicles.

The buses transport staff and visitors between Farnborough town centre and rail station and the business park near the airport.

Passengers have been advised to share taxis.

Man who sexually assaulted child has sentence increased

A man who sexually assaulted a girl has had his sentence increased after it was referred to the Court of Appeal for being "unduly lenient".

Tony Baker, 50, carried out a series of sexual assaults against the victim over a period of several years, the Attorney General's Office said.

Solicitor General Robert Buckland referred the case to the Court of Appeal after Baker was jailed for two years and three months at Bournemouth Crown Court in August.

The Court of Appeal has now increased his sentence to four years.

"Baker repeatedly sexually abused his victim over a number of years, robbing her of her youth," Mr Buckland said.

Severe disruption: M40 Oxfordshire southbound

BBC News Travel

M40 Oxfordshire southbound severe disruption, from J11 for A422 to J10 for A43 Brackley.

M40 Oxfordshire - One lane closed on M40 southbound from J11, A422 (Banbury) to J10, A43 (Brackley), because of a lorry having a tyre changed. Traffic is coping well.

To report traffic and travel incidents dial 0330 123 0184 at any time

Man jailed for shooting boy in the eye

A man has been jailed for shooting a teenage boy with a BB gun, leaving him with a serious eye injury.

Benjamin Brown, 21, from Tatnam Crescent in Poole, was sentenced to two years and two months for the attack on the 13-year-old in December last year.

On 31 December, the boy was walking in Wimborne Road when something hit him in the leg. When he turned around, he was struck in the eye.

He has been told his sight may never fully recover.

Severe disruption: M25 London anti-clockwise

BBC News Travel

M25 London anti-clockwise severe disruption, at J14 for Horton Road.

M25 London - M25 in Greater London lane closed on exit slip road anticlockwise at J14, Horton (Heathrow Terminal 4), because of a broken down vehicle. Traffic is coping well.

To report traffic and travel incidents dial 0330 123 0184 at any time

What's gone wrong at Southampton?

CCTV released after pub assaults

CCTV footage has been released of a man police want to speak to after five people were assaulted in a pub in Reading.

Three people needed treatment, including one who was unconscious, after the attacks in Trooper Potts pub on 28 September.

Copyright: Thames Valley Police

Officers said the man pictured was drinking in a group with two other men and three women, accompanied by an infant, and they drove away in two white commercial pickup trucks with black writing along the side.

CCTV appeal after warehouse burglary

CCTV has been released by police trying to identify two people who burgled a food supplies business in Poole.

Two people used a moped to ram the doors of Central Fast Food Supplies on the Technology Road Industrial Estate on Monday last week.

Police believe the moped was a Matador and say they hope someone will recognise the distinctive crash helmets.