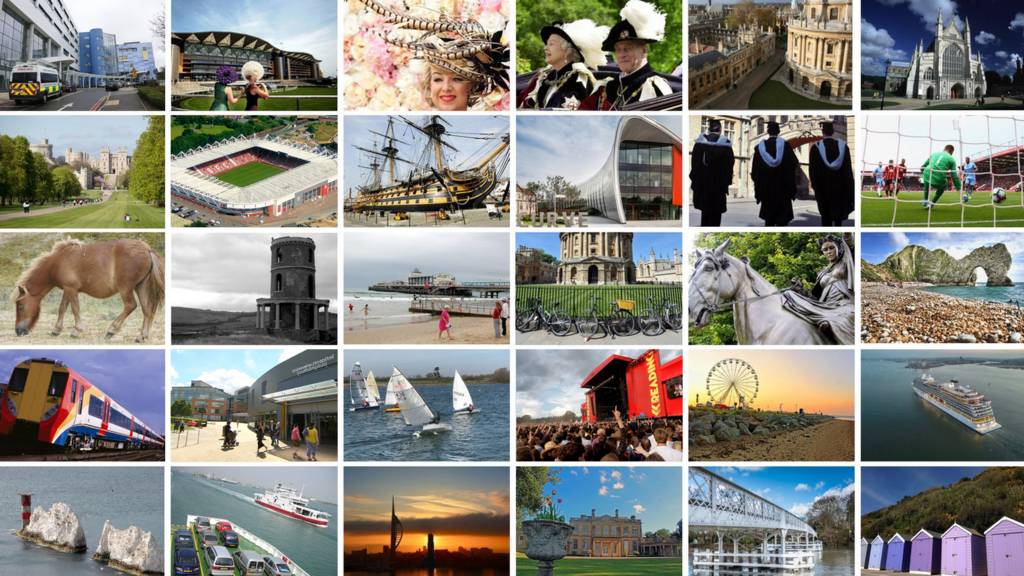 South Live: Friday 20 July
You can get in touch by email, on our Berkshire, Oxford, Hampshire and Dorset Facebook pages or on Twitter @BBCBerkshire @BBCOxford @BBC_Hampshire and @BBCDorset.
Thanks for joining us for BBC South Live today.

The service will resume at 08:00 with all the latest news, sport, travel and weather for the region.

Have a lovely weekend.

Dorset parks win Green Flag Award

Four parks in Dorset have been awarded a national Green Flag Award.

Avon Heath Country Park near Ringwood, Hardy's Birthplace at Thorncombe Woods near Dorchester, Milldown and Stour meadows near Blandford have been recognised by the Green Flag Award Scheme as some of the best in the world.

This international award, now into its third decade, credits areas with high environmental standards and and excellent visitor facilities.

Copyright: Dorset County Council

Views sought on future of 'architecturally important' areas

Care home residents no longer stranded

Disabled care home residents in Oxford, who were stranded upstairs for three weeks after a lift broke down, have access to the ground floor again after it was repaired.

The Headington Care Home has seven residents that live on the first floor, with four unable to use the stairs.

Engineers installed a new stair lift at the home this morning, a spokesman has confirmed.

Hampshire travel latest: M3 and A31 delays

Severe accident: M4 Berkshire eastbound

BBC News Travel

M4 Berkshire eastbound severe accident, from J5 for A4 London Road to J4B for M25 J15.

M4 Berkshire - One lane closed and very slow traffic on M4 eastbound from J5, A4 (Langley) to J4b, M25 J15 (Thorney Interchange), because of an accident.

To report traffic and travel incidents dial 0330 123 0184 at any time

Isle of Wight ready to host 2018 UK Pride event

The Isle of Wight is hosting the second UK Pride event this weekend.

Tens of thousands of visitors are expected to travel to the island for the festival, which celebrates the lesbian, gay, bisexual and transgender community.

The event is being headlined by Eurovision winner Conchita Wurst who will be performing on Ryde beach.

The island faced competition from Exeter, Folkestone, Liverpool, Preston, and Cardiff who were also vying to be chosen as the host.

Copyright: isle of Wight pride

Quote Message: It's amazing people have had faith in us to put this event on and it'll also highlight the need for other isolated areas around the country to do their own Pride so we can all come together. from Yve White Organiser

Alpaca farm refused despite buildings being completed

Local Democracy Reporting Service

Councillors have unanimously refused plans for an alpaca farm and horseriding business in an Area of Outstanding Natural Beauty (AONB) in Dorset.

West Dorset Planning Committee was told some of the buildings being applied for at Higher Kingston Russell had already been completed and most of the 20 alpacas were already there.

If there is no appeal, planning enforcement officers could take legal action, the Local Democracy Reporting Service said.

Neighbours had objected over the construction of buildings, including a mobile home, in the AONB but agent Samuel Croft - representing applicant Tina Hardiman - said the home was needed to allow care of the animals and provide security.

Pair face court over teenager's eye injury

A man and a woman are facing court over an incident which left a 13-year-old boy with a serious eye injury.

Dorset Police said the boy was walking in Wimborne Road, near the Co-Op, on 31 December, when he felt something hit his leg. When he turned around, something hit him in the eye.

The teenager was taken to hospital and is continuing to receive treatment.

A 20-year-old man from Poole is to appear before magistrates next Friday accused of inflicting grievous bodily harm and a 21-year-old woman, also from Poole, is accused of perverting the course of justice.

Drug dealer 'forgot to delete texts reminding him to delete texts'

Severe disruption: M4 Berkshire eastbound

BBC News Travel

M4 Berkshire eastbound severe disruption, at J11 for A33 Basingstoke Road.

M4 Berkshire - M4 lane closed on entry slip road eastbound at J11, A33 (Reading), because of a broken down vehicle. Traffic is coping well.

To report traffic and travel incidents dial 0330 123 0184 at any time

Second vice-chairman appointed in two months

Local Democracy Reporting Service

Dorset County Council has elected a new vice chairman, two months after appointing the last one.

The Local Democracy Reporting Service said West Moors councillor David Shortell would replace Andrew Parry who had stepped down to take up the role of education briefholder on the council's cabinet.

Opposition councillors had proposed Janet Dover for the role but were defeated by the ruling Conservative group, the Local Democracy Reporting Service said.

Lib Dems hold on to city council seat

The Liberal Democrats have held on to a seat at Oxford City Council after a by-election.

The vote was triggered when Ruth Wilkinson stood down from her Headington seat after a decade.

Stef Garden has now been elected.