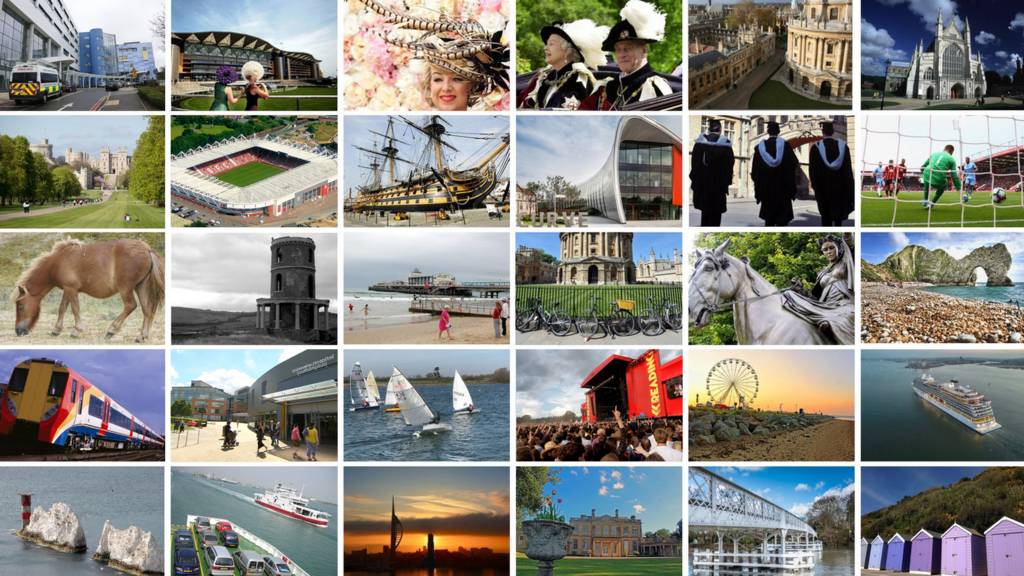 South Live: Tuesday 22 May
You can get in touch by email, on our Berkshire, Oxford, Hampshire and Dorset Facebook pages or on Twitter @BBCBerkshire @BBCOxford @BBC_Hampshire and @BBCDorset.
Summary
Updates from Tuesday 22 May
Thanks for joining us today.

The BBC South Live service will resume at 08:00 on Wednesday.

Have a lovely evening.

WWI-linked Berkshire parks get protection

Parks and green spaces in Berkshire are being protected to honour the memory of the millions who lost their lives in World War I.

The Fields in Trust charity is working with The Royal British Legion to look after green areas with links to the war.

The trust says it is looking at spaces in Bucklebury, Reading, Maidenhead and Clewer which could be granted protection.

Angela Lewis from Fields in Trust said: "If local people know of a park or green space near them that has the link to World War I then often just approaching the local council can be enough for the local council to protect it with us."

Parachute trial: Jury sent out to consider verdict

The jury has been sent out to consider its verdict in the trial of an Army sergeant accused of attempting to murder his wife.

Emile Cilliers, 38, of the Royal Army Physical Training Corps in Aldershot, denies tampering with his 41-year-old wife Victoria's parachute strings, after she was seriously injured in a jump over Salisbury Plain three years ago.

A week before the parachute incident, there was a gas leak at the couple's home in Amesbury, Wiltshire, which Mr Cilliers is also accused of causing, but he denies recklessly endangering life.

The judge has told the jury at Winchester Crown Court he wants unanimous verdicts.

Poole Hospital unveils dispensing robot

A prescription dispensing robot - the first of its type in the UK - has been officially unveiled at Poole Hospital.

It is part of a £650,000 five-month refurbishment of the hospital's pharmacy.

The robot is expected to boost the efficiency, accuracy and speed in which prescriptions are distributed to inpatients, improve medication safety by reducing errors and is projected to save money by reducing wastage of expired stock.

Designed by Swisslog, the robot can store up to 28,000 items and has two autonomous arms that load and unload 200 medicines an hour for circulation around the hospital.

Witness appeal after daylight street robbery

Thames Valley Police is appealing for witnesses after a man was knocked to the ground, kicked and then robbed on Tilehurst Road, Reading.

The three offenders approached the victim, aged in his forties, from behind, pushed him down before taking cash from him as he lay on the floor around 6.30pm on Saturday.

Police described one of the offenders - all men - as wearing a vest, white Adidas trainers with blue on the base. He was short and stocky, and had ginger hair.

It is believed one of the men spoke with an Irish accent.

New apprenticeship centre brings workplace into college

A new centre for engineering apprentices is aiming to support over 400 apprentices into work across Oxforshire and neighbouring counties.

Oxford's new £8m Centre of Excellence in Blackbird Leys works with 1,200 business clients, including major local employers BMW, Thames Water and Amey.

Activate Learning Director John Kelly however says it is not just about apprentices going out into the workplace.

He said: "The army have helped us write project briefs so that the projects engineering students do with us at the end of the second year is a live project, it's real."

Copyright: Ian Nicholson/PA

Theatre plans for Reading jail gathering pace

Architects will get their first chance to look around Reading prison in the next few weeks as the campaign to turn it into a theatre and museum gathers pace.

It is nearly five years since the Government revealed plans to sell off the jail where playwright Oscar Wilde was once incarcerated but it is still unclear who will develop it.

Melvin Benn heads up Theatre and Arts Reading (TAR), the organisation seeking to turn the prison into a theatre and arts space.

He told BBC Berkshire: "Once we're there we can really start to develop what we think is going to be an incredible facility."

Copyright: GETTY IMAGES/MORLEY VON STERNBERG

Voter ID: 338 did not vote after failing to show documents

A total of 338 people in five areas of England were turned away from voting in council elections because of a pilot scheme requiring proof of identity.

A further 688 were initially stopped but later returned to the polling station with the correct documents.

The Electoral Reform Society said requiring ID risked denying people their "democratic right".

The government said an overwhelming majority" of voters had the right documents.

Image caption: Returning officers said the vast majority of people voted after showing the correct ID

Building begins on £4.3m hospice extension

Major work on a multi-million pound extension to Sobell House in Oxfordshire hospice began this week.

Builders arrived at the Headington hospice's Churchill Hospital base on Monday to start on the new state-of-the-art clinic and garden annex, funded entirely by donations and legacies.

The home hopes to open the £4.3million new building, featuring a six-patient ward that has been designed to care safely for frailer or confused patients, will be completed in May next year.

Kidney appointed Irish rugby director

Former Ireland head coach Declan Kidney is the new director of rugby at relegated London Irish.

Kidney managed the Exiles from 2008 to 2013 and has been a technical consultant with the club since March.

Nick Kennedy, the former rugby director at the Madejski Stadium, left in March with Irish bottom of the Premiership.

Person dies after being hit by train

A person has died after being hit by a train at Branksome railway station.

Trains have been cancelled following the incident at lunchtime, meaning no trains can run in either direction between Poole and Weymouth.

British Transport Police say the incident is not currently being treated as suspicious, and the force is working to identify the person.

Image caption: A person was hit by a train at Branksome station in Dorset

Severe disruption: M25 Berkshire clockwise

BBC News Travel

M25 Berkshire clockwise severe disruption, from J15 for M4 to J16 for M40 affecting J13 for A30.

M25 Berkshire - One lane closed and stop-start traffic on M25 clockwise from J15 M4 to J16 M40. Congestion to J13, A30 (Staines).

To report traffic and travel incidents dial 0330 123 0184 at any time

Severe disruption: M25 Buckinghamshire anti-clockwise

BBC News Travel

M25 Buckinghamshire anti-clockwise severe disruption, from J16 for M40 to J15 for M4.

M25 Buckinghamshire - One lane closed on M25 anticlockwise from J16 M40 to J15 M4, because of barrier repairs.

To report traffic and travel incidents dial 0330 123 0184 at any time

Dozens and dozens of items have been recovered as part of an anti-burglary operation.

Hampshire Police found the property as part of an investigation into burglaries in the Totton area in recent weeks.

Take a look at the many pictures, and if any of the gear is yours, give them a ring on 101.

Copyright: Thames Valley Police

Image caption: David Beckham fragrance is one of the items people can claim

New start for British Rowing

The Caversham-based British rowing team have announced their squad for the Rowing World Cup in Belgrade.

It was the first squad announced from the new performance director Brendan Purcell, who took over in March after Sir David Tanner stepped down after two decades in the role.

The event takes place between 1-3 June.

Fairy penguins come to Weymouth

Meet the new colony of fairy - or little blue - penguins at Weymouth's Sealife Centre which have been relocated from their native Australia.

Severe disruption: A3024 Hampshire both ways

BBC News Travel

A3024 Hampshire both ways severe disruption, between Lance's Hill and A334 Bitterne Road East.

A3024 Hampshire - A3024 Maybray KIng Way in Southampton closed and slow traffic in both directions between the Lance's Hill junction and the A334 Bitterne Road East junction, because of a police incident.

To report traffic and travel incidents dial 0330 123 0184 at any time

Foster children placed 'too far' from home

Too many children in care in the South are being placed too many miles away from their homes, according to a BBC study.

Government targets mandate that foster children should not be placed more than 20 miles from their home, where possible.

Freedom of Information requests by BBC South reveal at least three in every 10 children in care are now living outside their local area, but it's as high as six in 10 from Reading and seven in 10 from Portsmouth.

"It's really difficult for children," said Debbie Lidgard from charity Fair Ways Care. "They don't have contact with their family or with their friends."

You could argue Windsor Castle has been getting enough coverage over the past week.

However, we had to feature this lovely picture, sent into us by Andrew Watson, of the Long Walk as the sun rises over the market town.

If you have a lovely picture of your lcoal area email england@bbc.co.uk, post it on Facebook or tweet it to @BBCEngland . You can also find us on Instagram - use #englandsbigpicture and #GetCreative to share an image there.

Christchurch begins High Court proceedings over Dorset councils merger

A council has begun High Court proceedings in a bid to halt council mergers in Dorset.

Christchurch Borough Council formally opposed plans to replace the county's nine councils with two unitary authorities earlier this month.

In a letter to the council, the government described the authority's bid as "absurd".

Christchurch said it had since taken further legal advice and issued proceedings in the High Court.