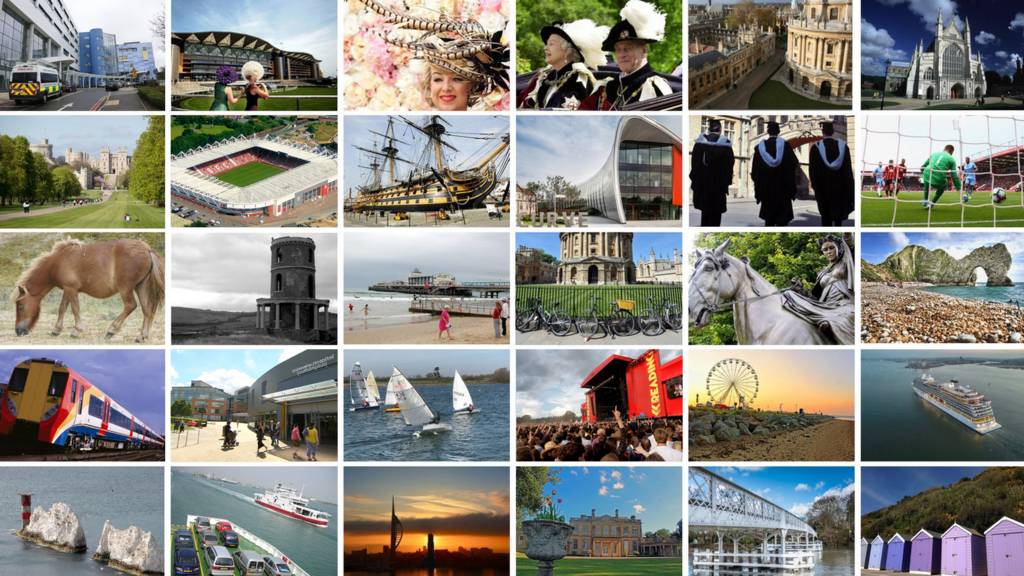 South Live: Monday 21 May
You can get in touch by email, on our Berkshire, Oxford, Hampshire and Dorset Facebook pages or on Twitter @BBCBerkshire @BBCOxford @BBC_Hampshire and @BBCDorset.
Summary
What happened to Carole Packman?
Wickham Horse Fair road closures warning
M3 long delays at Winchester
Airports with worst departing flight delays revealed
Updates from Monday 21 May
Thanks for joining us today.

The BBC South Live service will resume at 08:00 on Tuesday.

Have a lovely evening.

Your pictures: Sunshine, cygnets and thunder clouds

Thanks to BBC Weather Watchers "teggy", "River Watcher" and "ziggy101" for their photos of hazy sunshine over Highcliffe in Dorset, a swan and its cygnets on the river at Eynsham in Oxfordshire and thundery-looking clouds over Gosport in Hampshire.

Send us your pictures and news stories via our Berkshire, Dorset, Hampshire and Oxford Facebook pages, or on Twitter: @BBCBerkshire, @BBCDorset, @BBC_Hampshire and @BBCOxford.

BMI Regional ends Southampton-Munich flights

Airline BMI Regional has announced it is cancelling its flights from Southampton Airport to Germany, two years after the route was launched.

The airline began flying to Munich in Bavaria from Southampton in April 2016. It said flights would remain suspended until further notice for a "period of recruitment and training".

At its launch, the airport said it hoped to attract business-users and cruise ship passengers using the port of Southampton.

Southampton Airport's head of operations Neil Garwood said: "Unfortunately due to a combination of airline issues BMI regional were not able to continue with the Munich flights, which is regrettable as it was proving to be a popular destination. We hope to see BMI Regional back at Southampton Airport in the future."

Video: Dancing police officer gets royal wedding crowd going

A policeman who danced for the crowds on the day of the royal wedding said the response has been "overwhelming" after it was shared on social media.

PC Jake Freeman was given some encouragement by well-wishers behind the barrier in Windsor, and finally joined in to big cheers.

He said: "I think it's great that we can have the opportunity to engage with the public like that and just have some fun on a very special day."

Windsor's royal wedding day in numbers

Windsor is returning to normal after more than 110,000 visitors arrived in the town to celebrate the wedding of the Duke and Duchess of Sussex on Saturday.

Here is the day in numbers, as compiled by the Royal Borough of Windsor & Maidenhead:

More than 110,000 visitors.
4km (2.5 miles) of bunting
140 Royal Borough Ambassadors volunteers

2,000 crowd barriers used along the procession route
68 catering units on the Long Walk and in Alexandra Gardens
13 large screens for visitors to watch the ceremony and procession
746 extra toilets.
13 tonnes of waste collected by a team of 80
20,160 bottles of water handed out to visitors and staff
45,000 passenger journeys on South Western Railway services and 22,000 on GWR

1,000 tonnes of material used to resurface town centre roads, covering the equivalent area of two football pitches

Severe disruption: M4 Berkshire westbound

BBC News Travel

M4 Berkshire westbound severe disruption, between J14 for A338 and J15 for A346 Marlborough Road.

M4 Berkshire - One lane closed on M4 westbound between J14, A338 (Hungerford) and J15, A346 (Swindon East), because of a broken down vehicle. Traffic is coping well.

To report traffic and travel incidents dial 0330 123 0184 at any time

Berkshire travel latest: M4 delays due to car breakdown between Slough and Windsor

Man charged over rape of woman in Oxford

A man has been charged with the rape of a 19-year-old woman in Oxford.

It happened in Cowley Road in the early hours of 13 May.

An 18-year-old man was charged on Saturday and appeared before Oxford magistrates earlier.

He was remanded in custody to appear before Oxford Crown Court on 22 June.

Royal wedding flowers given to hospice

Patients at a hospice were "thrilled" to be handed bouquets of flowers from the royal wedding of Prince Harry and Meghan Markle.

Copyright: St Joseph's Hospice

Image caption: Former embroider Pauline Clayton, 89, a patient at St Joseph's Hospice in Hackney, east London, described the gift from the Duke and Duchess of Sussex as "lovely"

The flowers, which had adorned St George's Chapel at Windsor Castle, were delivered to St Joseph's Hospice in Hackney, east London, on Sunday.

Designed by Philippa Craddock, the flowers were hand-tied into bouquets for the hospice residents.

"We are so honoured to receive this wonderful gift," the hospice said.

Peregrine falcon chicks reared on Winchester Cathedral roof

Three peregrine falcon chicks have been reared on the roof of Winchester Cathedral.

The city's only pair of peregrines nested in a gully on the roof of the medieval cathedral after having to relocated from the city's police headquarters when it was demolished.

Royal wedding highlights...in case you missed it

The couple exchanged vows and rings before the Queen and 600 guests at St George's Chapel in Windsor.

Man arrested after man's arm impaled on iron railings during alleged assault

A man has been arrested after a man's arm was impaled on a spike during an alleged assault.

A scuffle broke out between the 46-year-old victim and another man on Denmark Road, close to Castle Road, in Bournemouth, during which he said he felt the other man push him onto the railings of some iron gates.

He freed himself and was later taken to hospital and underwent surgery to an artery injury.

A 27-year-old Bournemouth man was arrested on suspicion of inflicting grievous bodily harm and has since been released while police inquiries continue.

First chicks in three years for Winchester's peregrine falcons

Winchester's only pair of peregrine falcons have reared their first chicks in three years on the roof of the city's cathedral.

Copyright: Winchester Cathedral

The falcons originally started nesting on the police headquarters in Winchester in 2011, but had to relocate after the building was demolished in 2016.

They settled into their new home at Winchester Cathedral earlier this year and their three chicks were born last month.

The chicks have been ringed by the Hampshire Ornithological Society (HOS) and their progress will be monitored over the coming weeks by the HOS and cathedral vergers, a spokeswoman for the cathedral said.

Bournemouth paedophile committed 'monstrous' offences

Police Tasers 'should be funded by central government'

Police forces should not have to decide between having Tasers or fewer staff, the newly-elected chairman of Hampshire Police Federation, John Apter, has said in an open letter to the policing minister, MP Nick Hurd.

He wants the "critical equipment" to be funded by central government.

Quote Message: I have been lobbying hard for all frontline officers in Hampshire Constabulary to have a Taser if they want it. The chief constable has listened and agreed to support this, but at a cost of £800,000. They have to pay for it by having fewer police officers or fewer staff. from John Apter Chairman of Hampshire Police Federation

Calls to scrap 'ridiculous' Oxford to Cambridge expressway

Isle of Wight Zoo's oldest big cat dies

Isle of Wight Zoo's oldest big cat has died.

The 22-year-old female tiger, named Zia, was hand-reared at the zoo after she was rejected by its mother.