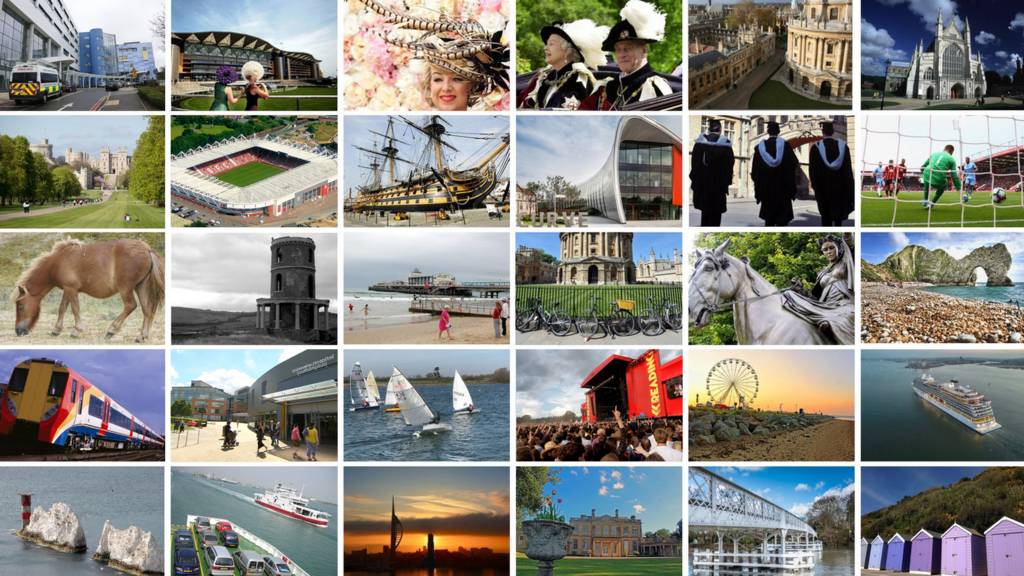 South Live: Friday 1 June
You can get in touch by email, on our Berkshire, Oxford, Hampshire and Dorset Facebook pages or on Twitter @BBCBerkshire @BBCOxford @BBC_Hampshire and @BBCDorset.
Well, that's a wrap from us on South Live.

Thanks for tuning in and have a great weekend.

We will be back on Monday at 08:00 BST with your latest news.

Appeal to find registered sex offender

Police have issued an appeal to find a registered sex offender.

Stephen Gadd, 51, was required to attend Bournemouth Police Station on 2 April - but failed to show up.

Det Sgt Darren Moores said it was known Mr Gadd often sleeps rough and has connections to Bournemouth, Poole and Weymouth in Dorset, as well as Brockenhurst in Hampshire and Paignton and Exeter in Devon.

He added: "Although we have no information to suggest he is an immediate danger to the public, I would ask that anyone who sees Stephen does not approach him, but contacts Dorset Police on 999."

Plans for new 900-pupil secondary school in Reading

Plans have been put forward to build a new secondary school in Reading to cover a shortfall in available places.

Land at Richfield Avenue has been earmarked by Reading Borough Council to construct a 900-place free school which would open in September 2021.

The council said it had a "duty" to "meet the demand for school places", which are expected to rise.

The BBC reported one in eight pupils were not offered any of their preferred school options in Reading in March.

Image caption: The school would be built at a former golf driving range

Arrest following attack on man and woman

An 18-year-old man has been arrested on suspicion of attempted robbery after a man and a woman were attacked on their walk home.

Police made the arrest on Friday following an appeal about the incident in Grove Road, Wantage, on 20 May.

At about 03:30 BST a group of men, believed to be up to five, attacked a man and woman, both aged 20.

Both victims were punched and forced to the floor and were demanded to handover money, but had none on them, officers said.

Visa payment disruption hits Europe

Visa said some card payments are currently failing across the UK and elsewhere in Europe.

The company said it is investigating the cause of the disruption.

The extent of the problem is not clear, but Visa customers across Europe have been complaining on Twitter that payments have been denied.

"We are investigating the cause and working as quickly as possible to resolve the situation," Visa said in a statement.

The Payment Systems Regulator told the BBC it understood the problem to be limited to Visa card payments only.

Image caption: First Bank told customers on Twitter there aren't "any timescales for resolution at the moment"

Severe disruption: M3 Hampshire southbound

BBC News Travel

M3 Hampshire southbound severe disruption, at J4A for A327.

M3 Hampshire - One lane closed on M3 southbound at J4a, A327 (Farnborough), because of a broken down vehicle. Traffic is coping well.

To report traffic and travel incidents dial 0330 123 0184 at any time

Inquests opened into festival deaths

Inquests have been opened and adjourned into the deaths of two young people who fell ill at a dance music festival.

Georgia Jones, 18, and Tommy Cowan, 20, died in hospital after attending Portsmouth's Mutiny Festival on Saturday.

The hearings were adjourned at Portsmouth Coroner's Court until 12 November.

Fire crews put out kitchen fire

Copyright: Oxfordshire Fire and Rescue

Image caption: The fire started in the kitchen of a house in Didcot

A quick-thinking neighbour prevented a kitchen fire spreading after they spotted smoke coming from a window.

Firefighters were called to a house in Didcot after a fire broke out on the hob in the kitchen of a two-storey house at about 08:00 BST today.

The fire was extinguished immediately before it spread further. A dog in the property was also found safe and well.

Oxfordshire Fire and Rescue Service said the neighbour raised the alarm quickly which meant the damage was limited.

Copyright: Oxfordshire Fire and Rescue

Police warning about 'bad batch of drugs' in Daventry

A potentially dangerous batch of ecstasy pills may be on sale in Daventry, Northamptonshire Police has warned.

A spokeswoman said: "We have received intelligence that a bad batch of drugs is currently circulating in the Daventry area.

"The pills in question are Green Heineken ecstasy tablets - drugs that are similar in appearance to those that could have caused the tragic deaths of two young people at a music festival in Portsmouth last weekend".

Georgia Jones, 18, and Tommy Cowan, 20, died after attending Portsmouth's Mutiny Festival on Saturday.

Oxford coaches cancelled due to delays

Severe accident: M3 Hampshire northbound

BBC News Travel

M3 Hampshire northbound severe accident, between J12 for A335 and J11 for A3090 affecting J14 for M27.

M3 Hampshire - Two lanes blocked and queuing traffic on M3 northbound between J12, A335 (Eastleigh) and J11, A3090 (Winchester South), because of an accident involving car and lorry. Travel time is around 40 minutes. Congestion to J14 M27.

To report traffic and travel incidents dial 0330 123 0184 at any time

Main road into Oxford flooded

Thunderstorms across the south led to a main road into Oxford flooding.

Drivers were forced to turn around as they approached Botley railway bridge last night.

The road had flooded under the bridge, which prevented traffic both trying to enter and leave the city centre.

Great Western Railway trains, which serve southern and western England, were earlier running more slowly than usual after Network Rail imposed a precautionary blanket speed restriction.

HGV carrying Sherman tank loses two wheels

This certainly isn't something you see everyday.

An HGV transporting a Sherman tank lost two of its wheels on the M4. No-one was injured.

The M4 Sherman was the most widely used medium tank by the United States and Western Allies in World War Two.

It proved to be reliable, was relatively cheap to produce, and available in great numbers.

You learn something new every day!

Severe disruption: M25 Surrey clockwise

BBC News Travel

M25 Surrey clockwise severe disruption, between J13 for A30 and J14 for A3113 Airport Way affecting J10 for A3.

M25 Surrey - Stop-start traffic on M25 clockwise between J13, A30 (Staines) and J14, A3113 (Heathrow Terminal 4), because of an earlier broken down vehicle. All lanes have been re-opened. Congestion to J10, A3 (Wisley Interchange).

To report traffic and travel incidents dial 0330 123 0184 at any time

Woman 'let pensioner die from blood loss'

Copyright: Hampshire Constabulary

A woman has been jailed for the manslaughter of an 84-year-old man after she failed to call paramedics immediately to treat his head wound.

Malcolm Cox was found with a 6cm (two-inch) cut to the back of his head at Izabela Dauti's home in Andover, Hampshire, on 15 November 2016.

He died the following day in hospital from multiple organ failure caused by blood loss, together with contributory heart disease.

Dauti, 40, of Bell Road, was jailed for four-and-a-half years at Winchester Crown Court.