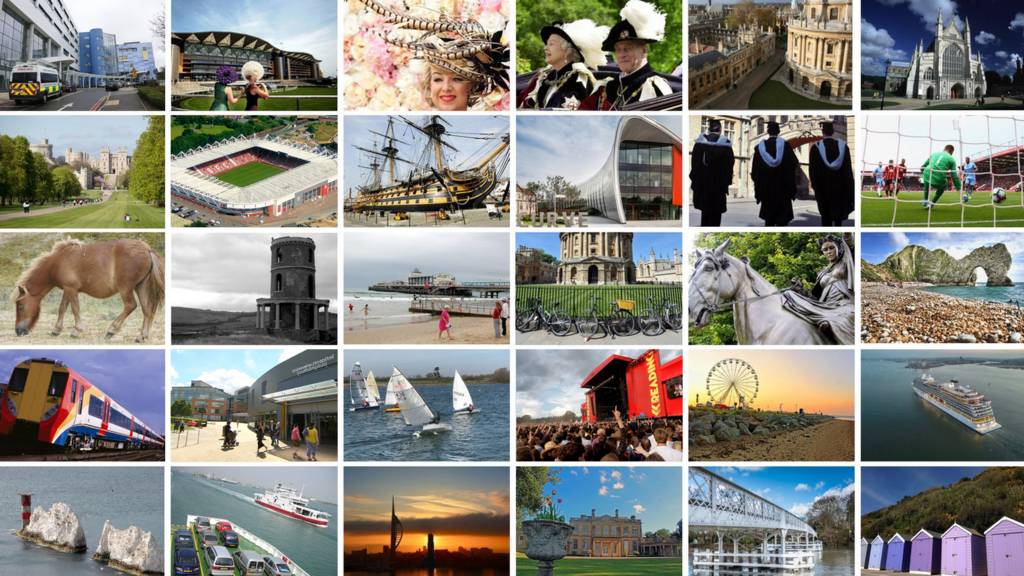 South Live: Friday 20 April
You can get in touch by email, on our Berkshire, Oxford, Hampshire and Dorset Facebook pages or on Twitter @BBCBerkshire @BBCOxford @BBC_Hampshire and @BBCDorset.
By Timothy Abraham

BBC Sport

Thanks for joining us on BBC South Live today.

The service resumes at 08:00 on Monday. We hope you have a pleasant and sunny weekend.

Severe accident: M4 Berkshire westbound

BBC News Travel

M4 Berkshire westbound severe accident, between J14 for A338 and J15 for A346 Marlborough Road.

M4 Berkshire - One lane closed and slow traffic on M4 westbound between J14, A338 (Hungerford) and J15, A346 (Swindon East), because of an accident.

To report traffic and travel incidents dial 0330 123 0184 at any time

Woodland Trail opens at Kingston Lacy in Dorset

Copyright: National Trust / Stan & Dee Maddams

A new family-friendly multi-use woodland trail has been opened at Kingston Lacy, near Wimborne, Dorset, by the National Trust.

The 4.7km flat route, which had been used by horse-drawn carriages travelling through the forest, can be used by walkers, runners, adapted wheelchair users and cyclists.

It's one of eight new trails across the country developed in association with Sport England following £4.25m joint funding.

Work to begin on hospital's emergency unit for children

Construction of a £5.1m children's emergency and trauma department in Southampton will begin next week.

The facility is expected to help 30,000 youngsters each year, and will have an eight-bed observation area, 11 glass-fronted and soundproof cubicles and X-ray facilities.

Southampton Hospital Charity teamed up with The Murray Parish Trust, a charity formed by actors Sarah Parish and James Murray in memory of their late daughter Ella-Jayne, to fund the project.

Ms Parish said: "It is great to reflect on the significance of this important milestone in the appeal and show all supporters that their commitment to the cause has helped to set the wheels in motion on the build."

Mother detained in psychiatric unit after stabbing son

A judge has ordered a mother who stabbed her five-year-old son to death to be held in a psychiatric unit.

Tyler Warmington's body was found at the home of Emma Jackson in Faringdon, Oxfordshire, on 14 March last year.

Jackson, 41, denied murder but admitted manslaughter on grounds of diminished responsibility.

Passing sentence, Judge Ian Pringle QC told Jackson: "Your life sentence is living with the knowledge that you killed your own son."

Severe accident: M40 Oxfordshire southbound

BBC News Travel

M40 Oxfordshire southbound severe accident, between J6 for B4009 and J5 for A40.

M40 Oxfordshire - One lane closed and slow traffic on M40 southbound between J6, B4009 (Watlington) and J5, A40 (Stokenchurch), because of an accident.

To report traffic and travel incidents dial 0330 123 0184 at any time

RAF Benson nurse who posed as teenage girl online struck off

An RAF nurse who posed as a teenage girl online to obtain indecent images of children has been struck off.

Sqn Ldr Kevin Scrafton was convicted in November of offences involving the making and possession of child pornography and jailed for 18 months.

The Nursing and Midwifery Council (NMC) has now ruled his fitness to practice was impaired and that he had brought the profession into disrepute.

Scrafton accessed websites to share the images at RAF Benson in 2015 and 2016.

Missing man, 82, found dead in River Thames

The body of an 82-year-old man who went missing earlier this month during bad weather in Shiplake, near Henley-on-Thames, is thought to have been found.

It was feared Frederick Lawson may have fallen into the swollen River Thames, leading to a large search operation.

Thames Valley Police is calling his death unexplained.

A spokesman said: "The force received a call from a member of the public at about 10:40 today after they discovered the body of a man in the River Thames.

"The man is believed to be Frederick Lawson, who was reported missing earlier this month, although formal identification is yet to take place.

"Mr Lawson's family has been informed. Our thoughts remain with them at this extremely difficult time."

Severe disruption: M3 Hampshire northbound

BBC News Travel

M3 Hampshire northbound severe disruption, between J10 for A31 and J9 for A34 Winnal roundabout affecting J12 for A335.

M3 Hampshire - Two lanes closed and slow traffic on M3 northbound between J10, A31 (Winchester) and J9, A34 (Winnal roundabout), because of an overturned car. Congestion to J12, A335 (Eastleigh).

To report traffic and travel incidents dial 0330 123 0184 at any time

Vale of White Horse leader steps down

Image caption: Matthew Barber, left, and Oxfordshire County Council leader Ian Hudspeth

The Conservative leader of the Vale of White Horse District Council has stepped down after seven years.

Matthew Barber described his decision to relinquish the post as "difficult" and called his time as leader an "honour and a pleasure".

He added: "I am proud of the many achievements of the council over the years and to have played a part in serving the communities of the Vale during this time."

It was recently announced that Mr Barber's role as deputy police and crime commissioner for Thames Valley would change from a part-time to a full-time position.

Severe disruption: M3 Hampshire northbound

BBC News Travel

M3 Hampshire northbound severe disruption, at J11 for A3090.

M3 Hampshire - One lane closed and heavy traffic on M3 northbound at J11, A3090 (Winchester South), because of a lorry having a tyre changed.

To report traffic and travel incidents dial 0330 123 0184 at any time

Paedophile teacher jailed for 6 years

A former deputy headmaster at Lincoln cathedral School has been jailed for for six years and seven months after admitting abusing young boys.

Roy Griffiths, from Sherborne, Dorset (pictured), has been convicted of six counts of indecent assault on males under the age of 16.

Lincoln Crown Court heard that the youngsters involved were "profoundly affected" by the abuse they faced at the hands of Griffith.

Griffith left his role at the school in 1970 following a complaint about his behaviour, but it took four decades for police to begin investigating.

Operation Redstone, a police investigation into historical child sex abuse, was set up in 2015.

Severe disruption: M25 Greater London anti-clockwise

BBC News Travel

M25 Greater London anti-clockwise severe disruption, between J14 for A3113 Airport Way and J13 for A30 affecting J15 for M4.

M25 Greater London - Stationary traffic on M25 anticlockwise between J14, A3113 (Heathrow Terminal 4) and J13, A30 (Staines), because of a broken down van and all traffic being temporarily held. Congestion to J15 M4.

To report traffic and travel incidents dial 0330 123 0184 at any time

Berkshire charity up for national award

A small charity helping veterans who've been seriously injured will find out if it's won a national award later.

Deptherapy, based in Berkshire, teaches former servicemen and women to scuba-dive.

It has been nominated as a finalist in the Soldiering On Awards, which are being held in London this evening.

Severe disruption: M27 Hampshire eastbound

BBC News Travel

M27 Hampshire eastbound severe disruption, between J2 for A36 and J3 for M271.

M27 Hampshire - One lane closed and slow traffic on M27 eastbound between J2, A36 (Salisbury) and J3, M271 (Romsey), because of vehicle having a tyre changed.

To report traffic and travel incidents dial 0330 123 0184 at any time

Police target nuisance motorcyclists

CCTV camera footage from buses in Southampton is to be used to try and clamp down on nuisance motorcyclists.

Hampshire police is going to work with First Bus and Bluestar buses on Operation Torque.

The clampdown is focused on the Shirley area, with officers aiming to stop people committing offences like riding without helmets or driving elsewhere than on a road.

PC Simon Peacock said: "Everyone wants to enjoy being outside in the sun without the fear of these bikers ruining their summer evenings."