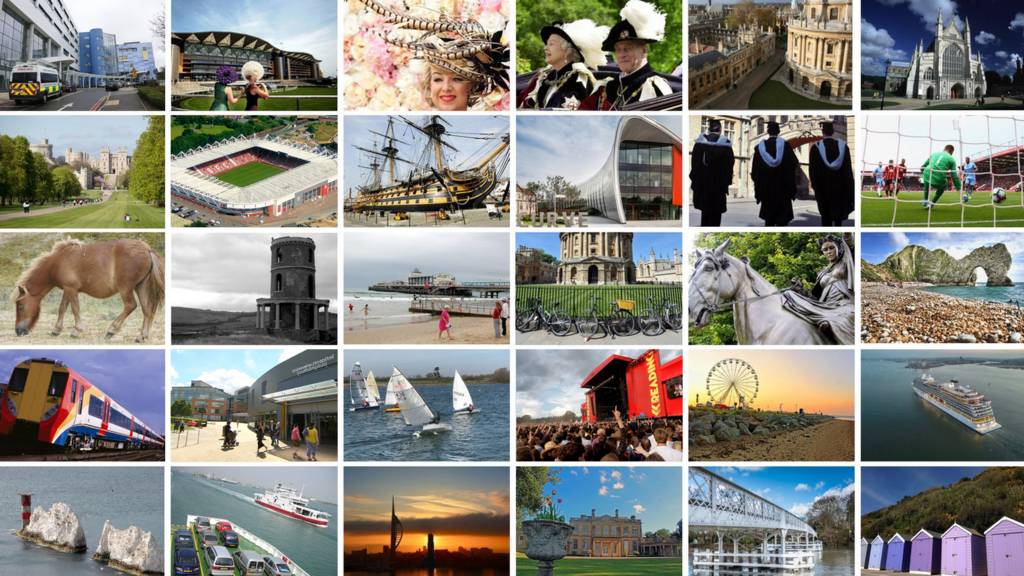 South Live: Monday 16 April
You can get in touch by email, on our Berkshire, Oxford, Hampshire and Dorset Facebook pages or on Twitter @BBCBerkshire @BBCOxford @BBC_Hampshire and @BBCDorset.
Thanks for joining BBC South Live today.

The service will resume at 08:00 on Tuesday with all the latest news, sport and weather for the Hampshire, the Isle of Wight, Dorset, Oxfordshire and Berkshire.

Have a good evening.

'Extra trains' for royal wedding in Windsor

There will be extra trains and more frequent services on the day of Prince Harry and Meghan Markle's wedding in Windsor for members of the public who want to see the procession, rail providers Great Western Railway (GWR) and South Western Railway (SWR) have said.

More than 100,000 people are expected to travel to the town on 19 May for the celebrations.

Copyright: Alexi Lubomirski

GWR said it would run to its "maximum capacity" on the Windsor Branch Line.

Its services will increase from two to four carriages, running every 20 minutes throughout the day.

SWR said it would increase its service to four, direct, ten-carriage services an hour from London Waterloo to Windsor and Eton Riverside.

Both providers have warned services will be "extremely busy".

Its the end of an era at a Solent beauty spot as Lepe Beach's cafe shut its door for the last time. A new cafe, with panoramic views of the Solent, along with upgraded facilities is due to open next month.

Pair complete Pride walk around Isle of Wight

Two men from the Isle of Wight have completed a gruelling 72-mile walk around the island's coastline to raise awareness of gay rights.

As well as promoting this year's Isle of Wight Pride in the summer, Matt Bundy and Joe Finch dedicated every mile of the 72-mile walk to the 72 countries in the world where they said anti-LGBT laws are in force.

It took the pair 30 hours to complete the trek that started and finished at Pride Beach in Ryde.

'Arson' destroys nature reserve bat roost

A fire has destroyed a former railway hut and registered bat roost on a nature reserve in Dorset.

Copyright: Dorset Wildlife Trust

The blaze at the "old gangers" hut on Dorset Wildlife Trust's Powerstock Common reserve, near Maiden Newton, happened on Friday and is believed to have been arson.

The hut was a bat roost for species including the lesser horseshoe bat.

Charity set to benefit from artistic kennel

Weymouth landslip shut beach access reopening moves step closer

The reopening of an access route to a beach that has been deserted for five years has moved a step further.

Copyright: Dorset County Council

Castle Cove Beach in Weymouth (see top picture) has been cut off to visitors since the 15m (49ft) access slope and steps were closed due to safety concerns in 2013.

Dorset County Council made repairs to the access slope in December (see bottom picture) and an application by campaigners Friends of Castle Cove Beach Charity to rebuild the wooden steps has now been approved.

However, the route is not currently recognised as an official right-of-way.

Breaking

Andover murder: Man arrested in Tommy Ferris stabbing probe

A man has been arrested on suspicion of murder after a man was found stabbed in an alleyway.

Tommy Ferris, 28, from London, was found injured off Smannell Road in Andover, Hampshire, in the early hours of Friday.

He was pronounced dead in hospital. A post-mortem examination found he died of stab wounds.

Hampshire Police said a 22-year-old man was arrested in West Yorkshire overnight and remains in custody.

Half-century first for Mogul steam engine on Dorset mainline

A 1920s Southern Railway Mogul steam engine has hauled a train on a Dorset mainline for the first time in 52 years.

Copyright: Andrew PM Wright

Dorset's Swanage Railway Trust is currently restoring two Moguls.

The seven-hour, 115-mile test run between Swanage, Wareham, Dorchester, Weymouth and Yeovil, took place on Friday.

The original line from Swanage to Wareham was closed by British Rail and ripped up in seven weeks in 1972.

Volunteers rebuilt the 5.5-mile (8.8km) stretch from Swanage to Norden over 30 years and have been running it as a tourist attraction since the 1990s.

After work was completed on the section of the track from Norden to Wareham to connect it to the mainline, trials of regular passenger train services began last June and ran for 60 days, with further trials due next year.

Copyright: Andrew PM Wright

Archdeacon of Isle of Wight to become Hampshire parish priest

The Archdeacon of the Isle of Wight is to take up a new post as a parish priest in Hampshire.

Copyright: Church of England Diocese of Portsmouth

The Venerable Peter Sutton, who has been the most senior Church of England priest on the island since 2012, will take up his new role in September.

He will become priest for the villages of Greatham and Empshott with Hawkley and Priors Dean, near Petersfield, which is also within the Anglican Diocese of Portsmouth.

Killed rally drivers 'hit tree at 75mph'

Copyright: Family handout

Two rally drivers died when their car hit a tree at about 75mph (120kmh), an inquest has heard.

Driver Shawn Rayner, 52, from Windsor, and 64-year-old navigator Steve Dear were killed in a race at Bramley Camp, Hampshire, on 29 December.

Mr Dear, from Wokingham, was a "one-off" substitution for his son Declan, who had been unable to take part.

The pair, who suffered severe chest and head injuries, were killed instantly, senior coroner Andrew Bradley said.

He recorded a verdict of accidental death.

Trains missed stops '160 times a day'

Trains in Britain missed scheduled stops at stations on average 160 times a day, the BBC has learned.

More than 52,500 services out of a planned six million had one or more "failure to stop" (FTS) events in the financial year up to 23 February.

Govia Thameslink (GTR) - which runs Thameslink, Southern and Great Northern - accounted for 16,000 of those.

A spokesman said skipping stops was a "last resort when a train running late would otherwise prolong disruption".

Your pictures: Barton on Sea, Higher Bockhampton and Woodstock

Many thanks to BBC Weather Watchers teggy, Koala Tree and Wiff for their snaps of foamy waves at Barton on Sea, Hampshire, woodland in Higher Bockhampton, Dorset, and farmland in Woodstock, Oxfordshire.

Send us your photos of the region using our Oxford, Hampshire, Dorset, and Berkshire Facebook pages, or via our Twitter accounts @BBC_Hampshire, @BBCDorset, @BBCBerkshire and @BBCOxford.

Tributes paid to former Southampton mayor Patrick Allan

Cowes Floating Bridge runs aground after 'reliable' claim

A troubled chain ferry ran aground two days after a council gave reassurances about its reliability.

The Floating Bridge service at East Cowes on the Isle of Wight was suspended for several hours on Saturday.

It followed a meeting of the island council's scrutiny committee on Thursday when leader Dave Stewart described it as a "reliable" service.

The authority has not yet said what caused the ferry to run aground.