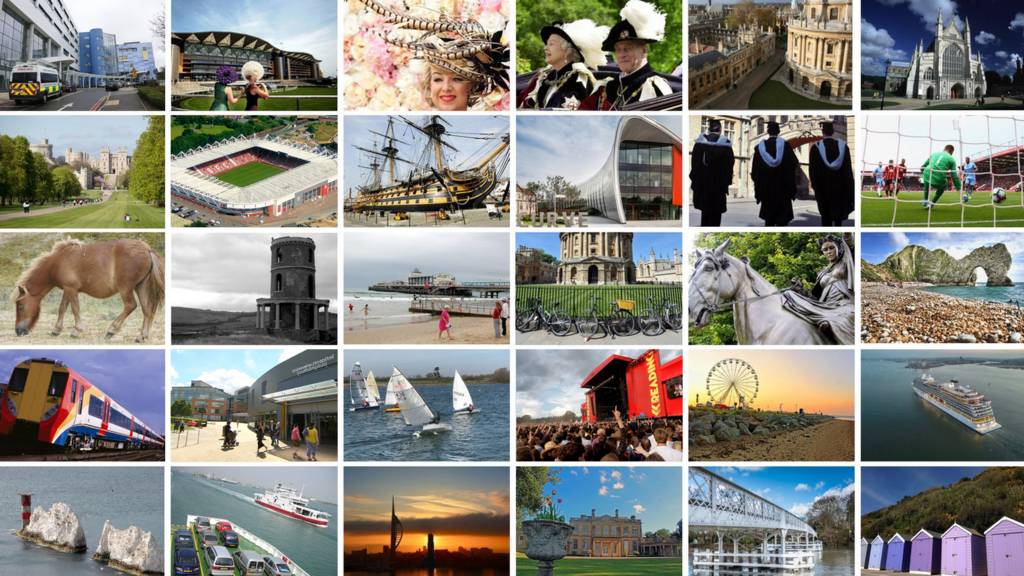 South Live: Thursday 26 April
You can get in touch by email, on our Berkshire, Oxford, Hampshire and Dorset Facebook pages or on Twitter @BBCBerkshire @BBCOxford @BBC_Hampshire and @BBCDorset.
That's all for BBC South Live for today.

The service resumes tomorrow at 08:00. We hope to see you then.

Actors and writers at Colin Dexter tribute

A service in memory of Inspector Morse creator Colin Dexter took place today at Christ Church Cathedral in Oxford.

Actors and writers were among the friends and family remembering the crime writer at the star-studded ceremony.

The Oxford University Museum of Natural History's tweets are overseen by one of its most popular exhibits, and today marks the occasion of its 10,000th "squawk"...

It was recently revealed that the Oxford dodo met its end after being shot in the head, but you can't keep a good dodo down.

Man rescued after falling from cliffs in Dorset

A man has been rescued by lifeboat crews after falling from the cliffs at old Harry Rocks near Swanage.

The alarm was raised at about midday and the RNLI's inshore lifeboat was launched. Crews were guided to the man by members of the public on the clifftop.

An RNLI statement said he was pulled from the water in a "conscious but distressed" state.

He was taken to Poole where he was transferred to hospital by ambulance. His condition is not yet known.

First steam loco passenger train on main line in Dorset in 50 years

A Southern Railway 1920s 'mogul' steam locomotive is hauling a main-line passenger train through Yeovil, Dorchester and Weymouth today, for the first time in more than 50 years.

Swanage Railway 'U' class steam locomotive No.31806 is at the head of the 10-carriage train as part of the Railway Touring Company's marathon nine-day 'Great Britain XI' steam train around England, Scotland and Wales.

Copyright: Andrew PM Wright

Quote Message: When it retired from British Railways it languished in a scrapyard for a while so this is a major step forward for the locomotive to enable it to operate on the main line. from Gavin Johns Swanage Railway Company

Ainslie wins backing for 2021 America's Cup

Sir Ben Ainslie will have the backing of Britain's largest privately-owned company in an attempt to win the 2021 America's Cup.

Industrial firm Ineos will pair up with Ainslie, 41, in a £110m bid to win sailing's oldest prize.

The team has confimed it will continue to be based in Portsmouth.

PC cycled in Majorca while off work for injury

Image caption: Nicholas Corbett was in Majorca when he should have been on duty, said Thames Valley Police

A police officer has resigned after he was found to have gone cycling in Spain while claiming to be unable to work.

Nicholas Corbett was meant to be on duty on 13 October 2017 when he was found to have been riding in Majorca.

Thames Valley Police said he had referred to a back problem, when an inspector asked if he was working.

After his return, Mr Corbett deleted his Strava account, an app to track exercise, the force added.

Mr Corbett was a police constable based at the headquarters in Kidlington, Oxfordshire, and resigned before a misconduct hearing, which concluded on Tuesday.

Two men charged after Southampton stabbing

Two men have been charged after a man was stabbed in Southampton.

The 25-year-old suffered serious but not life-threatening injuries after being assaulted on Derby Road on Tuesday at about 19:00.

Two Southampton men, aged 29 and 42, have been charged with causing grievous bodily harm with intent and possession of a bladed article in a public place.

They appeared at Southampton Magistrates' Court and were remanded in custody to appear at the city's crown court on 4 June.

Hampshire Constabulary's central neighbourhood policing team has increased patrols the area.

Severe accident: M4 Berkshire westbound

BBC News Travel

M4 Berkshire westbound severe accident, between J10 for A329 and J11 for A33 affecting J8 for .

M4 Berkshire - Queuing traffic on M4 westbound between J10 A329(M) Wokingham and J11, A33 (Reading), because of an accident earlier on. All lanes have been re-opened. Congestion to J8.

To report traffic and travel incidents dial 0330 123 0184 at any time

Boy who raised thousands for charity dies

Copyright: The Brain Tumour Charity

Image caption: Raj Rana with his mother Suki

An eight-year-old boy from Slough has died from brain tumour, after inspiring his family to raise thousands for research into the disease.

Raj Rana's died on Friday, six years after he was diagnosed at the age of two.

"He was a my beautiful, brave boy. He taught me about strength and determination", said his mother Suki Rana.

"We were told in 2012 that Raj might not survive for more than a few months, He was with us for six more years and we feel so blessed to have had him with us for that time", she added.

The Brain Tumour Charity said more than £39,000 had been raised by the Raj Rana Fund.

Jac Holmes 'made massive difference' in Syria

The parents of Jac Holmes, the 23-year-old from Poole who was killed while fighting with the Kurdish YPG forces against the Islamic State group in Syria, have been speaking after an inquest into his death.

The inquest in Bournemouth heard Jac Holmes, 24, died in October while attempting to defuse a suicide bomb belt left by IS in Raqqa.

Speaking after the hearing, his mother Angie Blannin, from Dover, Kent, said she had spoken to her son the day before he was killed, when he said he was "ready to leave" the war zone.

Quote Message: He wanted to make the place safe before he left. I've always been proud of Jac. He knew he could make a difference and I think he has made a massive difference.

Quote Message: I'd would never encourage anyone to go out and did what Jac did because I'd never want anyone to go through what we've gone through as a family," from Angie Blannin

Driver, 75, dies after collision with tractor

A 75-year-old man has died after a tractor and a car collided in Oxfordshire.

It happened on the A338 between Wantage and Fawley at about 21:15 on 18 April.

Thames Valley Police said the white Vauxhall and a green tractor with a yellow trailer unit were both travelling towards Wantage when the crash happened.

The man driving the Vauxhall died.

PC Linzi Turner, of the serious collision investigation unit, said: "This was a tragic incident in which a person has sadly died.

"We are keen to speak to anyone who may have seen either vehicle in the before the collision or the collision itself."

Reading's After Dark club saved from second demolition plan

A nightclub has been saved for a second time after a planning application to replace the venue with flats was withdrawn at the last minute.

The After Dark club in Reading has hosted music nights since the 1980s and hosted bands including Radiohead, Shed Seven and Supergrass.

KK Property Investments, set up by the club's owners, re-submitted plans for the London Street venue after being knocked back in 2016.

But on Wednesday, they pulled them hours before they were due to be considered at a committee meeting.

Council officers had called the plans "detrimental" to the area.

Copyright: STEVE LUTWYCHE

Durdle Door death: 'Freak wave' washed girl out to sea

A five-year-old girl was killed when a "freak wave" washed her out to sea as she walked along the beach, an inquest has heard.

Rose Carter, from Salisbury, was walking with her mother and sister at Durdle Door in Dorset in the moments before she was swept into the water.

"Frantic efforts" by her mother and a passerby to save her failed, Bournemouth Coroner's Court was told.

The inquest was opened and adjourned until 3 October.

Jac Holmes inquest: 'Police tried to deter travel to warzone'

Det Con Jonathan Marshall has told the hearing into the death of Jac Holmes that he personally tried to dissuade him from travelling to Syria at Gatwick Airport in 2015.

"Sadly, he was not to be deterred," he told the court. "I tried to say to him there were other things he could do to help - humanitarian and aid work."

He said Mr Holmes had signed a disclaimer to say he had been given a briefing by police and warned not to go.

He said there was no legislation from preventing him leaving as there was no evidence he was an extremist or had psychological problems.

Coroner Rachael Griffin said it was important for government agencies to continue to warn of the "deadly consequences" of travelling to war zones like Syria, even if their "intentions are good".

Jac Holmes inquest: Explosion 'unexpected' and 'tragic accident'

Dorset painter and decorator Jac Holmes, who travelled to Syria to fight the Islamic State group, had defused improvised explosive devices "numerous times" during his almost three years with the Kurdish YPG, his inquest heard.

Mr Holmes died "instantly" as he tried to defuse a suicide belt last year.

Coroner Rachael Griffin said the explosion was "wholly unexpected" and a "tragic accident".

"He was not involved in combat, he was killed trying to save others," she added.

The inquest had earlier heard that his mother and father had tried to discourage their son, who had no prior military training, from travelling to Syria, but that he was a "courageous warrior" who was "determined to help".

Jac Holmes inquest: Man fighting IS suffered 'severe blast head injuries'

A British man who travelled to Syria to fight the Islamic State (IS) group was killed "a matter of hours" before he was due to leave the region, an inquest has heard.

Jac Holmes, from Poole, Dorset, suffered "severe blast head injuries" as he tried to defuse a suicide belt in Raqqa on 23 October.

Bournemouth Coroner's Court was told Mr Holmes had first travelled to Syria in January 2015, despite efforts by police and his family to dissuade him.

A conclusion of accidental death was recorded.

Det Con Jonathan Marshall, of Dorset Police, told the hearing that 24-year-old Mr Holmes was planning on going home from recently liberated Raqqa when he died.