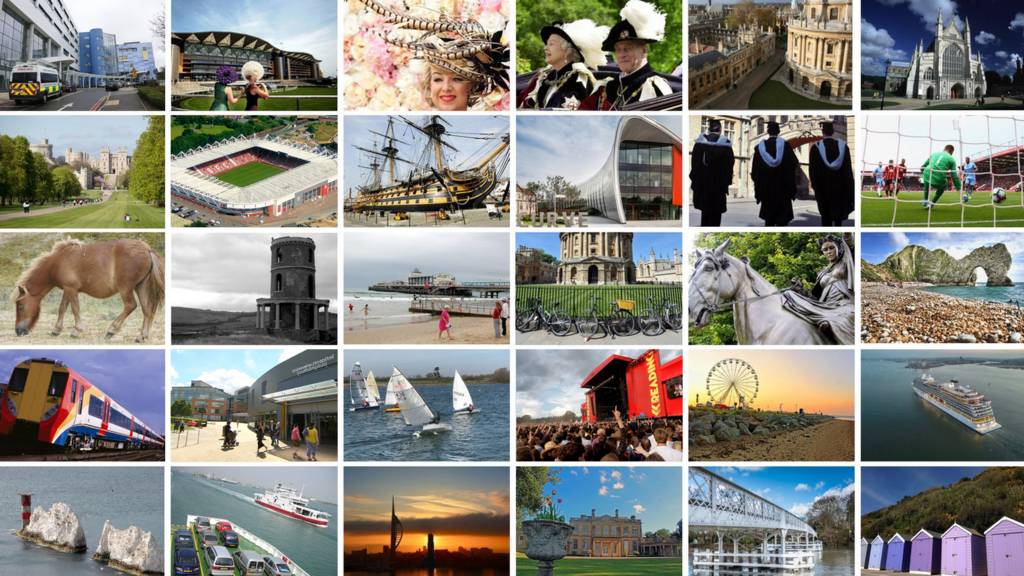 South Live: Tuesday 6 March
You can get in touch by email, on our Berkshire, Dorset, Hampshire and Oxfordshire Facebook pages or on Twitter @BBCBerkshire @BBCDorset @BBC_Hampshire and @BBCOxford.
Summary
Updates from Tuesday 6 March
Fire in central Southampton
Taxi driver charged with two rapes
Businesses and homes destroyed in fire
Duchess of Cambridge visits Oxford school
Fire at Waterstones in Southampton's Above Bar Street.

Free parking bays in Reading may be scrapped

Free parking bays in Reading could become pay and display zones under new council plans.

Reading Borough Council wants to extend the hours it can charge drivers to park in Oxford Road and Wokingham Road by converting free parking bays into the pay and display sites.

The local authority's traffic management sub-committee will discuss the consultation at a meeting on Thursday night.

Karen Rowland from the Baker Street area neighbourhood association said the move is simply is a way of making money by the council.

Basingstoke football club proposals considered

Proposals to secure the future home of Basingstoke Town Community Football Club are being debated today by local authorities.

Under the plans, Hampshire Football Association (HFA) would be given access to the proposed Winklebury stadium under a 75-year lease.

HFA would then sub-let the facilities, complete with new 3G artificial pitch, to the community club.

Councillor Simon Bound is optimistic about the future, saying: "We're now in a position where we've secured investment for the site and it secures a long-term home for Basingstoke Town Football Club."

Proposed £786,000 to be invested in Reading parks

Parks and open spaces across Reading are set for improvements estimated at over £786,000 under proposals unveiled by the borough council.

The plans are due to go before the Housing, Neighbourhoods and Leisure Committee on Wednesday.

Under the recommendations improvement works on various recreational areas would start at the end of 2018 and finish in 2020.

According to the proposals, the majority of the schemes will be funded from contributions secured from developers.

Council to have bridge lights removed

Copyright: Keep Henley Bridge Lights

Image caption: Oxfordshire County Council says it was not approached before the lights went up

A council will seek to remove lights on a bridge in Henley after they were put up by a local resident without permission.

Artist, Clive Hemsley, used his own money to pay for the temporary lights on Henley Bridge.

He's since launched a petition to try and demonstrate public support and persuade Oxfordshire County Council to keep them.

It says it was not approached before the work and will be seeking to have the lights removed.

The council adds it would be happy to consider a lighting trial on any bridge it manages as long as it is supported by the relevant local council, and acceptable plans are in place for fitting and removing the lights.

Cuts to road policing will 'increase risk to public'

Cutting roads policing budgets will have a direct impact of an increased risk to the public, Thames Valley Police federation has warned.

The force is considering cutting its roads policing department due to funding pressures.

Andy Fiddler, a federation rep, says it's imperative funding is maintained due to the strains it would pose to officers.

He said: "We've seen a 58% spike in drug driving. This offence of drink and drug driving has seen a constant increase on our roads, and 2015 figures show that 12% of all fatal collisions had one party under the influence.

"The federation's message of 'Cuts have Consequences' is evident here, to cut roads policing will have a direct impact of an increased risk to the public."

Severe accident: A31 Dorset both ways

BBC News Travel

A31 Dorset both ways severe accident, at Merley Roundabout affecting B3073 Wimborne Road West.

A31 Dorset - Very slow traffic on A31 in both directions in Oakley at the Merley Roundabout junction, because of an accident involving three vehicles earlier on and earlier fuel spillage. All lanes have been re-opened. Congestion to Canford Bottom Roundabout and to Lake Gates roundabout.

To report traffic and travel incidents dial 0330 123 0184 at any time

Family pays tribute to 'loving father' who died in A303 collision

Tributes have been paid to Stuart Woodhouse from Basingstoke who died following a crash on the A303 near Andover on 27 February.

The 44-year-old's family said: "Stuart was a loving father, son, brother, uncle and friend, who was loved by all who knew him.

"He was a man who lived life to the full, brought joy to many and he will be sadly missed."

Investigations into the exact circumstances of the single-vehicle crash are ongoing and officers want to speak to anyone who witnessed it.

Copyright: Hampshire Police

Breaking

Fire rips through warehouse in Dorset

A fire has broken out at an empty warehouse in Blandford.

The fire service says it doesn't have much detail at the moment but it was called to the blaze in Bournemouth Road at 14:28 GMT.

Five fire engines are at the scene with three more on the way.

Police have closed some roads immediately around the site

Image caption: Sue Crocombe took this picture earlier

Image caption: Thanks to @TonyFred1432176 for sending us this picture

Police investigating after man found stabbed in the street

A man is being treated in hospital after being found outside Cornwallis House in Portsmouth last night with stab wounds to his legs.

Police said the 36-year-old from Southsea was discovered between 20:00 and 20:50 GMT.

His injuries are described as serious, but are not believed to be life-threatening.

Det Insp Dave West said: "We'd like to hear from anyone who may have witnessed an assault or any suspicious activity in the area around Lake Road last night."

Berkshire station 'access for all' works suffer further delays

Work on a new footbridge and lifts to provide disabled access to Theale station has been delayed.

It may not be ready now until 2024, more than 10 years after the work began.

Improvements at the site started in 2013 when the Department for Transport selected the station as one of a few which would receive funding through Network Rail's "Access for All" Programme.

Network Rail said in a statement it was committed to providing access for everyone at the station but in the meantime will "continue to work on the development and designs of our stations that were nominated for step free access".

Taxi driver charged with Newbury rape attacks remains in custody

Taxi driver Ruhen Miah, 42, has appeared in court charged with raping two women in Newbury, Berkshire.

The attacks on 20 January and 24 February took place after the women got into a taxi on a night out, Thames Valley Police said.

Miah has been remanded into custody and will appear at Reading Crown Court on 10 April.

A 40-year-old man arrested in connection with the incident remains released under investigation.

Smoke fills central Southampton after bookshop blaze

No customers or staff injured in Waterstones fire

Following the earlier fire at Waterstones in Southampton's Above Bar Street, their sister branch at nearby WestQuay has tweeted to say no staff or customers were harmed.