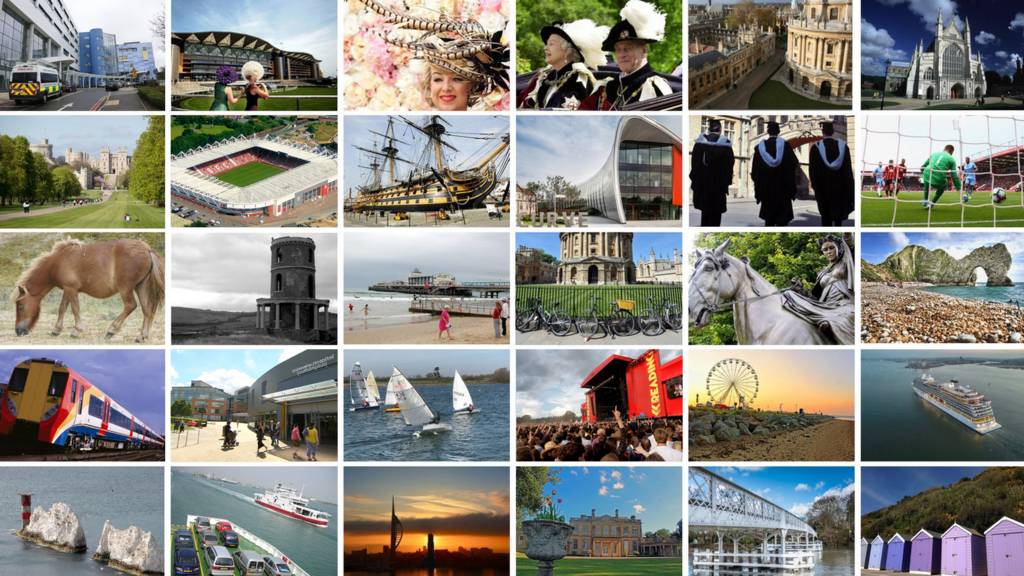 South Live: Friday 26 January
You can get in touch by email, on our Berkshire, Oxford, Hampshire and Dorset Facebook pages or on Twitter @BBCBerkshire @BBCOxford @BBC_Hampshire and @BBCDorset.
Image caption: The sinkhole appeared outside the Sheldonian Theatre and the Weston Library

A sinkhole which opened up in the centre of Oxford has been repaired.

It was found on Broad Street close to the Grade I listed Sheldonian Theatre early on Tuesday.

The hole was about 30cm wide on the surface but stretched for about a metre in either direction below

Thames Water worked with Oxfordshire County Council's archaeologist on the "complex repair", which was completed this afternoon allowing Broad Street to reopen.

Image caption: Thames Water has been working to repair the sinkhole

Jane Austen letter to go on display

A letter written by novelist Jane Austen to her niece is to go on display in Hampshire as part of an exhibition.

Copyright: Jane Austen's House Museum

The manuscript letter was written on 13 March 1816 at Austen's home in Chawton, which is now Jane Austen's House Museum.

It will form part of the museum's Family, Friendship and Northanger Abbey display for four months from 1 February 2018.

The letter shows Jane "characteristically darting from one subject to another", the museum said.

"She begins with a discussion of literature before offering Caroline news of visitors, family members and the 'sad' March weather."

Copyright: Jane Austen's House Museum

Searches in Farnborough after suspected murder

Image caption: Police were called to Mayfield Road at about 13:45 today

Police investigating a suspected murder in Farnborough have been carrying searches around Mayfield Road this afternoon.

They were called to the street at about 13:45 GMT after an injured man was found.

He was later pronounced dead and two men have been arrested.

Hampshire police says it doesn't believe it's spoke "to all those involved in the incident".

Searches and investigations into the exact circumstances of the man's death continue, the force added.

Frank Lampard denies U's manager reports

Image caption: Ex-Chelsea star Frank Lampard retired in February 2017

Frank Lampard says he's not had any recent discussions with Oxford United about vacant manager's job.

The club is searching for a new boss following Pep Clotet's departure on Monday and the former England midfielder has been linked with the position.

But he has been telling radio station Talksport that the speculation is wide of the mark - although he did admit to meeting with director Dave Jones to discuss the job before Pep Clotet was appointed in the summer.

Woman cleared of prostitution charges

Copyright: Hampshire Constabulary

A woman who was arrested in a police anti-slavery operation has been found not guilty of controlling prostitutes.

Sorina Ursa, 23, was among four people detained in raids on a business and three homes in Portsmouth on 22 August.

Three "vulnerable women" were identified and sex equipment was found in the raids, police said previously.

Ms Ursa, of Beecham Road, was cleared by a jury at Portsmouth Crown Court of two counts of controlling prostitution for gain.

Map reveals 'British maritime empire' trading routes

Historians at the University of Southampton have mapped the trading routes of medieval shipping which helped "sow the seeds of the British maritime empire".

More than 50,000 ship movements from 600 ports around England, Wales and the Channel Islands, dating between 1400 and 1580 have been compiled for the interactive map and database.

Researchers found most shipping at the time was done between local ports rather than going abroad with traders opting for ships rather than using the country's mud-track roads.

They also found that, as well as familiar ports still in use such as Southampton, Falmouth, Cardiff and Liverpool, a large number of smaller coastal and river towns were once bustling ports, including Bewdley on the River Severn in Worcestershire, which has 200 voyages logged in the database.

Quote Message: At the start of the late medieval and Tudor period, English shippers were mainly coastal traders, but by the end, [Sir Francis] Drake had set out on his voyage of circumnavigation and Walter Raleigh was close to planting England's first settlers on Roanoke Island in North America." from Dr Craig Lambert Principle investigator at the University of Southampton

Breaking

Man found dead in Farnborough

Police have launched a murder investigation following the death of a man in Farnborough.

Officers found an injured man at Mayfield Road in the town at about 13:45 GMT.

He was pronounced dead at the scene, Hampshire police said.

Two people have been arrested.

Oxford hospital trust 'disappointed' with MP's remarks

Dame Fiona Caldicott, chairman of Oxford University Hospitals NHS Foundation Trust, has responded to claims made by Victoria Prentis about its transparency.

She said: "We were disappointed to hear Victoria Prentis' comments and we do not recognise her description of Oxford University Hospitals as an organisation with a 'culture of secrecy'.

"We strive to be as open and transparent as possible with our patients, governors, local communities and MPs.

"Our board meetings are held in public with papers published on our website in advance.

"Patients, the public and staff are elected onto our council of governors, which has a key role to play in ensuring we always listen to the voices of the people who we are here to serve.

"We always aim to reply promptly to questions and issues raised about our services, including those from members of parliament.

"Sometimes it may take us a little longer to reply to letters and emails raising concerns so that we can establish the true facts before responding to them, but we always aim to reply as promptly as possible.

"Senior staff in the trust are also always willing to talk on the phone in urgent situations."

Police name Lasham crash victims

Image caption: The crash happened on the A339 at the junction with Station Road at 13:40 on Saturday

The names of three people who died in crash in Lasham on Saturday have been released by police.

Heidi Eyre, 77, and her husband Patrick Eyre, 80, who were both from London, died after the Honda they were travelling in collided with a Hyundai on the A339.

Robert Beresford, 90, from Alton, who was also in the car, died early on 21 January in hospital.

The driver of the Honda, who is 87, and the people travelling in the Hyundai suffered minor injuries.

Banbury MP: 'Culture of secrecy' at Oxford hospitals

An Oxfordshire MP has told BBC Radio Oxford that she's worried there's a "culture of secrecy" at Oxford's hospitals when services reach crisis point.

Victoria Prentis, the Conservative MP for North Oxfordshire, made the comments during a discussion on a shortage of midwives in the county.

She said: "I'm very worried that there is a culture of secrecy because of the furore over the Horton midwife unit being downgraded, and I'm worried we're not being told the truth."

She added: "I wrote to the trust in a civil manner [about the Churchill Hospital] asking for details.

"I did want to probe because we are worried, very worried, about recruitment of medical staff in Oxfordshire. I haven't had a reply.

"I am concerned that instead of being open and honest and transparent with us... the hospital just tries to cover things up."

Woman assaulted in homophobic attack

A woman has been assaulted by a group of five women in a homophobic attack in Alton.

Police say it happened between 12:30 and 01:30 on Sunday morning.

The 25-year-old victim was subjected to homophobic abuse and left with bruises and scratches to her face.

Officers have asked any witnesses to contact them on 101.

West Way land sale completed

Image caption: The plans to redevelop the West Way shopping centre were approved in 2016

The redevelopment of the West Way shopping precinct in Botley has taken a step forward.

The land has been sold by Vale of White Horse District Council to Botley Development Company for £12.4m.

The authority reduced the price by about £1.4m to help developers make changes to their plans to meet the needs of the community.

Planning permission for the project was granted in 2016, despite almost 350 residents raising objections.

The council said the developers intended to start work "as soon as possible".