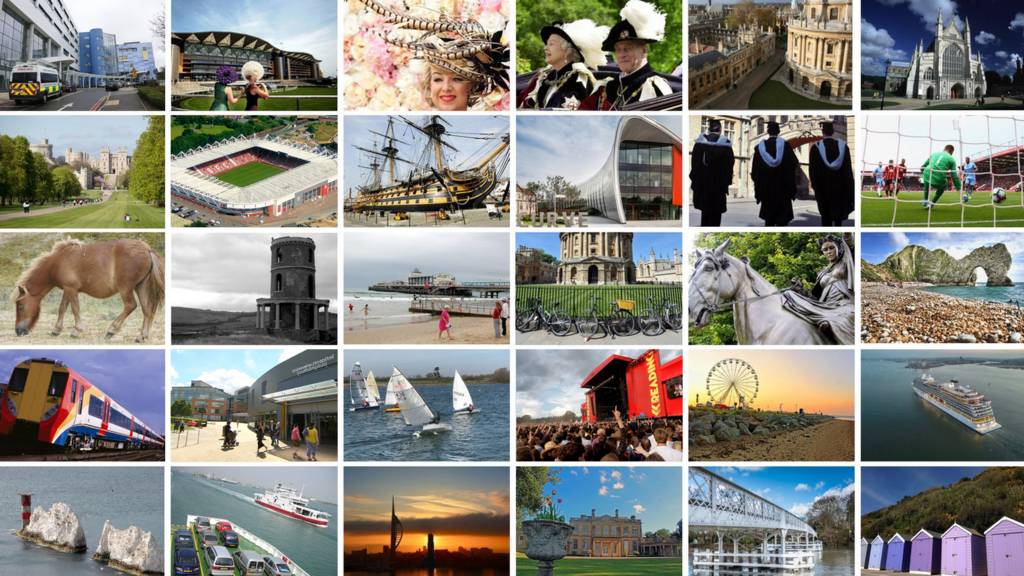 South Live: Thursday 24 August
You can get in touch by email, on our Berkshire, Oxford, Hampshire and Dorset Facebook pages or on Twitter @BBCBerkshire @BBCOxford @BBC_Hampshire and @BBCDorset.
Thanks for popping by to see us today.

We'll be back from 08:00 on Friday with more news, sport, travel and weather from across Dorset, Oxfordshire, Berkshire, Hampshire and the Isle of Wight.

Have a good night.

Wallaby sighted in Oxfordshire

Image caption: The crew spotted the animal on Spring Land, Sheppard's Green, in South Oxfordshire

Wallabies are usually found in Australia but it seems one could be hopping around south Oxfordshire.

A bin lorry crew say they made a possible sighting on their rounds in Sheppard's Green.

"A crewman managed to get one picture before the animal bounded into some bushes and disappeared," a spokesperson for Biffa said.

The RSPCA is looking into whether any further sightings have been reported.

London Irish appoints new chief executive

London Irish announced today that Brian Facer will be joining the club as its new chief executive.

Facer will arrive at Hazelwood at the beginning of November after working for Northampton Saints as its commercial director.

London Irish president Mick Crossan said Mr Facer was a unanimous choice.

He added: "This is an exciting time for London Irish with our return to the Aviva Premiership and we feel that Brian is the right person to lead the club as chief executive as we look to progress both on the field and commercially."

Zara Tindall to ride at Blenheim

Zara Tindall has been confirmed for the Blenheim International Horse Trials in September.

The Queen's eldest grandchild has entered a horse in each of the three international classes at the event.

Olympic gold medalists Sir Mark Todd, Blyth Tait and Andrew Hoy are also confirmed for the competition which will feature riders from 15 different nations when it starts on 13 September.

Motorcyclist in 'serious condition'

A motorcyclist is in a serious condition in hospital after he crashed into car on the A41 yesterday.

He was riding from Aylesbury towards Bicester when the collision at Blackthorn Bridge junction happened at about 16.50.

The 34-year-old rider, who suffered serious head and back injuries, is being treated at the John Radcliffe Hospital in Oxford.

The driver of the car, a silver Honda Accord, was not injured.

Image caption: The motorcyclist, a 34-year-old man, is being treated at the John Radcliffe Hospital

Three seriously injured in A354 crash

Three people are in hospital with serious injuries after the crash on the A354 in Dorset which closed the road near Tollard Royal for several hours.

Police carried out a forensic examination of the scene before the road reopened.

A354 reopens after serious crash

Saints defender signs new three-year contract

Southampton FC have announced that Maya Yoshida has signed a new three-year contract with the club.

Family's concern at missing 77-year-old

Copyright: Thames Valley Police

Image caption: James Joseph is know to visit the Cowley Centre police said.

A 77-year-old man from Oxford is missing.

James Joseph was last seen walking by the Green Road roundabout at about 17:00 yesterday heading towards Kidlington.

He is from Blackbird Leys area but has been staying in the Kidlington area recently.

Investigating officer Sgt Al Robinson said officers and family were "growing increasingly concerned" for his welfare.

Strike-hit rail firm Southern speeds up delay payments

Passengers on the strike-hit Southern rail network are now being compensated automatically for train delays.

The scheme operates through the firm's smartcard, where passengers tap in and tap out to pay for journeys, parent firm Govia Thameslink (GTR) said.

Previously, people applied for Delay Repay compensation online or in writing after 15-minute delays but GTR said now "it couldn't be quicker or simpler".

GTR remains in dispute with two unions, with RMT walkouts expected next month.

Road reopens after 'serious' crash

A road has reopened more than seven hours after a crash near the Great Dorset Steam Fair near Blandford.

Police said three people were taken to hospital with serious injuries following the collision at Trickthorn Cross at about 07:52 BST.

It happened just before the annual fair opened at Tarrant Hinton, 2.5 miles (4km) away.

There are no details of the vehicles involved.

Bramble Bank cricket match with a difference

Karate cop wins police games gold

Copyright: Hampshire Constabulary

Mike Lynch is one police officer criminals would be wise to avoid messing with.

A member of Hampshire Constabulary's force support unit, he's won two medals at the World Police and Fire Games.

His gold in submission and grappling was followed by a silver in karate in the competition in Los Angeles.

The event claims to be the third largest sporting competition in the world for the number of competitors and is held bi-annually.

Hampshire Constabulary say officers in the force support unit have a "notable talent for breaking down doors" and they're "proud" of Mike's achievements.

Quote Message: For me, the best part about competing was meeting fellow police officers...I was so inspired to see the amount of emphasis they put into their fitness regimes from PC Mike Lynch Hampshire Constabulary

Meet some of women of south-west England working in the male-dominated fishing industry.

Man charged with shoplifting £200 women's coat in Dorset

A man has been arrested and charged in connection with an alleged shoplifting in Gillingham in Dorset.

At about 13:30 on 19 August a man entered the Mole Country Stores in Station Road and stole a women's Barbour Beadnell jacket, worth £200.

A 54-year-old Yeovil man has been charged with theft from a shop and is due to appear at Weymouth Magistrates' Court on 20 September.

Man hunted after 17-year-old girl sexually assaulted

A 17-year-old girl was inappropriately touched by a man in Haslemere Road, Liphook, Hampshire Constabulary said.

It happened sometime between 22:30 and 22:47 BST on Tuesday when the girl was approached by a man she did not know. He touched her over her clothing without her consent.

The man then made off towards Liphook train station where he was later seen waiting on a platform.

He is white. about 19 years old, and was wearing a black tracksuit top, grey tracksuit bottoms and white Adidas trainers. He had his hood up, or had a coat pulled over his head.