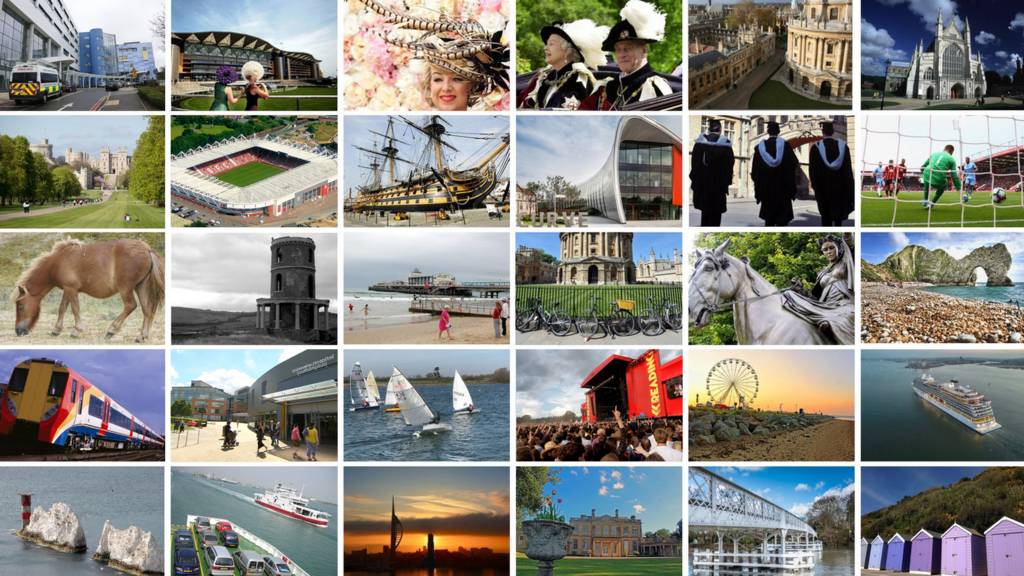 South Live: Tuesday 18 July
You can get in touch by email, on our Berkshire, Oxford, Hampshire and Dorset Facebook pages or on Twitter @BBCBerkshire @BBCOxford @BBC_Hampshire and @BBCDorset.
Summary
Life-sized bronze sculpture of Jane Austen to be unveiled in Basingstoke
The Bank of England is also launching the new £10 note, featuring Austen
Children in Oxfordshire 'waiting too long for care plans'
Sky lanterns and helium-filled balloons could be banned in West Dorset
Updates from Tuesday 18 July
That's it for South Live for today - thanks for joining us.

We'll be back from 08:00 on Wednesday.

Special £2 coins in Hampshire outlets

If you've been out shopping in Hampshire this afternoon, check your change as you might be in possession of a rather special piece of memorabilia.

The Royal Mint released a Jane Austen coin in a few locations around Hampshire today, to celebrate 200 years since hthe author's death.

The coins are not available anywhere else in the country, and are only being given out today.

They are available at the following locations; Allen Gallery, Alton; Festival Place shopping centre, Basingstoke; Gosport Gallery; Discovery Centre, Gosport; Jane Austen House Museum, Chawton; Alton Milestones Museum, Basingstoke; Willis Museum and Sainsbury Gallery, Basingstoke; Winchester Cathedral; Winchester City Museum; City Space at Discovery Centre, Winchester.

'Structural concerns' over Christchurch arts centre

The Regent Centre in Christchurch has cancelled a show this week amid concerns about the structure of the theatre's auditorium.

Priestlands School in Pennington, whose production of "Oliver!" has been postponed, said the issue involved "corrosion of structural beams".

Christchurch Borough Council, which supports the venue, said a full structural report was expected later this week.

Man dies in Sonning car crash

A man has died after a car crash in the Berkshire village of Sonning yesterday evening.

At about 20:50 BST, a white BMW 1-series was involved in a crash at Pound Lane, Sonning, in the direction of the roundabout junction with the A4 Bath Road.

Image caption: The man was heading south on Pound Lane towards the junction of the A4

The driver of the BMW, a man in his 30s, sustained serious injuries and was taken to the Royal Berkshire Hospital where he sadly later died.

Thames Valley Police says his next of kin have been informed. No other vehicles were involved.

Serious sexual assault in Didcot

A sexual assault on a women in Didcot is being investigated by police.

It happened at 00:30 BST on Sunday morning in Edinburgh Drive close to the Orchard Centre.

A man grabbed a women from behind and then sexually assaulted her.

He's described as being black, around 6ft, of large build, and had an eyebrow piecing with large diamonds on either side.

Quote Message: This serious sexual assault took place close to the Orchard Centre in Didcot, a busy part of the town, and I would appeal to anyone who thinks they may have seen or heard anyone acting suspiciously. from Det Sgt Ben Henley Thames Valley Police

Berkshire mother joins campaign for legal assisted dying

A mother who watched her terminally ill daughter suffer severe pain and distress for weeks before she died in a hospice, says the law on assisted suicide has to change.

Christine Eeley says Isobel, who was 33, begged for help to end her life.

She's now involved in launching a new Berkshire branch of a campaign group Dignity In Dying.

Solent oysters 'starting to reproduce'

Oysters reintroduced to the Solent in a bid to revive fishing in the area are starting to reproduce, project organisers have said.

Copyright: Blue Marine Foundation

About 10,000 juveniles were transferred to cages at six sites in April.

Blue Marine Foundation said there had been a 90% survival rate with some having grown by an inch (2.5cm), while others had begun to spawn.

Critically endangered eels have also been discovered in the cages.

Basingstoke Jane Austen statue revealed

A first look at the £100,000 bronze sculpture placed in Basingstoke to mark the bicentenary of the author's death.

Severe disruption: A40 Oxfordshire eastbound

BBC News Travel

A40 Oxfordshire eastbound severe disruption, at Cuckoo Lane.

A40 Oxfordshire - Slow traffic and one lane blocked on A40 eastbound in Eynsham at the Cuckoo Lane junction, because of an overturned vehicle.

To report traffic and travel incidents dial 0330 123 0184 at any time

Attempt to steal cash machine

Police are looking for four people who tried to take a cash machine from Stanford in the Vale in the early hours of the morning.

It happened at the Co-Op in the High Street at about 03:00 BST.

As well as trying to enter the shop using a large piece of wood, the group attempted to remove the ATM using a Mitsubishi vehicle and a trailer.

Nothing was taken and the group got away in a burgundy estate or saloon - leaving the vehicle and trailer at the scene.

Severe accident: A4 Buckinghamshire both ways

BBC News Travel

A4 Buckinghamshire both ways severe accident, between Station Road and River Road.

A4 Buckinghamshire - A4 Bath Road in Taplow blocked and very slow traffic in both directions between the Station Road junction and the River Road junction, because of an accident.

To report traffic and travel incidents dial 0330 123 0184 at any time

Primark recall flip-flops over chemical content

Retailer Primark, who's UK headquarters are in Reading, has recalled thousands of men's flip-flops over fears they may contain dangerous levels of a cancer-causing chemical.

The discount fashion chain, which is based in the centre of Reading, said it had come to its attention that the footwear "does not meet the Primark usual high standards for chemical compliance".

The products in question are men's flip-flops in blue, black and khaki.

The company said customers will be offered a full refund and do not have to produce proof of purchase.

Anti-social behaviour clampdown in Dorchester

Tighter restrictions on anti-social behaviour and dog controls in towns across West Dorset are set to be introduced.

The district council is to recommend proposals today, which include clamping down on street beggars outside shops in Dorchester.

Image caption: Homeless people in Dorchester are a target for the restrictions

"Enforcement is always an issue", said councillor for community safety and access, Alan Thacker, "as money tightens, dog warden services become more and more pressed".

"Where people say there are problems, they will be targeted".

Jane Austen statue ready for unveiling

Excitement mounts in Basingstoke ahead of the unveiling of a bronze statue of Jane Austen.

Flowers laid on Jane Austen's grave at Winchester Cathedral

Jane Austen fans from around the world have gathered at Winchester Cathedral to pay tribute to the writer on the 200th anniversary of her death.