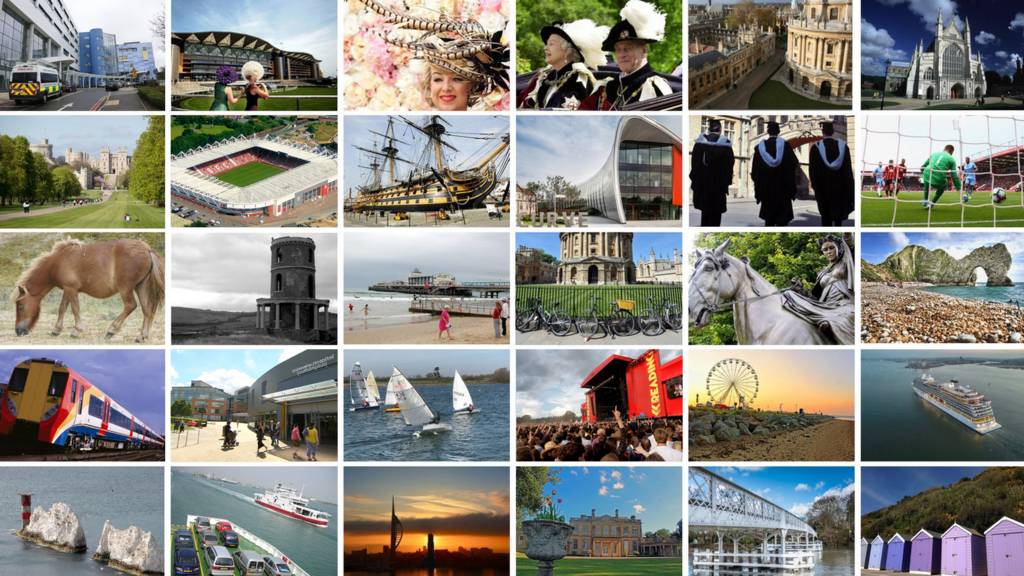 South Live: Friday 23 June
You can get in touch by email, on our Berkshire, Oxford, Hampshire and Dorset Facebook pages or on Twitter @BBCBerkshire @BBCOxford @BBC_Hampshire and @BBCDorset.
Oxford band surprise audience at Glastonbury

Glass Animals played a surprise set on the BBC Introducing stage at Glastonbury earlier this afternoon.

The Oxford band was first played by BBC Introducing in Oxford in 2010 and have gone from strength to strength. They've broken America and have two critically acclaimed albums to their name.

The band are also playing The Other Stage at this year's festival.

Premier Inn urgently reviews cladding

Premier Inn has told BBC Newsnight that it was "extremely concerned" about the cladding on three of its hotels.

It said an urgent review found hotels in Maidenhead, Brentford and Tottenham did not appear to comply with government guidance for tall buildings - although it did appear to be a less flammable type than that used at Grenfell Tower.

The hotel chain said an independent expert has assured them that the hotels were safe to stay open given their "robust" safety measures including fire detectors and smoke alarms in every room.

Tribute to Isle of Wight motorcyclist Peter Kilshaw

The family of a motorcyclist who died following a collision on the Isle of Wight have paid tribute to him.

Peter Kilshaw, 30, from Cowes, died following the collision with a VW Beetle on Corf Road, Shalfleet, on Wednesday.

Copyright: Hampshire Constabulary

Quote Message: "Peter was a lovely lad who would do anything for anyone. "He was gentle, loving and had a heart of gold. He was a serial prankster who always had us smiling, laughing and joking. He always strived to be his best and was a perfectionist. He will be sorely missed by his family, girlfriend and friends." from Family statement

Debbie McGee in Celebrity Masterchef

The contestants for this year's Celebrity Masterchef have been announced.

BBC Radio Berkshire presenter Debbie McGee is among those taking part along with comedian Vic Reeves and singer Rachel Stevens.

The new series starts in August.

Rose presented as 'peppercorn rent' to landowners

A rose has been has been presented as a symbolic "peppercorn rent" to allow access to Oxfordshire's countryside.

The historic gesture is in return for allowing public to use Wittenham Clumps and Little Wittenham Nature Reserve.

Every year the county council gives a rose to the Earth Trust, which owns the land, in a tradition dating to 1970.

When the agreement was drawn up the area was in Berkshire, but since 1974 Oxfordshire County Council has presented the rose.

Chairwoman of the county council Zoe Patrick said the local authority was "delighted" to honour the long-standing agreement.

Breaking

New Southampton boss announced

Southampton appoint former Alaves boss Mauricio Pellegrino as manager.

Breaking

Isle of Wight term-time holiday dad found guilty

A father who fought a long-running legal battle over taking his daughter on a term-time holiday has been found guilty over the unauthorised trip.

Jon Platt lost his legal challenge at the Supreme Court in April, despite winning earlier legal battles against a £120 fine in a case brought by the Isle of Wight council.

Earlier at the island's magistrates' court, his defence lawyers argued that pursuing legal action against him was an "abuse of process".

However, he has been found guilty.

Mauricio Pellegrino: Southampton appoint former Alaves boss as manager

The 45-year-old Argentine replaces Claude Puel, who was fired after one season in charge earlier in June.

Pellegrino stood down as Alaves manager in late May, after losing the Spanish Cup final to Barcelona and finishing ninth in La Liga with a club that had been promoted the season before.

"My philosophy and the culture of the club will work well," said Pellegrino, who has signed a three-year deal.

Egidio Da Silva Alves jailed for life over Oxford street murder

A man has been jailed for life for stabbing a father to death in the street in front of "terrified" onlookers.

Domingos Ramalho, 35, was attacked with a kitchen knife in Headlington, Oxford on 13 February.

Egidio Da Silva Alves, 28, of The Slade, Oxford, admitted murder and will serve a minimum sentence of 20 years.

Police said he knew his victim and killed him after the pair bumped into each other in a betting shop.

Work begins to remove cladding from Portsmouth Tower blocks

Workmen have begun the task of removing aluminium composite material cladding from two residential tower blocks in Portsmouth after tests found it to be a fire risk.

Portsmouth City Council said it was detaching the panels on Horatia House and Leamington House as a "precautionary measure". The authority has insisted the blocks were still safe for residents to stay in.

Fire review of University of Southampton buildings

Southampton University has issued a statement following a check of cladding on its residential and academic buildings.

"Following the appalling fire and tragic consequences at Greenfell Tower fire on the 14th June, the University of Southampton has further reviewed its fire safety standards for all of its buildings and particularly its residential buildings.

"Prior to the fire and, over the past 14 months, we have also completed fire risk assessments in all of our student accommodation blocks and houses and there are no serious actions outstanding from those assessments.

"More specifically, with regard to Mayflower Halls, these buildings have incombustible cladding, a full sprinkler installation and a high specification fire alarm system."

Copyright: University of Southampton

Woman raped during 'violent assault' at Southampton's St Denys Station

A woman has been raped during a "violent assault" in the car park of a train station in Hampshire, police have said.

The victim was seriously assaulted by a man at St Denys Station car park in Southampton just after midnight.

The offender then fled the scene in a vehicle.

Hampshire Constabulary later stopped a vehicle and arrested an 18-year-old man on suspicion of rape and attempted murder. He remains in custody.

Councillor 'made late council tax payments'

Severe disruption: M4 Berkshire eastbound

BBC News Travel

M4 Berkshire eastbound severe disruption, between J13 for A34 Chieveley and J12 for A4.

M4 Berkshire - Two lanes closed and queuing traffic on M4 London-bound between J13, A34 (Chieveley) and J12, A4 (Theale), because of a broken down vehicle.

To report traffic and travel incidents dial 0330 123 0184 at any time

CCTV released in missing hospital patient search

Police have released a CCTV image of a patient who went missing from Southampton General Hospital, where he was being treated for a "serious medical condition".

Arkadijis Petrovs, 37, walked out of the high dependency ward at 16:30 BST on Monday.

Copyright: Hampshire Constabulary

He was pictured on CCTV in Cash Converters, Shirley Road, at 09:45 BST on Tuesday, and was spotted later that day in the St Mary's area.

Police said Mr Petrovs may appear "disorientated or unsteady on his feet" and his need for medical treatment is becoming "more urgent".