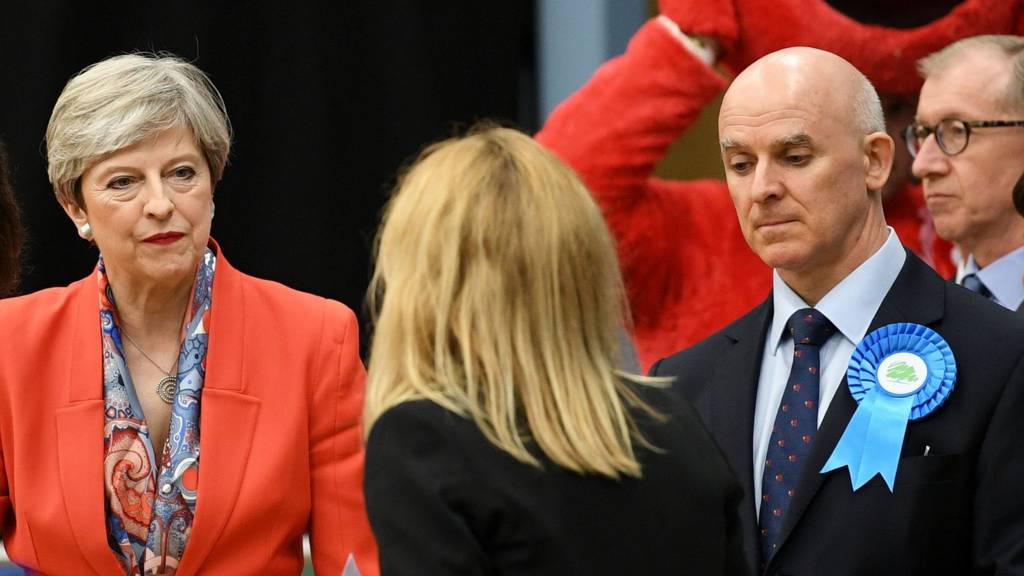 South Live: Election results and other news
Live updates from across Hampshire, Oxfordshire, Dorset, Berkshire and the Isle of Wight as results of the 2017 General Election are revealed.
Thanks for being with us on this dramatic day in British politics.

We'll be back on Monday at 08:00 BST with all the headlines from across Berkshire, Oxfordshire, Dorset, Hampshire and the Isle of Wight.

No action against woman in baby murder inquiry

Police are taking no action against a woman who was arrested in connection with the death of a baby boy.

The 28-year-old from Newbury had been detained on Tuesday on suspicion of causing or allowing the death of five-month-old Jack McLaren.

Jack's father Daniel McLaren, 29, of Fleetwood Close in Newbury, is charged with his murder and appeared earlier at Reading Crown Court via video link.

He has been remanded in custody until the next hearing date on 4 August.

Mr McLaren has also been charged with causing grievous bodily harm with intent to another child aged under one.

Floating bridge runs aground again

The Cowes floating bridge has run aground for the second time this week.

It comes after the Maritime and Coastguard Agency suspended the service on 16 May over "training issues".

A statement on the Isle of Wight Council website said the chain ferry would be re-floated by 19:30 BST.

Earlier the council had said silt which caused the grounding earlier this week had been removed.

Investment in west Oxford's leisure facilities

More than £9m is to be invested in leisure centres in west Oxfordshire over the next 10 years, the district council has announced.

This includes:

An extension at Carterton Leisure Centre, including an indoor trampoline park
A new mezzanine floor to increase gym space at Windrush Leisure Centre, with a new sensory room
An extension to Chipping Norton Leisure Centre
New soft play equipment and a cafe refurbishment at Woodstock Outdoor Pool

The authority claims it will mean an extra 30 full-time jobs and 20 apprentice positions a year. Operator GLL has had its contract renewed for a further 10 years.

Jeanette Baker, cabinet member for leisure and health, said: "It is really exciting to be able to offer such fantastic facilities to residents in the near future."

'The DUP are an extreme party'

Martin Salter, Labour's Reading West MP between 1997-2010, has been highly critical of Theresa May's decision to govern alongside the DUP.

The prime minister said she will put together a government with the support of the Democratic Unionists that can provide "certainty" for the future.

Mr Salter said: "The DUP are a party that none of us get to vote for. They're a very extreme protestant party, they don't believe in reproductive rights for women and they have a stone-age approach to social policies.

"Theresa May has done a shoddy backroom deal with a bunch of right-wing extremists. who now hold the balance of power in this country."

Ryde Academy 'not consulted on merger'

The headteacher and governors of Ryde Academy were not consulted on plans to merge with a neighbouring school, an Isle of Wight councillor has claimed.

The two schools' private sponsor AET announced plans in May to combine Ryde with the troubled Sandown Academy.

Image caption: Ryde Academy headteacher Joy Ballard

In a letter released by Isle of Wight councillor Chris Whitehouse, the chair of Ryde governors Lesley Holmes says: "Governors believe that this proposed merger is not in the best interests of... either school."

Ms Holmes added: "Neither Ryde Academy governors nor [headteacher Joy] Ballard were consulted about the AET proposal prior to the public announcement."

Police warning after rise in number of missing cats on Isle of Wight

Five arrests after serious assault in Portsmouth

Police investigating two separate serious assaults in Portsmouth last night have made five arrests.

The first incident left a man with a serious injury to his chest after police were called to reports of men fighting in Edmund Road, Southsea at 19:06 BST.

The 23-year-old was taken to Southampton General Hospital and police arrested a 22-year-old man from Kent, a 22-year-old man from London and a 20-year-old man from Southsea.

The second incident happened at about 21:13 and involved an "altercation" between two men in Queens Road, Fratton. Both men were taken to hospital with minor injuries.

A 40-year-old man from Portsmouth and a 35-year-old man from Southsea have been arrested in connection with this incident.

All five men arrested remain in police custody and Hampshire Constabulary said there is "no evidence" to connect the two incidents.

Progressive Alliance's 'enormous impact' in Oxford West and Abingdon

The Progressive Alliance is celebrating today's result in Oxford West and Abingdon, as back in May the Green Party candidate for the constituency stood aside in a tactical move to stop the Conservatives.

At the time a Conservative spokeswoman called it "yet more proof of grubby deals being struck to build a coalition of chaos".

But Tina Leonard from the Progressive Alliance said the move had had an "enormous impact" and was about "building a better society and changing a broken political system".

She described the defeated Nicola Blackwood as an "absolutely charming Tory MP" who "said all the right things but unfortunately always... voted against all the things that are important for us and for all the things we don't like, so this time it's going to be different".

Anneliese Dodds: 'Young people decided to get involved'

Labour's Anneliese Dodds, who increased her party's majority in Oxford East, said young voters made a difference.

She replaced Andrew Smith, who decided to step down after 30 years.

He said he was "absolutely thrilled" at the result.

PC sacked after bullying claim proven

A police constable has been sacked for bullying, being rude and lacking respect for a woman when he stopped her car on private land.

PC Neil Bevan, based at Amersham, was dismissed following a misconduct hearing at Thames Valley Police HQ in Kidlington, Oxfordshire.

On 11 August 2016, the officer stopped a member of the public in her vehicle which he threatened to seize.

He took the woman's keys and issued the woman with a traffic offence ticket.

He gave her the impression he would report her to the DVLA and/or take further action against her, the hearing was told.

His behaviour was proven to be was abrupt, rude, bullying and/or lacking in respect and courtesy.

Deputy chief constable John Campbell said: "We expect all of our officers to uphold high standards of behaviour and to treat the public with respect at all times, and any allegations of behaviour that do not meet those standards are rigorously investigated.

"In this instance, PC Bevan's actions fell far below the standards of what we, and most importantly the public, expect of police officers."

In Pictures: Car destroyed by blaze on M3

Copyright: Hampshire Fire and Rescue Service

This is the moment firefighters tackled a car fire on the M3 this afternoon.

Crews from Basingstoke and Andover were called to a three-car crash which included a Ford Focus on fire.

The incident happened on the M3 northbound between junction 8 for Popham and junction 7 for Dummer.

The vehicle was completely destroyed by the blaze at 12:28 BST. Nobody was trapped.

Copyright: Hampshire Fire and Rescue Service

Southampton Itchen: How close did it come?

Steel construction MD calls for MPs to 'pull together' ahead of Brexit negotiations

MPs are being urged to "present a united front" to the EU for Brexit negotiations.

Simon Boyd, who is managing director of Dorset-based steel construction company REID steel, is set to write to all MPs asking them to "pull together".

He said: "WhileIrespect the election result, a hung parliament weakens our country and this does not bode well for strengthening our position in the upcoming Brexit negotiations.

"This election result does not take away the British people's decision to leave the EU and our members of parliament, Labour and Conservatives, alike must now throw their combined support behind our government and Brexit negotiating team.

"To not do this would show contempt for the British people who mostly support the need to get on with the leaving process, and do much damage to the future prospects for the UK."