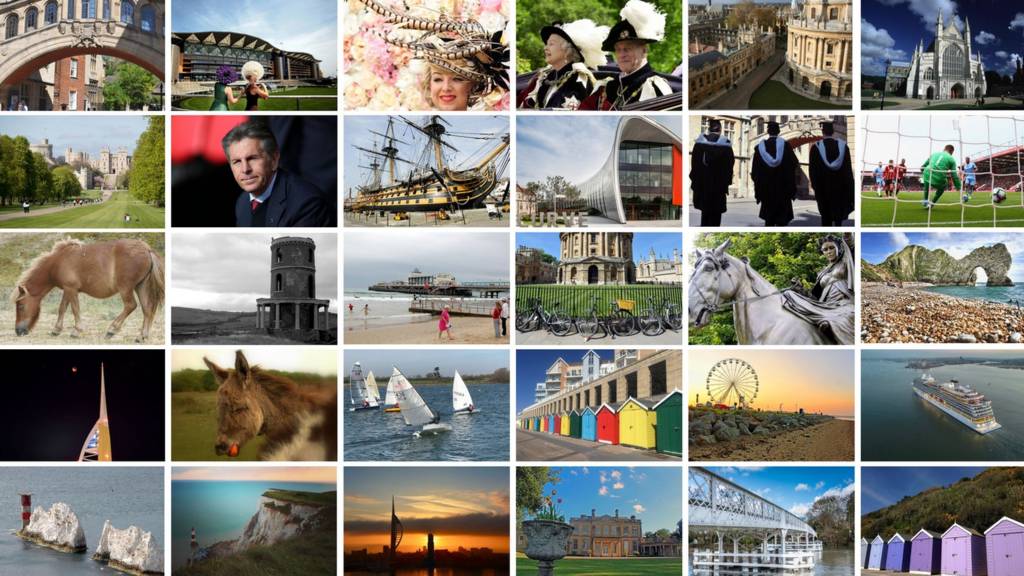 South Live: Thursday 8 June
You can get in touch by email, on our Berkshire, Dorset, Hampshire and Oxford Facebook pages or on Twitter @BBCBerkshire @BBCDorset @BBC_Hampshire and @BBCOxford
Summary
Man admits crash which killed girl, 3
Man charged with baby murder
Teenager admits cyclist killing
Cheeki Rafiki trial starts
Appeal for missing boys
All set for Isle of Wight festival
Voting under way in General Election
Updates from Thursday 8 June
Thanks for joining us.

The BBC South Live service for Berkshire, Dorset, Hampshire, Isle of Wight and Oxfordshire will resume at 22:00 BST as we cover the region's election results as they break.

You can still get in touch by email, on our Hampshire, Dorset, Berkshire and Oxford Facebook pages or on Twitter @BBC_Hampshire, @BBCDorset, @BBCBerkshire and @BBCOxford.

Paws for thought while voting

Several of our south reporters and their four-legged best friends are joining in with #DogsAtPollingStations.

Next time we'd like to see #GoldfishAtPollingStations become a thing, please.

Severe accident: M25 Buckinghamshire clockwise

BBC News Travel

M25 Buckinghamshire clockwise severe accident, between J16 for M40 and J17 for A412 affecting J14 for A3113 Airport Way.

M25 Buckinghamshire - Lane blocked and queuing traffic on M25 clockwise between J16 M40 and J17, A412 (Maple Cross), because of an accident involving a car and a lorry. Congestion to J14, A3113 (Heathrow Terminal 4).

To report traffic and travel incidents dial 0330 123 0184 at any time

Yacht manager 'knew Cheeki Rafiki had issues'

Winchester Crown Court has heard today how Cheeki Rafiki, the yacht that capsized killing four sailors, had not been inspected for three years.

Prosecutor Nigel Lickley QC also told jurors that yacht manager Douglas Innes knew its coding safety requirement had expired while it was in the Caribbean.

Mr Lickley said: "Mr Innes was fully aware of the issue with the coding with phone calls and emails and he tried to sort it."

Image caption: Mr Innes denies the charges

The court heard that because of the coding issue the yacht was not "allowed" to be used commercially but with paying customers wanting to race in Antigua, Mr Innes said it was alright for "friends" to use the vessel.

Mr Lickley said Mr Innes "did not take all reasonable steps" to ensure Cheeki Rafiki was safe to use and added it was a "lack of regard" for the duty imposed on him.

Mr Innes denies four counts of manslaughter by gross negligence. The trial continues.

Severe accident: M25 Surrey clockwise

BBC News Travel

M25 Surrey clockwise severe accident, between J13 for A30 and J14 for A3113 Airport Way.

M25 Surrey - Stationary traffic on M25 clockwise between J13, A30 (Staines) and J14, A3113 (Heathrow Terminal 4), because of a rolling road-block and an accident.

To report traffic and travel incidents dial 0330 123 0184 at any time

Severe disruption: A35 Dorset westbound

BBC News Travel

A35 Dorset westbound severe disruption, at A350.

A35 Dorset - A35 in Poole exit slip road closed and slow traffic westbound at the A350 junction, because of Upton House Music Festival.

To report traffic and travel incidents dial 0330 123 0184 at any time

Oxford bus operators go contactless

Sophie Law

BBC Radio Oxford news

Copyright: Oxford Bus Company

Two of Oxford's major bus operators have begun accepting contactless payments on their buses and coaches today.

Oxford Bus Company and Thames Travel are using the largest system of its kind outside London to accept payments up to £30.

They follow Stagecoach which became the first company outside London to offer contactless payments last October.

Director Phil Southall told us it was the first stage in an elaborate launch which aims to make travel as convenient as possible for customers.

Soldier caught in 'paedophile sting' jailed for two years

A soldier who was caught grooming a child by a self-styled paedophile hunter has been jailed for two years.

Winchester Crown Court heard Samuel Dallow, 25, arranged to meet a 14-year-old girl in Andover.

The "girl" was really online vigilante Shane Brannigan, who streamed the meeting on Facebook before handing Dallow to the police.

Copyright: Shane Brannigan

Image caption: Samuel Dallow's encounter with Shane Brannigan was streamed online

Dallow had admitted an offence of attempting to meet a child following sexual grooming, at a court hearing in May.

The judge said the soldier, from Birmingham, had demonstrated a "wreckless, predatory behaviour towards children".

Appeal to find missing Portland woman

Officers in Portland are appealing to the public for help finding a 63-year-old woman who has gone missing.

Kathryn Clarke was last seen two weeks ago at Weymouth train station at about 17:00.

She's described as white, about 5ft, slim, with tattoos on her hands and arms.

Insp Steve Horton, of Dorset Police, said: "It is out of character for Kathryn to go this long without having contact with her family."

Man released 'after girl threatened with gun'

A man arrested in connection with threatening a teenage girl with a gun in Christchurch has been released under investigation.

It was reported she was threatened at about 17:30 on Tuesday while walking her dogs along a bridleway off Bronte Avenue.

Dorset Police said a 24-year-old man from Christchurch was arrested shortly afterwards on suspicion of possession of a firearm with intent to cause fear of violence, and possession of a knife or bladed article in a public place.

Det Con Ben Griffin said: "A number of enquiries have been carried out, including an extensive and thorough search of the area assisted by the dog section, to try and locate a firearm but so far nothing has been found.

"Officers from the neighbourhood policing team are continuing to carry out high visibility patrols to offer reassurance to the community and can be approached with any concerns.

"Following discussion on social media linking the incident to terrorism, I would like to reiterate that there is nothing to suggest that this is the case."

Severe disruption: M3 Hampshire northbound

BBC News Travel

M3 Hampshire northbound severe disruption, at J11 for A3090.

M3 Hampshire - M3 partially blocked northbound at J11, A3090 (Winchester South), because of a broken down car. Traffic is coping well.

To report traffic and travel incidents dial 0330 123 0184 at any time

Greenham Common control tower plans move forward

Katie Newmarch

BBC Radio Berkshire newsreader

After delays and an inflated budget of £100,000, there has been a step forward for Greenham Common's iconic control tower.

The Grade-II listed building, which played an important part in Britain's role in the Cold War, is being converted into a visitor centre with an observation deck, a café and toilets.

It was meant to be finished last summer, and now a property asset management company have been appointed to oversee the final stages of the development.

Copyright: JULIAN SWIFT-HOOK

Severe accident: M4 Berkshire westbound

BBC News Travel

M4 Berkshire westbound severe accident, between J13 for A34 Chieveley and J14 for A338.

M4 Berkshire - Two lanes blocked and slow traffic on M4 westbound between J13, A34 (Chieveley) and J14, A338 (Hungerford), because of an accident.

To report traffic and travel incidents dial 0330 123 0184 at any time

WWI soldier's violin rediscovered in Oxford

Georgie Sullivan

Hometime producer, BBC Radio Oxford

Six years ago Sam Sweeney, fiddle player with Bellowhead, bought a violin in Oxford.

It had all the appearance of a new instrument but the label inside gave the date 1915 and the name Richard S Howard.

Hours and hours of research later an amazing history behind this violin and Richard S Howard was discovered.

Student admits city centre cyclist killing

Image caption: The attack took place on the High Street in Oxford

The 18-year-old student pleaded guilty to manslaughter and will be sentenced in July.

Isla Wiggin's mother broke neck in crash

The mother of Isla Wiggin, the three-year-old-girl who died in an eight-vehicle crash, suffered a broken neck in the incident.

Thomas Hunter pleaded guilty earlier at Oxford Crown Court to causing death by dangerous driving and serious injury by dangerous driving.

Collette Wiggin's unborn male child also died as a result of the crash which happened when Hunter's Volvo lorry crashed into the back of a traffic jam.

Michael Roques, prosecuting, said there must have been a "gross avoidable distraction" for Hunter to have missed the clear queue of traffic.