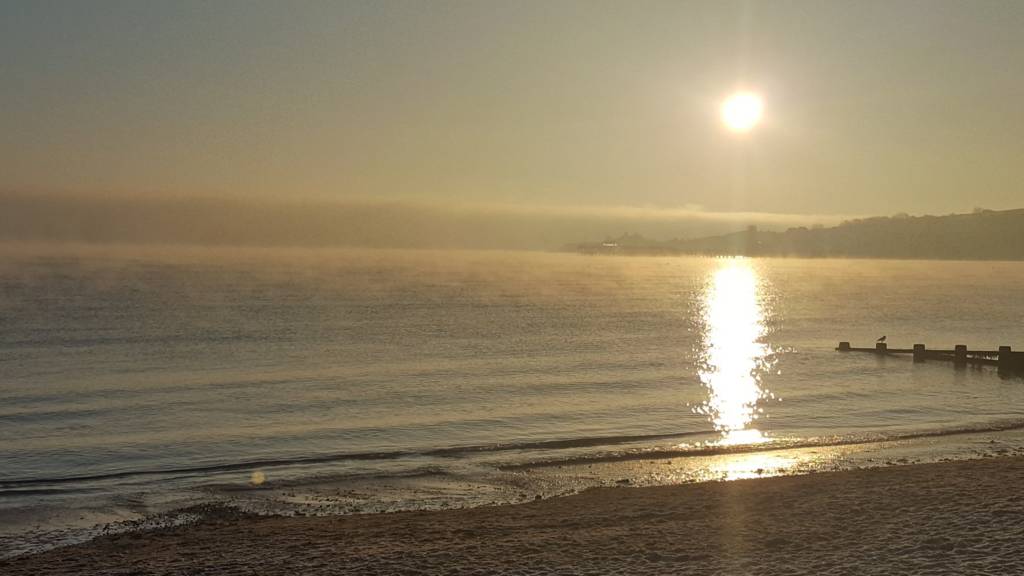 Dorset and Hampshire Live: Thursday 16 February
You can get in touch by email, on our Hampshire and Dorset Facebook pages or on Twitter @BBC_Hampshire and @BBCDorset.
Summary
Dorchester Prison homes plan granted
Sailor Alex Thomson sets sights on another Vendee Globe
Suspicious school incidents in Southampton probed by police
Weather: Dry, mild and becoming fairly sunny
Updates from Thursday 16 February
The BBC Local Live service for Dorset, Hampshire and the Isle of Wight will resume on Friday at 08:00.

You can get still get in touch by email, on our Hampshire and Dorset Facebook pages or on Twitter @BBC_Hampshire and @BBCDorset.

Restoration plan for world's fastest car

To celebrate the 90th anniversary of the Sunbeam 1000hp breaking the 200mph Land Speed Record, the National Motor Museum at Beaulieu is planning make one of its engines run for the first time in over half a century.

The 1927 Sunbeam's two 22.5-litre V12 aero engines, which each produced 435bhp, have suffered from internal corrosion.

Engineers at the museum plan to rebuild the rear-mounted engine.

The Sunbeam 1000hp was once the fastest car in the world - in 1927 a crowd of 30,000 spectators watched Maj Henry Segrave set a new world land speed record by driving the car at an average speed of 203.79mph at Daytona Beach in Florida. 

Copyright: National Motor Museum

Meanwhile, in the New Forest...

County approves 4.99% increase in council tax

Hampshire County Council has approved a 4.99% increase in its council tax precept, which will mean a £1-a-week rise for the average band D household.

The authority said 3% of the total increase was authorised by government to pay for social care.

Do you recognise this off-road buggy?

Tourist office to close next month

Dorchester's tourist information office is to close at the end of March with the service moving to the town's library.

The move is aimed at saving West Dorset District Council £80,000 a year.

More than 1,000 people signed a petition to keep the facility at Antelope Walk.

Do they need a bull-dozer?

The cow causing problems on the railway seems reluctant to mooove on.

A cow is causing delays on the railway near Brockenhurst.

Labour councillor defects to Conservatives

Valentine Tanks study launched

A project has been launched to explore and map seven World War Two tanks that lie at the bottom of Poole Bay

The amphibious Valentine tanks sank in 1944 during Operation Smash - a D-Day rehearsal. Seven soldiers on board lost their lives. 

The Isle of Purbeck Sub Aqua Club is leading the mapping of the wreckage over the next two years to create an exhibition and commemoration event in 2019 - marking the 75th anniversary of the sinking.

Copyright: The Tank Museum

Quote Message: We want to collect the information and build a complete picture of the wrecks - the history of the operation and the wildlife that now inhabits the wrecks. If anyone has information, get in touch with us. from Nick Reed Purbeck Sub Aqua Club

Jose Mourinho: Manchester United manager worried about fixture congestion

Manchester United boss Jose Mourinho has been voicing concerns about a build up of fixtures ahead of the EPL Cup final against Southampton at Wembley.

United have a FA Cup tie and two Europa League matches to play before their trip to Wembley on 26 February, whereas the final is Saints' next competitive fixture.

Quote Message: We know our situation is really complicated. The Europa League is a competition where we play on Thursdays and that makes it even more difficult for us. With the accumulation of FA Cup, League Cup and matches postponed it is really hard for us.

Social media reaction to rejected Southern deal

Lizzie Massey

BBC Live reporter

People took to Twitter, seconds after the announcement, to voice their views on Aslef rejecting Southern's deal.

Countdown to cat cafe opening

The final preparations are being made to a new "cat café" before it opens its doors.

Called Pause, the cafe on Old Christchurch Road in Bournemouth will offer customers the chance to grab a drink and something to eat - in the company of six rescue cats.

Quote Message: I realise the beneficial relationship between animals and humans. I visited a cat café in Milan and it was the most enjoyable experience I've ever had and I just wanted to share that with people. from Jaya Da Costa Cat cafe owner

Virtual reality view of the new Waterloo

Network Rail and South West Trains have given commuters the chance to see a virtual reality view of the planned multimillion-pound re-development of the former International Terminal at Waterloo.

The new part of the station will be connected to the main station via a brand new bridge and concourse area, currently under construction. The work forms part of the £800m investment to boost capacity at Waterloo by 30% by December 2018.

Southampton FC have sold out their entire 32,000 seat allocation at Wembley for their EFL Cup Final match against Manchester United on Sunday 26 February.

There will also be two extra trains running on the day, it has been revealed today.

They will be leaving Southampton Central at 10:50 and 11:50, stopping at Southampton Parkway, Eastleigh, Winchester and London Waterloo.

They will return from Waterloo, stopping at the same stations at 20:50 and 21:50.

Suspect device 'not explosive'

The army's Explosive Ordnance Disposal experts have confirmed that the suspect object found in Holyrood Close, Poole earlier was not an explosive device. 

The police cordon in Holyrood Close has been removed and businesses are now reopening as normal. Any evacuated residents are being allowed back home.  

Aslef driver expresses safety concerns

Stuart Maisner

BBC Live reporter

This Aslef driver, who wanted to remain anonymous, told our reporter Juliette Parkin why he was against the deal with Southern to end the strike.