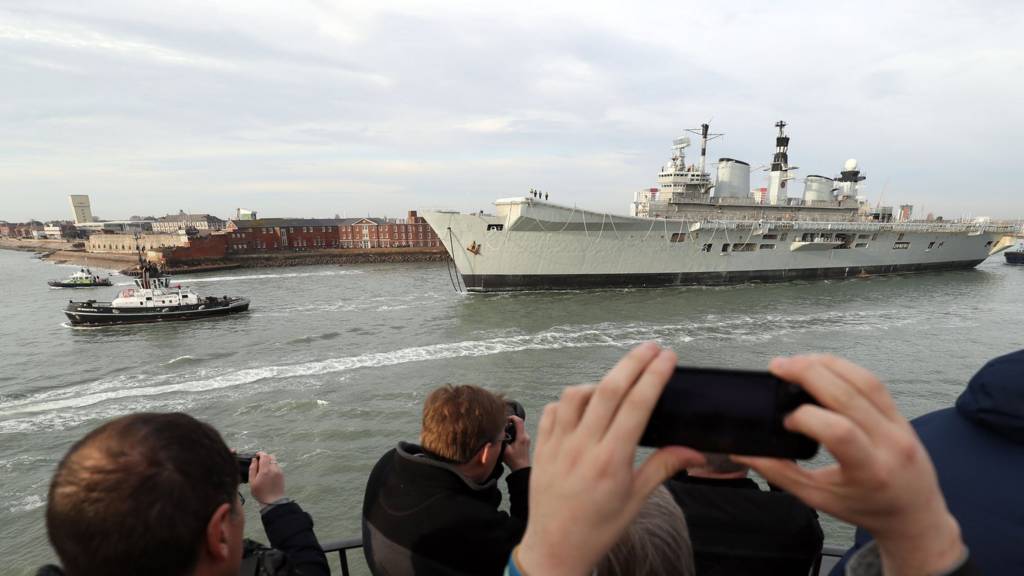 As it happened: 'Lusty' bids farewell
You can get in touch by email, on our Hampshire Facebook page or on Twitter @BBC_Hampshire
Summary
Former HMS Illustrious leaves Portsmouth for final time
Aircraft carrier towed to Turkey to be scrapped
Sailed 900,000 miles on operations across the globe over 32 years
HMS Illustrious was rushed into service in 1982 in the aftermath of the Falklands conflict
"Sad day" for veterans who served on board
Former aircraft carrier HMS Illustrious leaves Portsmouth for final time after being sold for scrap.
Read more
And with that we're bringing our live coverage of Illustrious's final journey out of Portsmouth to an end.
Thank you for joining us. Catch up with the full story from today on the BBC News website.
We'll leave you with this image from reader Steve Clark.  
Watch: Aerial footage as HMS Illustrious departs
HMS Illustrious in numbers
HMS Illustrious 'Number Five'
The ship towed out of Portsmouth today was the fifth to bear the name Illustrious.
The first HMS Illustrious was launched in 1789 and was a 74-gun battleship which fought in the French Revolutionary Wars. She was damaged during the Battle of Genoa in 1795.
Watch: Memories of HMS Illustrious
Former crewmen Steve Wardman (left) and Dave Smith share their final thoughts about HMS Illustrious.
2014: HMS Illustrious decomissioned
The Invincible-class HMS Illustrious was decommissioned at a service at Portsmouth Naval Base two years ago.
Lady Sarah Chatto, daughter of Princess Margaret who launched the ship in 1978, was at the dockside event with hundreds of veterans as the White Ensign was lowered for the final time.
It was a spectacular celebration of a ship that had served in conflict zones around the world for 32 years.
2013: HMS Illustrious misses Christmas to deliver typhoon aid
One of HMS Illustrious's last operations was to help with relief efforts for those affected by Typhoon Haiyan which struck the Phillipines in 2013. 
It diverted from patrolling for pirates off the coast of Somalia and took on board 500 tonnes of aid in Singapore. 
HMS Illustrious was much better equipped for handling large quantities of aid and its helicopters were able to reach devastated isolated communities which had received very little aid.
In July 2006, HMS Ilustrious played a key role in evacuating British nationals from Lebanon amid continued fighting between Israeli and Hezbollah forces in the south of the country.
RAF Chinook helicopters were used to ferry evacuees on to HMS Illustrious which acted as a command centre in the Mediterranean from where they were then flown on to British bases in Cyprus.  
2002: Return from the Gulf
HMS Illustrious returns home to Portsmouth on 25 March 2002 after serving almost seven months in the Gulf. 
It had spent a further four months at sea than her planned deployment due to the terrorist attacks of 11 September. 
Watch: HMS Illustrious sails out of Portsmouth
Former commanding officer hoped Lusty would be saved
Former First Sea Lord and first commanding officer of HMS Illustrious described his pride as Portsmouth said farewell to HMS Illustrious.
Admiral Sir Jock Slater said: "It was a great honour to be appointed as the first captain of HMS Illustrious. I have many, many happy memories.
"I'm very said indeed to see the last of the three invincible class ships going to the scrapyard. 
"Most of us hoped that the government's intention to go for a maritime heritage preservation of the ship would come to pass."
Watch: The life and times of HMS Illustrious
Dave Smith was Chief Stoker on HMS Illustrious, deployed in troublespots including Sierra Leone and Bosnia.
Along with old shipmates Pete Gilbert, Paul Bush and Steve Wardman, they've all "done a few miles" on Lusty and came down to see off the ship.
It's sad but they'll never take away the memories we have. We worked hard and played hard. It was a big part of all our lives.
'She's part of Portsmouth'
So many people feel a connection to Illustrious - even people who didn't serve on board.
Sue and David Newland are down walking their dog and told me they remembered waving the ship off to the Falklands in 1982 - on their son's third birthday.
We felt we had to be here to wave it goodbye. It's sad - she's been part of Portsmouth.
Quiet farewell as Lusty sails away
Stephen Stafford
BBC News Online
There may have been no saluting sailors on the flight deck or any white ensign flying, but the former HMS Illustrious could still draw the crowds for one last time.
There was no flag waving, no cheering, but hundreds watched in quiet reflection as she sailed out of Portsmouth on her final journey to a scrap yard in Turkey.
Lusty passes the Round Tower
Our reporter Stephen Stafford has just taken this lovely shot of HMS Illustrious as she leaves Portsmouth.
Your views: 'Sad to see her go'
Stephen Stafford
BBC News Online
HMS Illustrious is slowly making her way out of Portsmouth Harbour.
The crowd snakes its way along the seafront here in Portsmouth - only the lap of the waves on the shore can be heard as everyone watches quietly.
Live: HMS Illustrious leaves Portsmouth
Ready to say farewell to Lusty
The vantage spots are filling up as people gather at Portsmouth's Round Tower, ready to see Illustrious off on her final journey
People are starting to gather along the shoreline in Portsmouth to wave off HMS Illustrious.
Simon Jones first served on HMS Illustrious in the Falklands in 1982.
He went on to become her flight deck officer and proudly says he was in charge of launching the last sea harrier off her flight deck three decades later.
Today's a very emotional day, I've got my tot of rum to say goodbye to her. She was my ship, I basically saw her through her career. A ship is a piece of steel, it's the people that breathe life into it. The atmosphere and the camaraderie was outstanding.
2000: Peacekeeping in Sierra Leone
HMS Illustrious was part of the British efforts to provide military backing to United Nations peacekeepers as they attempted to restore a degree of stability to Sierra Leone after an abortive peace deal and years of civil war. 
While HMS Illustrious was not completed in time to see action during the Falklands conflict, it did play an important role patrolling the South Atlantic in the aftermath of the islands' liberation.
1978: Illustrious launched
Princess Margaret named Illustrious - the second of the Navy's three Invincible-class aircraft carriers - at a ceremony in the Swan Hunter shipyard in Tyneside in 1978.
It was hurriedly deployed and commissioned at sea on 20 June 1982 en route to the Falkland Islands where it played an important role in the aftermath of the conflict.
As the former HMS Illustrious is towed to be scrapped, here are some of the key moments in the aircraft carrier's 32-year service:
1976 - Laid down
1978 - Launched at Swan Hunters
1982 - Commissioned at sea and sent to Falklands shortly after hostilities ended
1986 - Suffered catastrophic gearbox failure and a large onboard fire
1990s - Deployed to the Balkans to maintain no-fly zone
2000 - Assisted UN peacekeeping in Sierra Leone
2001 - Redeployed to support operations in Afghanistan following 11 September
2003 - Major refit undertaken
2006 - Evacuation of British citizens from Lebanon
2008 - Subject of Channel Five documentary, Warship
2011 - £40m refit as a helicopter carrier
2013 - Provided aid to Philippines in the wake of Typhoon Haiyan
2014 - Decomissioning ceremony held in Portsmouth
Lusty prepares for departure
Dominic Blake
BBC Radio Solent reporter
The last of of three invincible-class carriers which served the Royal Navy well is preparing to leave Portsmouth
This morning she's alongside at South Railway Jetty, with her bows to the south.
Her distinctive ski-ramp flight deck is facing down towards the harbour entrance.
We're expecting her to be towed off her berth and out to sea at about 9:30.
Hundreds of people are expected along the shoreline to say a final farewell to the former HMS Illustrious as it is towed out of Portsmouth. Here are some of the best vantage spots:
The Round Tower
Along the Hot Walls
Clarence Esplanade at Southsea    
Southsea Common - the deep water channel runs very close to the shore so you'll get a great view there before the ship turns to the south east, and finally drops below the horizon
Gosport shoreline
Former HMS Illustrious captain 'sad' at departure
One of HMS Illustrious's 18 commanding officers, Sir Alan Massey, said he was "hugely sad" to see the ship depart.
You never quite knew what the next challenge would be... it just had amazing capability and flexibility. Illustrious, Ark Royal and Invincible embodied the Cold War and the turmoil that followed it - they were formidable creatures and really reached out for the UK doing a fabulous job.
Illustrious awaits departure
Pictured last month, a tug boat passes the former Royal Navy aircraft carrier Illustrious, as it waits to be transferred to a tidal dock before being towed away to Turkey for scrap.
Good morning from Portsmouth
It's a mild winter's morning on the south coast and as the sun burns off the early mist, Portsmouth prepares to say farewell to a warship which has called the city home for the past three decades.
The former HMS Illustrious - fondly known as Lusty - is due to be towed out of port on its way to a scrapyard in Turkey, having been decommissioned in 2014.
We'll bring you the sights and emotions from Portsmouth - and look back through the archives - over the next few hours.