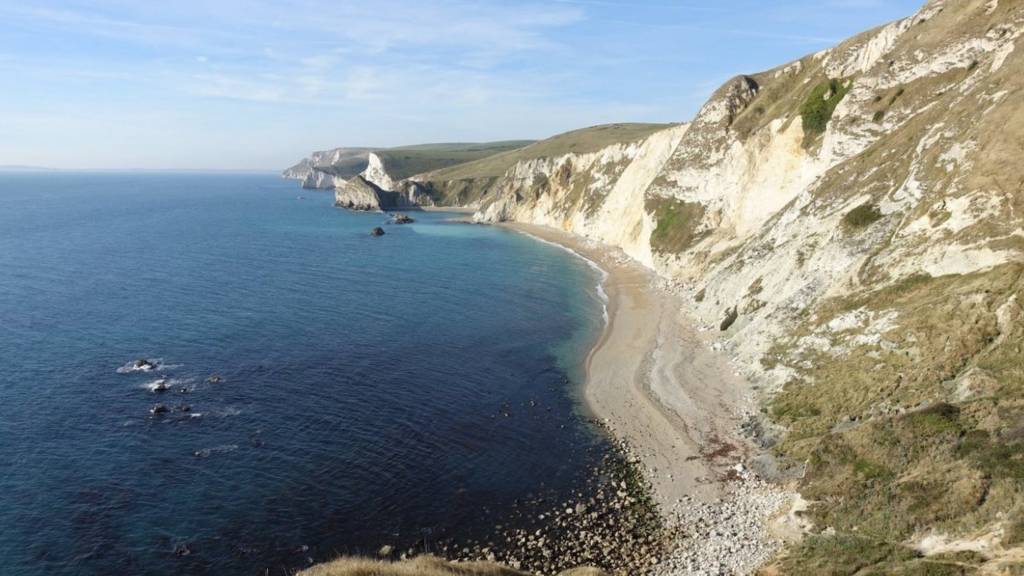 Dorset and Hampshire Live: Tuesday 1 November
You can get in touch by email, on our Hampshire and Dorset Facebook pages or on Twitter @BBC_Hampshire and @BBCDorset.
Summary
19-year-old charged after hit-and-run crash in Bournemouth
400 jobs at new Lidl warehouse in Southampton
Raw milk vending machine launched at farm
Inter sack de Boer ahead of Saints match
Cloudy with high of 14°C
Thanks for joining us today.

The BBC Local Live Service will resume at 08:00 on Wedesday.

You can still get in touch via email, on our Hampshire and Dorset Facebook pages or on Twitter @BBC_Hampshire and @BBCDorset.    

The Dorset artist unappreciated in her lifetime, whose books are now selling for thousands

Latest headlines: Fraudster jailed over call-blocker scam

Weather outlook: Dry and cloudy

It will be generally dry and cloudy overnight.

The skies will clear towards the end of the night allowing temperatures to fall towards dawn, with lows of about 7C (44F) expected.

After a chilly start, Wednesday will be a fine day with sunny spells, although it will feel colder.

Highs of about 11C (51F).  

For a full 10-day forecast, visit the BBC Weather site.

Breaking

Two women seriously injured in overturned car crash

Two women in their 80s have been seriously injured when a car rolled over onto its roof in a Hampshire high street.

An 89-year-old woman and an 81-year-old woman both sustained serious injuries in the incident in Station Road, New Milton, at 13:57.

A spokesman for South Central Ambulance Service said the 81-year-old was driving her car when it hit a lamppost and then a pedestrian. She suffered serious but not life-threatening injuries after becoming trapped in the car.

The 89-year-old pedestrian suffered life-changing and potentially life-threatening injuries.

Both have been taken to Southampton General Hospital for treatment. 

Poole road closure due to 'emergency tree works'

Clanfield van crash driver named

A man who died when the Transit van he was driving left the road and crashed near Clanfield in Hampshire has been named by police.

George Ayres, 38, from Waterlooville, died at the scene on Old Mill Lane on 25 October.

Police were called at 19:20 and are appealing for witnesses.

Milestone in deployment of marine robots

The largest simultaneous deployment of marine robots yet attempted in UK waters was achieved last month, say scientists from Southampton's National Oceanography Centre and the Scottish Association for Marine Science.

Severe disruption: M3 Hampshire southbound

BBC Travel

M3 Hampshire southbound severe disruption, at J13 for A335.

M3 Hampshire - M3 in Eastleigh lane blocked on exit slip road southbound at J13, A335 (Chandlers Ford), because of a broken down vehicle.

Check local traffic and travel reports for:

Overturned car closes road

The B3058 Station Road in New Milton is closed and there's slow traffic between the Ashley Road junction and the Manor Road junction because of an overturned car. 

The incident is also affecting Whitefield Road between Old Milton Road and B3058 Station Road.

For the latest, visit the BBC travel pages.

Man jailed for call-blocker scam

The director of a firm which made "nuisance" calls to sell call-blocking devices has been jailed for five years for fraud.

Giles Ward-Best, 43, of Firbank Road, Bournemouth, sold "faulty" devices through "misleading" cold calls, National Trading Standards said.

Copyright: National Trading Standards

The group said he took £861,153 from customers over two years.

A judge said Ward-Best was "a scammer and a fraudster" who "exploited those you promised to protect."  

Family waits to lay Julie Cook to rest

Relatives of a Bournemouth woman, who was killed by a punch from her boyfriend in May, have said they are still waiting for her body to be released for a funeral.

Julie Cook's partner Daniel Bragg, 37, was jailed on 25 October for five years and four months for manslaughter.

In a statement, her family said it was "shocked and disappointed by the shortness of the term".

The family said Bragg's failure to admit his guilt before the second day of the trial had delayed the funeral and denied the chance for relatives and friends to "finally get some closure".

U-turn over multi-academy school plan

A school that has recently seen two of its board members resign over changes to the way it is run will not join a multi-academy trust as planned.

Weymouth Ironman announces cut in scale

A triathlon event staged criticised over traffic disruption is to be cut in scale. 

About 2,700 competitors took the UK's "biggest-ever" Ironman event in Weymouth in September. 

Organisers said after a review, the 2017 event - to be held on 17 September -  would not include a 86 mile (140.6 km) route.

Police said vandals removed signs during the September event and drivers reported traffic disruption.

Mum found guilty of charity fraud

A mum-of-three has been found guilty of pocketing at least £4,000 from a charity event in Hampshire.

Karolin Jones has been found guilty of two counts of fraud by false representation and one count of theft after hosting a family fun day to raise money for the children's ward at Southampton General Hospital.

The 29-year-old from Ordnance Way, Marchwood, was found guilty following a week-long trial at Southampton Crown Court after failing to pass on the money to the charity.  

Ms Jones staged the fundraising event at Lloyd Recreation Ground in Marchwood in August 2013. 

Copyright: University Hospital Southampton NHS Foundation Trust

Weather Watcher: Marilyn from Eastleigh

Wind turbine giant Vestas announces 70 jobs

An Isle of Wight wind turbine factory has announced it is to create 70 new jobs.

MHI Vestas Offshore Wind is increasing its staff at its blade production facility in Newport.

The Danish company closed a turbine plant in Newport on the island in 2009, axing 425 jobs and sparking an 18-day sit-in by workers.

The company then opened a research and development facility in 2011, where its blades are designed and tested.  

It designs, manufactures installs and services wind turbines for the offshore wind industry.

Farm milks unpasteurised market

Most dairy farmers in the UK are losing money as they're not receiving more for their milk than it costs to produce.

It's forced many to diversify as they struggle to balance the books.

Uplands Farm near Botley has started what it believes to be the first vending machine service of unpasteurised milk in Hampshire. 

It costs about 30 pence per litre to produce milk with supermarkets paying about 20 pence. 

The vending machine pours unpasteurised milk straight into the bottle for £1.30 per litre.  

The farm has a licence from the Food Standards Agency to sell unpasteurised milk, sometimes known as raw milk from its 120-strong dairy herd.