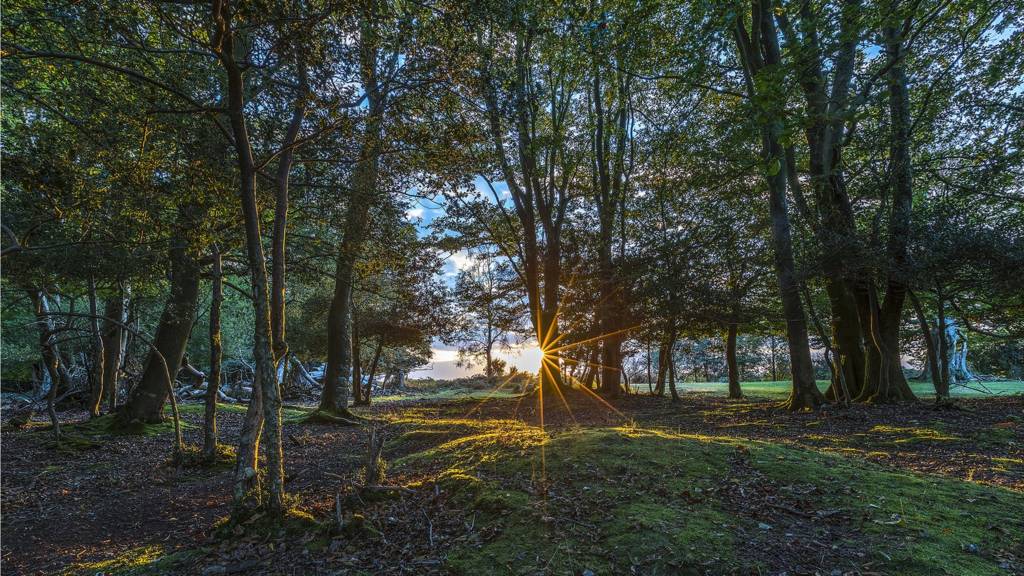 Dorset and Hampshire Live: Thursday 6 October
You can get in touch by email, on our Hampshire and Dorset Facebook pages or on Twitter @BBC_Hampshire and @BBCDorset.
Summary
Ryde ice rink closes unexpectedly
Organisers 'could cancel' Isle of Wight Festival
Solent devolution plan 'backed by 70% of respondents'
Large fire rips through barn in Dorset
Level crossing allowing trains from Swanage and Corfe Castle to the main line opens
Updates on Thursday 6 October
We'll be back again tomorrow at 08:00.

Measures aim to reduce anti-social behaviour in Newport

A new bus stop and a bigger taxi rank have been created in Newport in a bid to improve safety.

The changes are part of a raft of measures aimed at cutting crime in the town.

Some bars are also offering refreshments and bottled water at closing time as part of attempts to promote responsible drinking.

Quote Message: We found that, with large numbers of people congregating in the area in the early hours of the morning, there were high incidences of anti-social behaviour in the High Street and surrounding areas as people made their way to the bus station or to the taxi rank in South Street from Insp Andy McDonald Hampshire Constabulary

Weather Watchers: Blue skies at Cerne Abbas

Mad Cat Lady sent us this picture of a rowan tree set against the clear blue skies at Cerne Abbas.

And if you look very closely you might also see the famous Cerne Abbas giant etched into the hillside.

Copyright: Mad Cat Lady / Weather Watchers

You can send us your photos and let us know what the weather is doing where you are. Just visit the BBC Weather Watchers page.

US singer Henry Gross tells BBC Radio Solent's Alex Dyke how his big hit Shannon was inspired by a Beach Boy's dog.

Travel: Motorbike crash near Wimborne

The A31 in East End, near Wimborne, is partially blocked and there's queuing traffic westbound at Lake Gates roundabout because of an accident involving a motorcycle. 

Congestion is back to Merley Roundabout and to Corfe Mullen junction.

For the latest, visit the BBC travel pages.

Weather Watchers: Sunbeams in Brighstone

Mike B took this photo of the early morning sun in Brighstone this morning.

Copyright: Mike B / Weather Watchers

Let us know what the weather is doing where you are via our BBC Weather Watchers page.  

Residents asked to help shape cuts

Residents are being asked to get involved in helping Portsmouth City Council cut £24m from its budget over the next three years.

The authority is inviting people to attend to a public meeting on Wednesday 12 October at the Guildhall at 19:00.

Quote Message: This year's budget consultation is slightly different to previous years we want to understand how residents feel about the ways we've been working and managing our budget Last year 2,500 people got involved and told us what they thought and we took that feedback on board when making decisions. from Donna Jones Council leader

Have you responded to the council consultation?

More than 8,000 people have now responded to the consultation about reorganising local government in Dorset.

More than 5,000 people have responded to the open survey while nearly 3,000 household surveys have been returned.

About 7,400 postcards have also been handed out at 28 roadshows across the county.

To have your say, visit www.reshapingyourcouncils.uk

Quote Message: We want residents of all ages to get involved with the consultation and are particularly keen to hear what younger people have to say as the proposals will potentially shape how councils deliver services for years to come. from Andrew Flockhart Chief executive, Borough of Poole

Flog It! comes to Southsea

Flog It!, the BBC One antiques programme, is to visit Southsea on next month.

Now in its 16th series, the show is visiting the National Museum of the Royal Navy's Royal Marines Museum on Eastney Esplanade on Thursday 10 November.

The venue will host the show's valuation day where members of the public are invited to bring up to three antiques or collectables they might be interested in selling.

Quote Message: I'm thrilled to be bringing the show back to Hampshire. I'm really looking forward to filming at the Royal Marines Museum and hope as many people as possible will come along for a free valuation. To help us tell the story of Eastney Barracks I'd be particularly pleased to meet anyone who has items relating to the sites history from Paul Martin Presenter, Flog It

SUV ends up on top of convertible after crash

Fire crews were called to deal with a three-car crash in which an SUV ended up on top of a convertible car in Southampton.

It happened in St James Road just before 13:00.

Copyright: Hampshire Fire and Rescue

Copyright: Hampshire Fire and Rescue

The 29-year-old male driver of the SUV has been arrested on suspicion of driving while unfit through drugs.  

Hampshire Constabulary said no-one was injured and investigations were ongoing.

Gunfire and pyrotechnic warning over emergency training exercise

Emergency services in Bournemouth are holding a major incident exercise later.

Police, fire and ambulance crews will be involved in the exercise from 20:00 until midnight.

Quote Message: We would like to reassure the public that nobody should be alarmed by noises throughout the event as the simulation will involve pyrotechnics and gunfire. Any disruption will be kept to a minimum. from Ch Insp Tracey Baker Dorset Police

How do you rescue a swan? In an Ikea bag, of course

It's amazing what you can buy in Ikea these days.

Here's the Hampshire fire animal rescue team at The Swan Sanctuary in Shepperton, Surrey, learning how to fit a swan into a shopping bag.

Ryde Arena: 'Our rent should have been reduced'

Ryde Arena has issued a new statement on the closure of the community-run ice rink.

It says it had been seeking to reduce its rent because it had no access to parts of the building - including a bar and cafe - which would have given it a secondary income.

Quote Message: [We] have tried over the last three months through various channels to have a meaningful dialogue... regarding the rent and the lack of refurbishment of the arena - all attempts have failed. Their default position has been to ask for full rent of £130,000 even though they have accepted a large cash settlement from the insurance company, to refurbish the areas of the rink that had been affected by water damage. from Ryde Arena Ltd

Severe accident: M3 Hampshire northbound

BBC Travel

M3 Hampshire northbound severe accident, at J5 for A287.

M3 Hampshire - M3 partially blocked and queuing traffic London-bound at J5, A287 (Hook), because of an accident.

Check local traffic and travel reports for:

Travel: Crash blocks road in Bishop's Waltham

The B3035 Botley Road in Bishop's Waltham is blocked southbound at the Bishop's Lane junction because of an accident involving a car and a lorry.

For the latest, visit the BBC travel pages.

Work starts on new Solent ferry

Work has begun on a new ferry for the Fishbourne-Portsmouth route.

The Wightlink ferry is due to come into service in summer 2018.

Image caption: Cemre chairman Orhan Gulcek hands a souvenir of the steel cutting to Wightlink Operations Director Elwyn Dop

Staff at the Cemre shipyard in Yalova, Turkey, began cutting steel on Tuesday.

Cameras target school parking

CCTV cameras are being deployed outside schools in Bournemouth to stop parents parking illegally.

Bournemouth council said the aim was to improve the safety of children and to curb cars parking on school zig-zags. 

Cameras will record vehicles stopping on the zig-zag lines providing evidence for penalty charge notices.

Individual schools have not been named but the council said it planned to pilot the scheme at three primary schools.