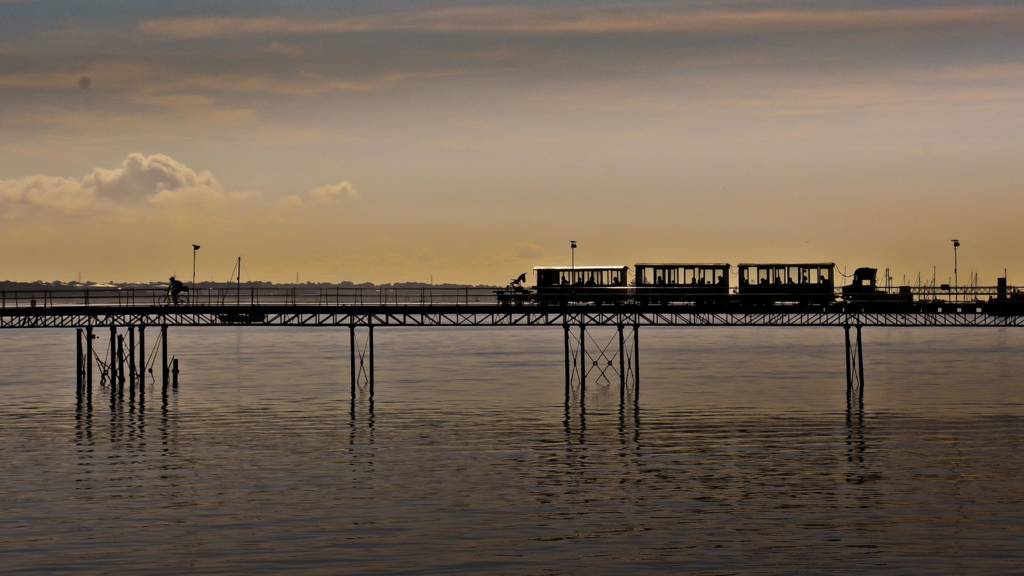 Dorset and Hampshire: Live - 28 September
You can get in touch by email, on our Hampshire and Dorset Facebook pages or on Twitter @BBC_Hampshire and @BBCDorset.
Summary
News and sport on Wednesday 28 September
Weather: Cloudy with sunny spells. High temperature of 19°C.
Thanks for joining us. We'll be back from 08:00 tomorrow.

Your pictures: Orange glow over Fareham

Thanks to Gordon for uploading this photo of the sunrise at Fareham to the BBC Weather Watchers site.

Send us your pictures via email, on our Hampshire and Dorset Facebook pages or on Twitter @BBC_Hampshire and@BBCDorset.  

Five accused over prison smuggling

Five people have been charged with conspiring to smuggle mobile phones into Winchester prison.

Hampshire police said two former inmates and three women would appear in court next month, together with a fourth woman who is accused of arranging to acquire stolen property.

One of the defendants is charged with conveying steroids into the prison in January.

Red Arrows artwork on display

A painting inspired by the Red Arrows' displays has been unveiled at the Russell-Cotes Gallery in Bournemouth.

The artwork is part of an exhibition by Bournemouth Air Festival's first artist in residence, David Brent.

Red Arrows spokesman Andy Morton said the piece, entitled Brief Encounters, "focusses on the absolute precision of the synchro pair who perform some of the Red Arrows most dynamic manoeuvres."

Copyright: Russell-Cotes Gallery

Poole council care home given go-ahead

Plans for Borough of Poole council to develop its own 80-bed care home providing specialist nursing and dementia care have been given the go-ahead.

The home on land at Mitchell Road would be operated independently under a contract aimed at helping Poole's residents who are unable to fully fund their own care needs.

Councillors approved the plans for the home, which would open in summer 2019, subject to planning permission.

Quote Message: Developing a council-owned care home will allow us to achieve better value for money when placing residents in residential care and also improve our ability to place people closer to home, making it easier for friends and family to visit on a regular basis." from Karen Rampton, Cabinet Portfolio Holder for Adult Social Services

Taxi drivers trained to spot signs of child sexual exploitation

About 250 people from within the hospitality and leisure industry in Portsmouth, as well as local taxi drivers, have been trained to spot the signs of child sexual exploitation, police have said.

As part of the training a short film reconstructing a case that happened in Portsmouth in 2015 was shown.

Quote Message: The exploitation of children and young people is totally unacceptable; protecting those at risk is a shared priority with our local partners and the business community to keep children and young people safe. from Insp Chris White Hampshire Constabulary

Appeal over Portswood incident

Police are appealing for witnesses after a man was found with serious leg injuries in the Portswood area of Southampton on Saturday morning.

Police said the forty year old man was walking close to the Sainsbury's on Portswood Road when he sustained the injuries.

Officers are trying to establish exactly what happened.  

Severe disruption: M27 Hampshire westbound

BBC Travel

M27 Hampshire westbound severe disruption, between J3 for M271 and J2 for A36.

M27 Hampshire - One lane closed on M27 westbound between J3, M271 (Romsey) and J2, A36 (Salisbury), because of a vehicle fire.

Check local traffic and travel reports for:

BBC Radio Solent sports editor Adam Blackmore is enjoying the sunshine in Israel, ahead of Saints' Europa cup tie tomorrow.

The match kicks off at 18:00 BST and BBC Radio Solent's coverage is on all frequencies from 17:30 BST.

Top Gear star spotted in Hampshire

After being spotted at a petrol station in Cosham yesterday, it looks like Matt LeBlanc is in Swanwick today.

Investigations into pedestrian bridge fall after car crash

Police investigation work is continuing after a pedestrian has been seriously injured falling from a bridge after two cars in collided on a bridge in Basingstoke.

Police said the two Vauxhall cars collided on Worting Road shortly after 09:30. The pedestrian fell on to Ringway West below.

Road closures were put in place place on Ringway West southbound and Worting Road as well as at the Morrisons roundabout.

A35 closed due to fallen power cables

The A35 is closed and there is very slow traffic in both directions between the A358 junction in Axminster and the A3052 junction in Charmouth, because of fallen power cables.  

Severe accident: A340 Hampshire southbound

BBC Travel

A340 Hampshire southbound severe accident, between A3010 Churchill Way West and A30 Winchester Road.

A340 Hampshire - A340 Ringway West in Basingstoke closed southbound between Town Centre West Junction and Winchester Road Roundabout, because of a serious accident involving a single car.

Check local traffic and travel reports for:

Large smoke plume in Bere Regis

Firefighters are tackling a large bonfire on land off Rhy Hill, Bere Regis.

With a large smoke plume reported, anyone with an existing respiratory condition or health concerns is advised to keep doors and windows closed.

Breaking

Man dies days after road dispute

A man who hit his head on the road following a dispute in Gosport has died.

Roy Galvin, 69, was taken to hospital with a serious head injury following the incident on the one way system on Bury Road on Sunday evening, but died shortly after 08:00 this morning.

A 28-year-old man from Rowner has been charged with manslaughter.  

Steam train to make debut appearance

401 Marathon man ben Smith reaches Winchester

A man who pledged to run 401 marathons in 401 days has reached Winchester.

Ben Smith, who is hoping to raise £250,000 for the anti-bullying charities, Stonewall and Kidscape, ran through Southampton on Tuesday.

He started the challenge in September 2015 and only has a week left to reach his goal.

Breaking

Chair of Portsmouth Labour Party quits

Another senior member of Portsmouth's Labour Party has resigned following Jeremy Corbyn's re-election at the weekend.

Joint chair, Rob Smith said he felt "repulsion and humiliation for what has become of the Labour Party" in a resignation letter to members.

The leader of the Labour group on Portsmouth City Council, John Ferrett quit the party after 27 years on Monday.