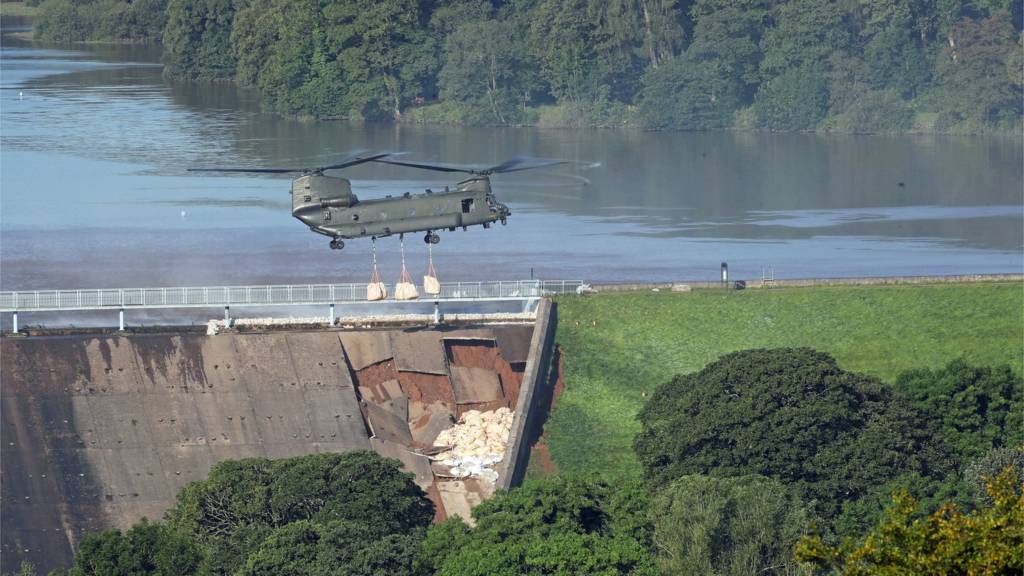 Dam wall collapse: Whaley Bridge evacuated
Whaley Bridge: How today unfolded

Nick Smith

BBC News Online

Here's a rundown of today's events:

An RAF Chinook helicopter has been busy at work dropping hundreds of one-tonne bags of aggregate to shore up the dam

About 1,500 people remain out of their homes and will not be able to return tonight
Fire crews deployed 10 water pumps to the reservoir, where they have been removing huge amounts of water every hour
At a press conference, Derbyshire Police said the structural integrity of the dam remains at a "critical level" and there is still a threat to life
Police have given residents of the town a 15-minute window to return to their properties to collect any essentials

Prime Minister Boris Johnson flew in to meet with evacuated residents and emergency service workers

Nick Smith

BBC News Online

Boris Johnson has now left Whaley Bridge, Downing Street has confirmed.

The PM speaks to people evacuated from their homes due to the threat of a Derbyshire dam failing.

Nick Smith

BBC News Online

Derbyshire Fire and Rescue Service have tweeted photos of their crews meeting Prime Minister Boris Johnson at Whaley Bridge this evening.

Sikh society supports rescue teams

Nick Smith

BBC News Online

The Sikh Sewa Society, who are known for feeding Manchester's homeless, have been at Whaley Bridge today handing out food and drink to emergency workers.

This has brought praise from Buxton Mountain Rescue Team, who tweeted: "The generosity of the public is very humbling.

"Thank you to the Sikh Sewa Organisation, who kindly travelled from Manchester to donate some tasty dishes.

"You guys are all helping to keep our volunteers going during their long shifts at Whaley Bridge. It's greatly appreciated."

Copyright: Buxton Mountain Rescue Team

'It's a serious situation'

Civil engineer and dam expert John France has told BBC News that residents should heed the warnings made by emergency services.

Speaking on BBC News, Mr France said: "Residents really do need to take the warnings seriously, it's a serious situation.

"People are working diligently to improve it and get it to a safe situation where people can return to their homes.

"But in the meantime, it's important for residents to heed that warning and stay out of the way."

PM meets Whaley Bridge residents

Police ask those entering Whaley Bridge for patience

Nick Smith

BBC News Online

After announcing that Whaley Bridge residents will be allowed back home to collect essentials, they have warned there could be queues entering the town.

In a statement, the force said: "Any residents who can delay their return to their property should do so and people should be aware that there may be queues at the roadblocks.

"We would ask for patience as officers work to allow people into the area in the safest manner possible."

PM Boris Johnson leaves Chapel-en-le-Firth

Residents allowed 15 minutes to collect belongings

Nick Smith

BBC News Online

Police have confirmed that residents will be allowed to return home to collect essentials, but that they'll be given just a 15 minute window to do so.

In a statement, Derbyshire Police said: "One person from each property will be able to attend any of the road blocks into Whaley Bridge and speak to officers where they will be signed in and out.

"Emergency contact details will be taken, along with the address that they will be attending.

"That person will be able to access the property and will be given 15 minutes to do so."

However, the force stresses to anyone who enters Whaley Bridge that risk to life remains high.

'It's starting to feel a bit more optimistic'

Nick Smith

BBC News Online

Whaley Bridge resident Duncan Fife has said things are starting to look better in the town.

Speaking to BBC News, he said: "It's certainly an improvement from yesterday.

"The weather's been helpful, the levels are starting to go down."

'They're trying their best to get it sorted'

BBC North West has been speaking to Whaley Bridge residents who have been evacuated from the town.

James Bowman said: "We literally just packed a couple of bags, we didn't know how long we were going to be away for.

"There was no steer to say it was going to be overnight [or] a few days and obviously they're trying their best down there to get it sorted."

Sue Merrill added: "It was kind of a bit of an adventure in a way but you feel a bit shaky about it as well. It's not nice."

Terry Mellow said: "I had to sleep at my sister's house last night on the floor. My mum slept at the pub at the side of my sister's.

"It's just been so stressful."

Watch: PM arrives to meet emergency services

PM in nearby Chapel-en-le-Frith

Nick Smith

BBC News Online

Here are the first pictures of Prime Minister Boris Johnson after he arrived in Chapel-en-le-Frith.

Whaley Bridge resident, Andrew Mclackland, said he is not leaving his home, despite the town's dam being damaged.