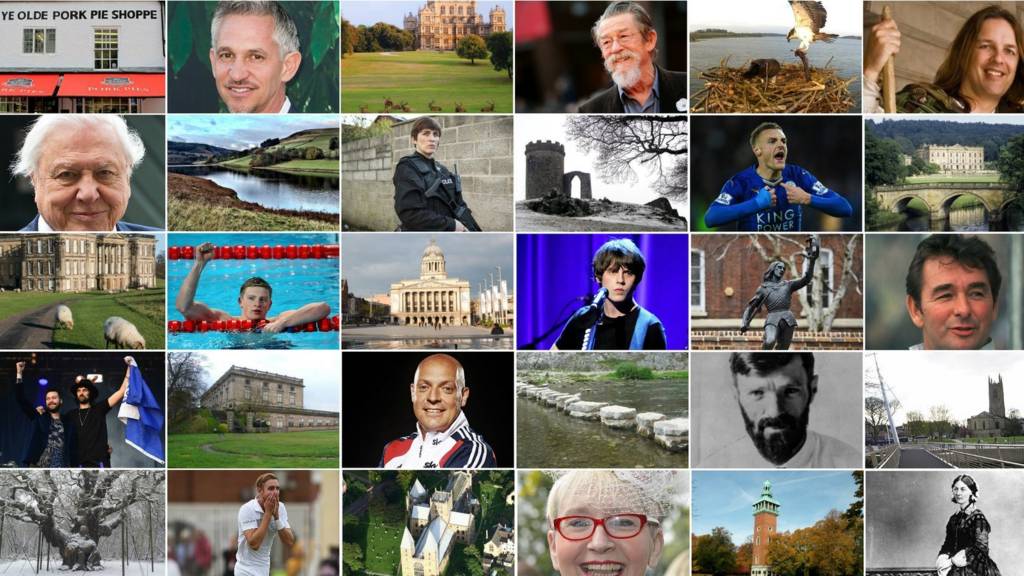 Latest updates: East Midlands Live
Listen live to your BBC local station in Derbyshire, Nottinghamshire and Leicestershire.
Sean Coughlan

BBC News education and family correspondent

Our live coverage across the day

Today's updates have now finished. We'll be back with more news, sport, travel and weather tomorrow morning.

Weather: Dry and cold night

Tonight, we can expect a dry but rather cold night, with some long clear spells.

Light winds and some mist and fog are likely to form, which will lift through tomorrow morning.

Otherwise, there will be bright or sunny intervals for a time before thickening cloud and then later, rain, begins to edge north-east.

Vandals 'desecrate' grave with paint

Sadly this isn't a new art installation - the grave at a churchyard in Nailstone has been vandalised, police said.

Officers in the Hinckley and Bosworth area are appealing for witnesses to the "desecration".

Copyright: Leicestershire Police

Almost 100 cannabis plants found in raid

Two men arrested by police on suspicion of cultivation of cannabis have been released while investigations continue.

Just under a 100 plants were found in the Forest Fields area of Nottingham yesterday.

Ambulance damaged in early hours of New Year's Day

Nick Smith

BBC News Online

Video footage has been released after £200 of damage was caused to an ambulance in the early hours of New Year's Day.

Paramedics were called to Hope Road, Bamford and left the ambulance parked up outside the Travellers Rest pub and when they returned noticed the rear doors had been forced open.

Police want to speak to the two men pictured in the footage in connection with the damage.

Harassing neighbour allowed to return home

A woman sentenced to prison for a "campaign of intimidation" against her neighbours has had a stay put upon the jail term.

Kathleen Neal was sentenced in her absence to 28 days prison last week for spraying weedkiller over her neighbours' fence.

The 79-year-old appeared again at Nottingham County Court on Friday afternoon and the court let her go home to her house in Castle Donington.

Fund set up for forced migration victims

A charity led by social worker Margaret Humphreys will start accepting applications for compensation from child migrants who were relocated between the 1940s-1970s.

Nottinghamshire social worker, Margaret Humphreys (pictured), uncovered the scandal which saw thousands of British children sent abroad after World War Two, many of whom were subjected to sexual abuse.

Copyright: Child Migrants Trust

West Bridgford group, Child Migrants Trust, will start accepting applications for payments from next month, which will see each eligible migrant compensated with £20,000 as part of the Independent Inquiry into Child Sexual Abuse.

Compensation claims are available for child migrants who were sent to Australia, New Zealand, Canada or Zimbabwe.

Mrs Humphreys wrote her account of the investigation in a book, which was later dramatised in the 2011 film, Oranges and Sunshine.

Councillors set to approve tax hike

Kit Sandeman

Local Democracy Reporter

Council tax payers throughout Nottinghamshire will see their bills rise after the county council announced plans for an increase of almost 4%.

It is the maximum council tax can be raised by without holding a referendum. The Conservative-led council says the move is "regrettable", but needed to address funding shortfalls caused in part by increased demand for services and a reduction in funding from the government.

Labour says the council should be putting more pressure on the government to increase its share of funding.

For Band A properties in the county, people will pay an extra £37.75 a year, while Band D properties will pay an additional £56.63. The final figure householders pay is likely to be higher, because local district and borough councils, as well as the fire service and police, are also expected to put up their portions of the final council tax bill.

The plans have not yet been finalised. They will be considered at a meeting on Monday 11 February, before they are likely to be approved at the end of the month.

Family fundraiser for bus crash teen's funeral

A memorial fund, set up by the family of a schoolgirl from Coalville, has raised more than £2,300 for her funeral.

Copyright: Sian Ellis/Facebook

Sian Ellis died after she was hit by bus on Meadow Lane last Monday afternoon. A police investigation is under way.

The 15-year-old's family said they are raising the money "to make sure she has the best send-off possible".

Alleged robber 'attacked 100-year-old from behind'

Mike O'Sullivan

Reporter, East Midlands Today

A court has heard how a 100-year-old woman was attacked from behind during an alleged robbery and died as a result of a fractured neck.

Derby Crown Court was told that Artur Waszkiewicz, 39, attacked Sofia Kaczan after getting out of a Seat Leon car, and snatched her handbag.

Kate Brunner, QC, prosecuting, told the jury: "The prosecution say it was this man in dock who robbed her and his actions led to her death.

"Small, on her own, vulnerable, an easy target you might think for a man desperate for money."

The court heard that two NHS care workers found Mrs Kaczan steadying herself on a car. They walked her to the nearby St Maximilian Kolbe Polish Catholic Church, from where she taken to hospital.

Mr Waszkiewicz, of Wolfa Street, Derby, has pleaded not guilty to the robbery and manslaughter of Mrs Kaczan.

The trial continues tomorrow.

Severe disruption: M1 Derbyshire southbound

BBC News Travel

M1 Derbyshire southbound severe disruption, from J29 for A617 Chesterfield to J28 for A38 Alfreton.

M1 Derbyshire - One lane closed on M1 southbound from J29, A617 (Chesterfield) to J28, A38 (Alfreton), because of a broken down vehicle. Traffic is coping well.

To report traffic and travel incidents dial 0330 123 0184 at any time

Armed police called to boys with pellet guns

David Pittam

BBC News Online

Armed police were called to stop four boys with pellet guns yesterday afternoon.

The teenagers, aged between 16 and 17, had been seen "acting suspiciously" around Giltbrook Retail Park, police said.

Officers seized their guns, detained and questioned them and took them back to their parents "where strong words of advice were given".

Former Spireites striker Hines retires

Nick Smith

BBC News Online

Former Chesterfield striker Zavon Hines has announced his retirement, which he says was the "hardest decision" of his life.

The forward, who left the Proact Stadium for Bromley in December, made his decision following medical advice.

Man who attacked victim with tyre iron jailed

David Pittam

BBC News Online

A Retford man who left a van driver needing surgery after attacking him with a metal bar has been jailed for 22 months.

Colin Fairweather, 24, hit his victim over the head with the tyre iron in an "unprovoked attack" before running to his car and driving off in June last year, police said.

His victim drove home but then collapsed and woke up in hospital. He needed to have part of his skull removed because it had been fractured, causing a swelling on his brain.

Copyright: Nottinghamshire Police

Fairweather, of Carolgate, pleaded guilty to inflicting grievous bodily harm as well as being in possession of an offensive weapon in a public place. He was sentenced at Nottingham Crown Court on 22 January.

He was also given a five-year restraining order.