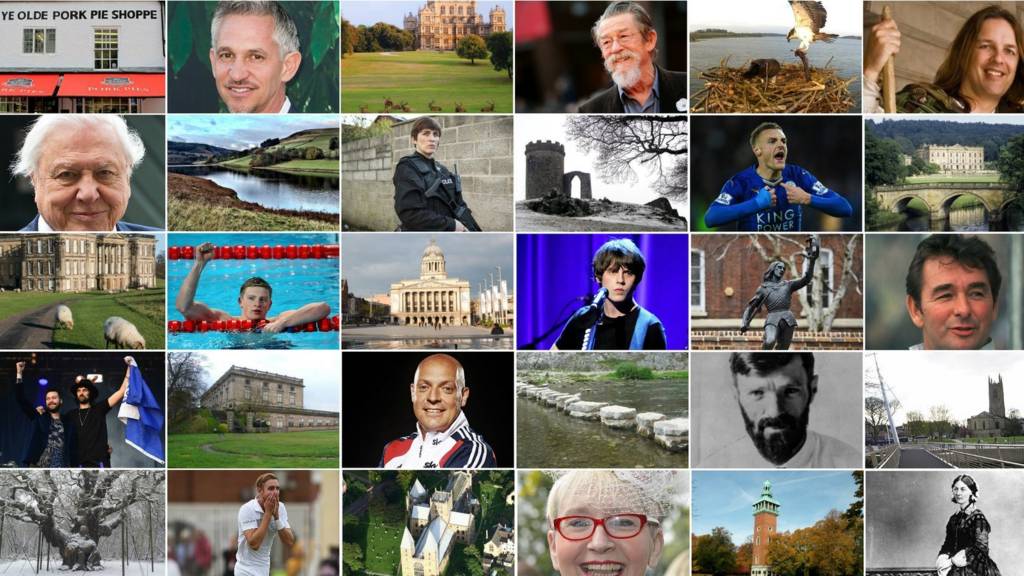 Latest updates: East Midlands Live
Listen live to your BBC local radio station in Nottinghamshire, Derbyshire and Leicestershire.
Severe accident: A1 Nottinghamshire southbound

BBC News Travel

A1 Nottinghamshire southbound severe accident, at A57 Cliff Gate Markham.

A1 Nottinghamshire - A1 in Markham Moor exit slip road closed southbound at Markham, because of an accident.

To report traffic and travel incidents dial 0330 123 0184 at any time

Our live coverage across the day

Today's updates have come to an end.

We'll be bringing you more news, sport, travel and weather from 08:00 tomorrow morning.

Weather: Dry evening but rainy overnight

We can expect clear spells and it will be dry at first this evening and into the first part of tonight.

Through the early hours, outbreaks of rain will move in from the northwest, on increasing northwesterly winds.

Tomorrow will start off cloudy and windy with some patchy rain.

Through the morning, any rain will clear southeast, leaving a mainly sunny but windy and distinctly cold afternoon, with just the odd shower possible.

Ilkeston children's home to close

Eddie Bisknell

Local Democracy Reporter

One of the county council's 11 children's homes has been closed because the authority "doesn't need it".

Evergreen children's home in Ilkeston, the exact location of which we cannot disclose for safeguarding purposes, has been closed by Derbyshire County Council.

The authority says that it will soon be reused, but only for a year, to temporarily house kids from another children's home in Swadlincote - Linden House - which is due to undergo major refurbishment and part-demolition, thought to cost £1.2m.

Last year, the authority overspent on its children's homes by £374,000 - bringing its spending to £4.7 million.

A spokesperson for for the authority said: "Evergreen is closed at the moment and long-term, we don't need it, but there's another home that is being replaced and while we carry out that work we are planning for the children from there to move to Evergreen for about 12 months."

Squirrel, duck and owl 'shot with air rifle'

Heather Burman

Journalist, BBC News Online

Police have appealed for help from the public after several reports of wildlife being shot with air rifles in the Hollingwood and Inkersall areas of Derbyshire.

A squirrel, a duck, and an owl are among the animals found dead in the past few weeks at Ringwood Park, according to officers.

PC Rebecca Damms said: "We have received reports of wildlife being shot and killed with an air rifle in the Ringwood Park area, along with concerns about anti-social behaviour and nuisance motorcycles in the area.

"These incidents have been distressing to those who have found the animals, who have suffered unnecessarily, and I would encourage anyone who has any information, or notices anything suspicious in the area to report it to us."

CCTV showing Newcastle University student Ed Farmer lying on the floor at a Metro station is released as his inquest ends.

Club assault victim 'can no longer kiss girlfriend'

A man who was glassed in the face while on a night out in Leicester with his girlfriend has told the BBC he's suffering from PTSD and depression after the unprovoked attack.

Cory Herbert suffered a sliced lip and broken teeth when he was attacked on the dance floor at The Terrace on Albion Street in the early hours of Sunday 26 August.

The 25-year-old said: "I've lost the feeling in my lips to the point I can't kiss my own girlfriend. I might not get that feeling back."

He and another man, aged 31, had to get hospital treatment for their injuries.

Copyright: Leicestershire Police

Police have released a CCTV image of a man they'd like to speak to about the assault.

A statement from The Terrace said: "Throughout this process we have worked closely with the Leicestershire Constabulary."

Frog Island fires prompt extra training sessions

Firefighters are being put through extra training sessions in the Frog Island area of Leicester following a spate of fires there, many believed to have been started deliberately.

The most recent blaze broke out at a derelict pub in Swan Street at about 02:00 and took five crews nearly three hours to put out.

Copyright: Leicestershire Fire and Rescue Service

WW1 replica headstones engraved

Three replica World War One headstones are being engraved in a Derbyshire village for this year's Remembrance Day commemorations.

The engravings are being hand carved by Colin Julien, the great grandson of the man who carved the original stones, which were made in Middleton-by-Wirksworth for the Commonwealth War Graves Commission.

There'll be a procession on 11 November, when the stones will be installed around the area.

Mr Julien said: "My grandfather was a Normandy veteran and he actually worked making these stones after, so it's a pleasure to be asked to do the work."

Severe disruption: M1 Derbyshire northbound

BBC News Travel

M1 Derbyshire northbound severe disruption, from J29A for Markham Vale to J30 for A616 Sheffield.

M1 Derbyshire - One lane closed on M1 northbound from J29a, Markham Vale to J30, A616 (Sheffield), because of a broken down vehicle. Traffic is coping well.

To report traffic and travel incidents dial 0330 123 0184 at any time

Mazda destroyed in suspected arson

This is all that remained of a Mazda 6 following a suspected arson attack in Heanor.

Derbyshire Police said the fire broke out in an alleyway off Ray Street at about 03:00 on Saturday.

Copyright: Derbyshire Police

As well as the car, a garage, fence panels and a summer house were also damaged in the blaze.

Officers have now appealed for anyone to contact them if they spotted anything suspicious.

Magpies defender wins appeal against red card

Notts County defender Jamie Turley has had the red card he was shown at MK Dons on Tuesday cancelled by the Football Association.

Turley received a straight red while the Magpies were 1-0 up in the second half at Stadium MK. They went on to lose the match 2-1.

The decision to cancel his one-match ban means he's now eligible to play against Swindon Town this weekend.

Mariam Moustafa: Teens banned from messaging family

Caroline Lowbridge

BBC News Online

Four teenage girls have been banned from using social media to contact the family of an Egyptian student who died three weeks after being attacked on a bus.

Mariam Moustafa, 18, went into a coma after the attack in Nottingham on 20 February, and later died of a stroke.

The four girls appeared at court charged with affray, and the ban is a condition of their bail.

One pleaded guilty and three pleaded not guilty.

Judge Stuart Rafferty said he was releasing them on bail on the condition they "do not contact either directly, or indirectly - so not speaking to them by social media, not at all - the family of the deceased girl".

The three girls who have pleaded not guilty are expected to stand trial on 23 April. The others will be sentenced either on Friday or at a later date.

Dealer 'moved £35m of drugs' through house in Derby

Samantha Fisher

BBC News Online

A dealer who stashed large quantities of drugs in an oven and kitchen drawer has been jailed for 24 years.

Police also found £500,000 cash, a loaded Uzi submachine gun and firearms at a house in Chellaston.

Copyright: Derbyshire Police

Ivan Graham, who gave an address of Whetstone Drive, Rugby, pleaded guilty at Derby Crown Court to 14 charges including supplying cocaine and heroin.

Police estimate the 35-year-old helped to move £35m worth of drugs through the Derby house.

Copyright: Derbyshire Police

Biscuits put a smile on paramedics' faces

Nick Smith

BBC News Online

Sometimes it's the little gestures that make all the difference.

Copyright: East Midlands Amublance Service

Smiles were put on the faces of ambulance crews in Newark yesterday evening by an anonymous person who dropped off some packets of biscuits at their station.

East Midlands Ambulance Service tweeted: "Thank you very much to the kind member of the public who dropped these biscuits off to our Newark station last night - it was very thoughtful and made our crews smile."