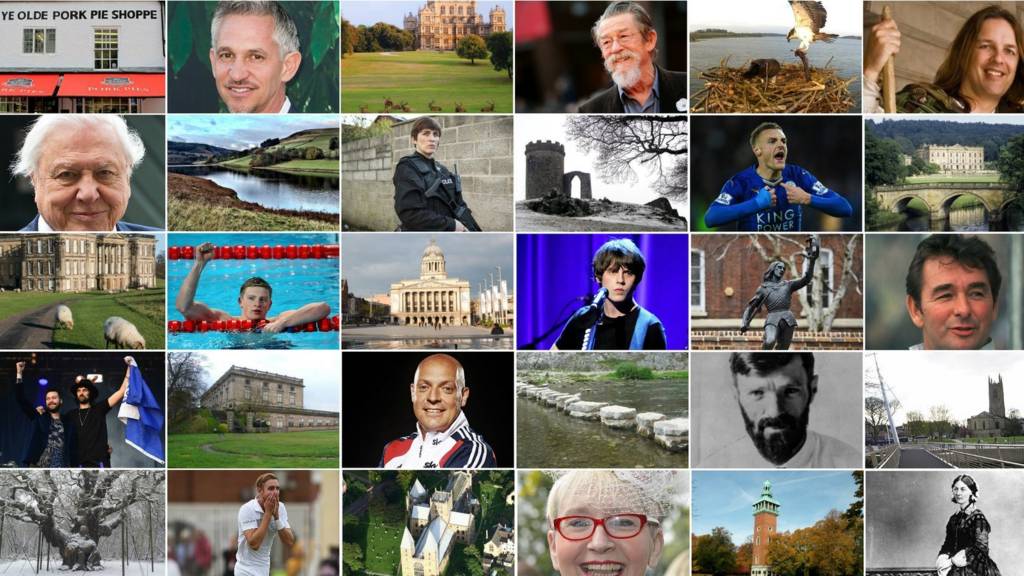 Summary
Yellow warning for rain issued by Met Office
Boy, 11, had 'blisters like golf balls' from sunburn
Police and politicians meet to discuss stabbings
Friends' shock at attack on 100-year-old woman
Man dies a month after car crash
Market Harborough hospital sold for £1.3m
Mansfield Town make new summer signing
Latest updates for Wednesday 30 May 2018
Severe disruption: M1 Leicestershire northbound

BBC News Travel

M1 Leicestershire northbound severe disruption, between J24A for A50 Derby and J25 for A52 Brian Clough Way Nottingham.

M1 Leicestershire - One lane closed and slow traffic on M1 northbound between J24a, A50 (Derby) and J25, A52 (Nottingham), because of a broken down vehicle.

To report traffic and travel incidents dial 0330 123 0184 at any time

Severe disruption: M1 Leicestershire northbound

BBC News Travel

M1 Leicestershire northbound severe disruption, at J24 for A6.

M1 Leicestershire - M1 lane closed on exit slip road northbound at J24, A6 (Kegworth), because of a broken down lorry. Traffic is coping well.

To report traffic and travel incidents dial 0330 123 0184 at any time

Football: Swindon boss on Matt Preston's departure

Matt Preston turned down a three-year contract with Swindon Town to be reunited with former manager Dave Flitcroft at Mansfield Town.

Phil Brown spoke to BBC Wiltshire's Shaun Hodgetts about his disappointment in Preston's decision.

Our live coverage across the day

That's it for dedicated live coverage for today but some breaking news and travel will continue through the night.

We'll be back from 08:00 on Thursday.

Weather: Thundery showers on the way

A fair amount of cloud to come through tonight but it will be mostly dry. Some mist or perhaps fog will develop in places.

Tomorrow it will be a rather misty start in places. Some sunny spells will develop but as the day progresses, so will some sharp and potentially thundery showers. Winds will be light with any showers slow-moving.

Music festival told it can't play music

A two-day music festival at Elvaston Castle has been refused permission to play music or sell alcohol following objections from the police.

The local democracy reporting service says South Derbyshire District Council refused the application for the Summer Gathering Festival after officers raised concerns over the length of time alcohol would be sold and insufficient information on safety and access to the site.

Organiser Mark Lambert, said: "We have held events such as this in Birmingham, Manchester and in London, with some of the same concerns over how much people may drink and how they will leave the site and find their way home after, and we have still been given the go ahead, I'm not sure why the situation is different here."

Tickets for the festival in August are already on sale and up to 7,000 people were expected to attend.

PC Mike Dunn from Derbyshire Constabulary's licensing team said there were too many "unknowns" in the application to let it go ahead.

"We have had issues with the Elvaston site with previous events, even fairly low-key affairs," he said.

"The site can quickly become a quagmire and it becomes difficult to get people off."

Severe congestion: M1 Derbyshire northbound

BBC News Travel

M1 Derbyshire northbound severe congestion, after J25 for A52 Brian Clough Way Nottingham affecting J24A for A50 Derby.

M1 Derbyshire - Slow traffic on M1 northbound after J25, A52 (Nottingham). All lanes have been re-opened. Congestion to J24a, A50 (Derby).

To report traffic and travel incidents dial 0330 123 0184 at any time

Trolley full of shopping stolen from Waitrose

Do you recognise these men?

Copyright: Derbyshire Police

Police want to speak to them after a trolley full of goods, including packs of meat and a pizza, were stolen from a supermarket in Ashbourne.

It happened on Thursday 3 May at Waitrose in the Shawcroft Centre, Derbyshire Police said.

Meet force's newest police dog

Say hello to Nottinghamshire Police's newest recruit - four-month-old Taggart.

Copyright: Nottinghamshire Police

Like his TV detective namesake, the Belgian Malinois puppy will be trained to sniff out criminals.

Taggart will be a general purpose police dog but he's got a year to wait before his first training course.

Handler PC Pete Baxter said: "In the meantime he will be living with me whilst I train him and build his confidence.

"He's shown great potential so far and I'm looking forward to seeing how much he develops."

Leisure centre voyeur sentenced

A man who secretly filmed people getting changed at a Mansfield leisure centre has been sentenced for two counts of voyeurism.

Martin Socha was arrested after a family with a five-year-old boy noticed a device being held above them in a cubicle at Water Meadows in 2017, Nottinghamshire Police said.

Police found a small spy camera still switched on in his sock along with evidence he had been spying on two women.

The 44-year-old, of Dozen Drive, appeared at Nottingham Crown Court yesterday where he was handed a six-month sentence suspended for two years and ordered to sign the sex offenders register for seven years.

He was also made subject to a sexual harm prevention order for seven years.

New photos released of missing man

New photos have been released of a 65-year-old man who's been missing from his home in New Mills for 10 days.

David Jones was last seen on May 20 and it's thought he may have travelled to Stockport.

He also has links to Brighton. Call 101 if you know where he is.

Copyright: Derbyshire Police

Fears new retail park will take away business

Traders claim a new retail park being planned just off the A38 could take away about £30m worth of business from nearby town centres.

More than 100 businesses in Sutton, Kirkby and Mansfield are objecting to the development of Park 38 on land close to the existing East Midlands Designer Outlet.

They have set up a group called Keep Our Town In Focus and produced an economic impact assessment, claiming Mansfield would be the worst hit.

The planning application is currently being assessed.

A spokesman for developer, Limes Developments, said the trade impact claims are "wildly over-stated".

"We believe that the trade impact will be less than a third of that claimed and not cause any material harm to any nearby town centre," the spokesman said, adding that it will create "almost 1,200 jobs".

Missing teenager found safe

Police say 14-year-old Jesika Thorpe, who was reported missing from the Clifton area yesterday morning has been safely located.

Nottingham 'proud' over Channel 4 shortlist

So Nottingham's missed out on becoming Channel 4's new HQ - but there's a chance the city could become home to one of two "creative hubs".

But what is a creative hub?

Channel 4 says they will be bases with a "focus on programme commissioning, but will welcome a broader talent base as we develop our plans and deepen our commitment in the nations and regions".

So that's that cleared up then.

Nottingham is up against Belfast, Brighton, Newcastle-Gateshead, Sheffield and Stoke-on-Trent, with the final selections being revealed in October.

A delegation from Channel 4 will visit the city next month.

Brendan Moffett, chief executive of Martketing NG - who are behind the bid - said: "We're proud and thrilled that Nottingham's ambitious and transformative bid has made the shortlist against fierce competition from across the country.

"Between now and October we will strive to further illustrate why Nottingham is the right location for Channel 4 to achieve its aims."