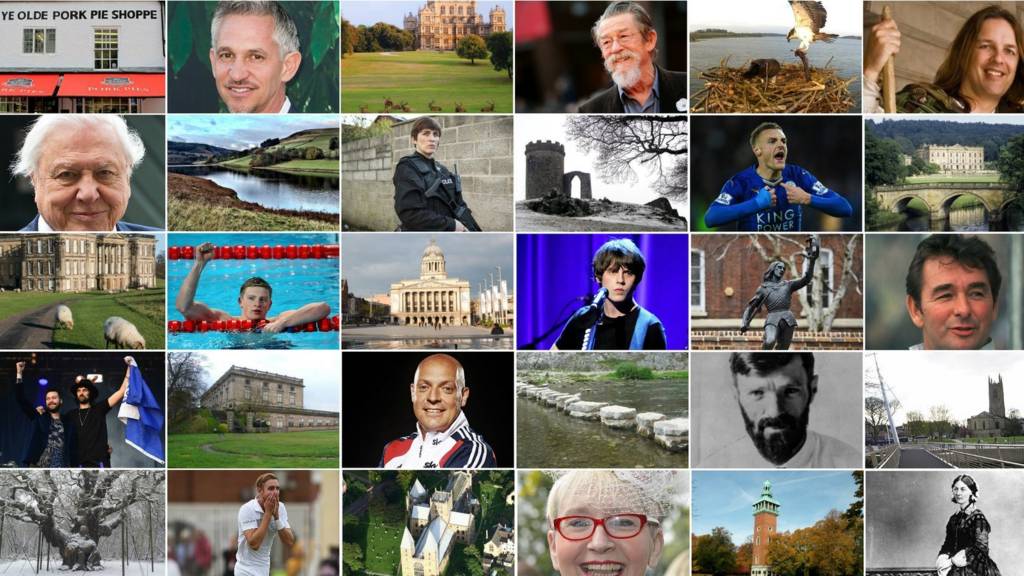 Summary
Mum's appeal two years after son's killing
Woman charged with intimidating witness
New Labour leader elected in Derby
Naval reserves handed freedom of Nottingham
Bramley apple tree will be 'available to visit'
Councils join forces to tackle homelessness
Updates on Wednesday 9 May 2018
You're cordially invited to the wedding of Harry and Megan. OK, it's not the royal couple. This is the luxury wedding of Harry Hindley, 22 and Megan Morley, 21 from Nottingham.

'We cannot replace him'

FT: Leicester 3-1 Arsenal

Asked whether tonight's result may ease some of the pressure from fans, Leicester manager Claude Puel said: "No comment. It is not my concern, it was just a win for the players and they wanted to give a reward to the fans. Congratulations to my players because they put in place all of the good ingredients to win the game."

In tribute to Arsene Wenger, Puel said: "He can win his last game with Arsenal and I would like to give him my congratulations for all of his great work with the club. He was fantastic over 22 years and we cannot replace him."

Our live coverage across the day

East Midlands Live has now ended for Wednesday but some news, sport and travel will continue to be posted overnight.

Dedicated live coverage for this region returns from 08:00 on Thursday morning.

Severe accident: M1 Leicestershire northbound

BBC News Travel

M1 Leicestershire northbound severe accident, between J23 for A512 and J23A for A42.

M1 Leicestershire - Queuing traffic and two lanes closed on M1 northbound between J23, A512 (Loughborough) and J23a A42, because of an accident.

To report traffic and travel incidents dial 0330 123 0184 at any time

Watch: Sir David Attenborough interrogated by children

As an eight-year-old boy growing up in Leicester, Sir David Attenborough's ambition was to climb Everest. Here he is, on this day in 1980, appearing on BBC children's television.

Mazhar case 'will never close'

A new appeal has been issued for information about the death of 21-year-old Aqib Mazhar, who was stabbed in a car in Forest Fields.

Although five men were jailed for their involvement in his death, Nottinghamshire Police said the person who delivered the fatal blow and the murder weapon have still not been found.

Copyright: Nottinghamshire Police

Det Ch Insp Rob Severn said: "We just need that last vital piece of information that will push us over the edge from what we know into what we can prove in a court of law.

"I hope somebody will come forward and I always want to keep a positive mindset.

"We never close these cases and we will still prosecute somebody, even if it is some years down the line."

Archaeologists seek Roman remains in residents' gardens

Archaeologists say they are working to find out more about one of the biggest buried Roman complexes in the region, next to Southwell Minster.

A £10,000 project involving academics from the University of Nottingham and local enthusiasts is looking into the town's early heritage.

Investigations are taking place in the garden of the Minster's Dean and also in gardens belonging to the community, where 1m x 1m test pits have been dug.

Dean of Southwell Nicola Sullivan said it was "exciting" to have the opportunity to find out more about the "extraordinary" site.

"My husband wants to be able to plant his roses without too much fuss but one day we'll be able to decide what to do with the garden," she said.

Child 'gets hand stuck in parking meter'

MP calls for theme park guidance after schoolgirl death

An MP is calling for tougher safety legislation for theme park water rides, one year on from the death of Leicestershire schoolgirl, Evha Jannath.

The 11-year-old died after falling from a ride at Drayton Manor Park.

Leicester East MP Keith Vaz says discussions are under way about new guidelines but the family were still "extremely emotionally distraught".

"They are very upset," he said. "Evha was so young so they feel it dramatically in their lives. I hope we can have an end to the inquiry process. Sadly, progress has been quite slow but it's been very thorough.

"I would urge all the UK's theme parks to be extra vigilant, bearing in mind what has happened with Evha."

A date for the inquest has been set for August and Staffordshire Police have confirmed their investigation remains ongoing, supported by the Health and Safety Executive.

Watch: Lancaster bomber sculpture gains PM's approval

The Prime Minister has given her approval for plans for a full size replica of a Lancaster bomber.

Permission has been granted for the sculpture to go on the A46, between Newark and Lincoln.

Mrs May was responding to Sleaford and North Hykeham MP Dr Caroline Johnson during Prime Minister's Questions:

Father who lost wife and baby raises £35,000

A father who lost his wife and newborn baby within hours of each other has raised £35,000 in their memory.

Heidi Renton, from Newark, suffered a seizure caused by a heart defect while 39 weeks pregnant and died in August.

Her daughter Isabella was born by emergency Caesarean section but died 15 hours later, having been starved of oxygen.

Craig Renton has managed to raise the money for charities including Cancer Research UK and organisations including King's Mill Hospital's baby bereavement suite by holding a boxing match and running two marathons.

Around £1,600 has been put towards a cuddle cot for the hospital, allowing grieving parents to spend up to 72 hours with their baby to say goodbye to them, take prints of their hands and feet and have skin to skin contact with them.

Copyright: Sherwood Forest Hospitals Trust

He said: "We found the bereavement suite really calming when we said goodbye to Isabella and it was the best space for us to be in at the time, so I wanted to do something that would help other families and also to say thank-you to the trust for being so caring and compassionate towards us.

"It was really emotional to meet up with everyone who looked after Heidi and Isabella, but I wanted to see them again to say thank-you, as they did everything they could."

Highways England tweets...

Severe accident: M1 Derbyshire southbound

BBC News Travel

M1 Derbyshire southbound severe accident, between J29 for A617 and J28 for A38 Alfreton.

M1 Derbyshire - One lane closed and heavy traffic on M1 southbound between J29, A617 (Chesterfield) and J28, A38 (Alfreton), because of an accident involving a lorry and a car.

To report traffic and travel incidents dial 0330 123 0184 at any time

Rushcliffe MP appreciates Boris 'loyalty'

Rushcliffe MP Kenneth Clarke has issued a tongue-in-cheek congratulations to Foreign Secretary Boris Johnson over his "unswerving loyalty" to government policy.

The former cabinet minister made the comment in the House of Commons during a question on the official UK policy on the Iran nuclear deal.

City's homeless plea: 'We need more hostels'

Amy Orton

Local Democracy Reporter

Homeless people in Leicester have pleaded with the authorities to provide more support.

It is estimated there are about 30 people sleeping rough in the city every night and the city's council recently published a strategy to try to address the problem.

One woman, 44-year-old Lisa Eastaugh, said: "We need more hostels. Simple.

"I could go and sit at the council for five hours a day, every day of the week and be told every time that they haven't got a room for me anywhere."

Until last year, Lisa said she had a house and a job and was "settled and happy".

"Then it all went wrong," she said.

She now sits on the streets asking the public for spare change.

"That means I can spend the night in a bed and breakfast," she said.

"I get enough probably to stay somewhere four nights of the week. The other nights, I'm on the streets, sleeping in a shop doorway. It's horrible but I've got no other choice."