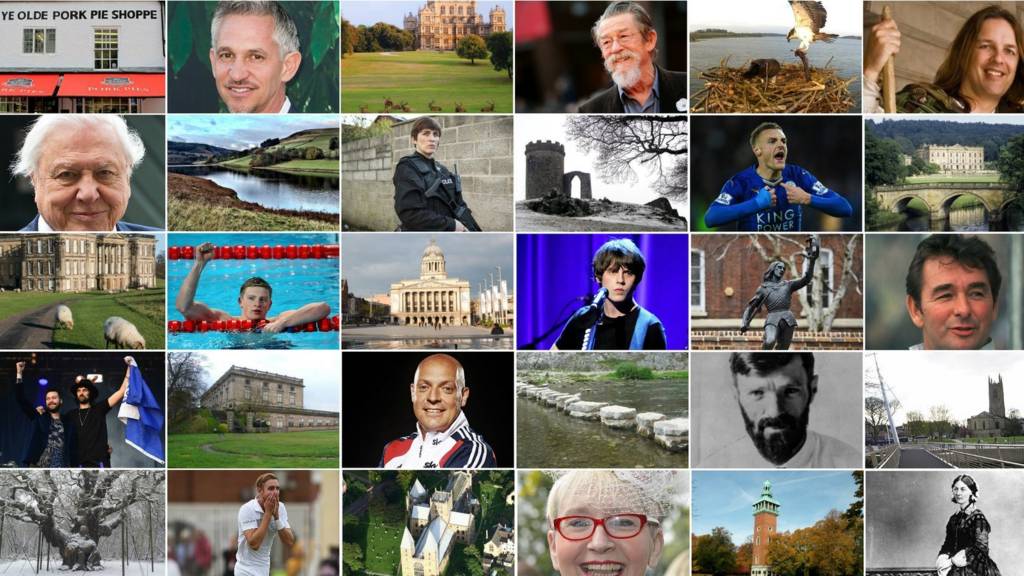 Latest updates: East Midlands Live
Listen live to your BBC local radio station in Nottinghamshire, Derbyshire and Leicestershire.
Summary
Man charged with woman's rape and attempted murder
Arson charge after Ratby cottage fire
Police divers help recover bridge stone
Suspected brothel raids: Two men charged
Tributes to former Nottingham broadcaster Dale Winton
Updates on Thursday 19 April 2018
Willington Power Station operated from 1959 until its closure in 1999 - but nearly 20 years on, the cooling towers still dominate the East Midlands' landscape.

Severe accident: M1 Derbyshire southbound

BBC News Travel

M1 Derbyshire southbound severe accident, between J25 for A52 Brian Clough Way Nottingham and J24A for A50 Derby.

M1 Derbyshire - One lane closed and slow traffic on M1 southbound between J25, A52 (Nottingham) and J24a, A50 (Derby), because of an accident.

To report traffic and travel incidents dial 0330 123 0184 at any time

Severe accident: M1 Derbyshire northbound

BBC News Travel

M1 Derbyshire northbound severe accident, between J25 for A52 Brian Clough Way Nottingham and J26 for A610 Nottingham affecting J23 for A512.

M1 Derbyshire - Queuing traffic on M1 northbound between J25, A52 (Nottingham) and J26, A610 (Nottingham), because of an accident involving three lorries and a car earlier on. All lanes have been re-opened. Travel time is 1 hour 15 minutes. Congestion to J23, A512 (Loughborough).

To report traffic and travel incidents dial 0330 123 0184 at any time

Severe disruption: A1(M) Nottinghamshire northbound

BBC News Travel

A1(M) Nottinghamshire northbound severe disruption, between J34 for A614 Bawtry Road and J35 for M18.

A1(M) Nottinghamshire - Queuing traffic and one lane closed on A1(M) northbound between J34 A614 Bawtry Road and J35 M18, because of a vehicle fire.

To report traffic and travel incidents dial 0330 123 0184 at any time

Our live coverage across the day

Dedicated live coverage on this page has now ended for today, but some news, sport and travel will continue to be posted automatically overnight.

East Midlands Live returns from 08:00 Friday morning.

Weather: Fine and mostly sunny

Charlie Slater

BBC Weather presenter

Staying dry tonight with often clear skies however some low cloud and fog may form in places towards the end of the night.

A minimum temperature of 9°C.

Tomorrow will see any early low cloud and local fog soon dispersing to leave another fine and mostly sunny day.

It will be another warm day with only light winds. A high of 22°C.

Hospital failings in stillborn death

A mother, whose son was stillborn, has said she's not sure she will ever come to terms with what happened.

Doctors were unable to resuscitate Freddie Webster after he was born by Caesarean section at King's Mill Hospital in Sutton-in-Ashfield in June last year.

An investigation has since found there were a number of failings in the care Freddie and his mother Kayleigh.

Kayleigh was sent home from hospital after her waters broke but was later admitted showing signs of sepsis.

The next day tests showed Freddie's heart rate was slowing down and not normal. Another test, nearly four hours later, highlighted further serious concerns about his heart rate and an emergency Caesarean was performed.

Copyright: Kayleigh Turton and Scott Webster

A report has found hospital staff missed three chances to raise concerns about Freddie's condition and that a busy ward impacted on the care Kayleigh received.

Sherwood Forest Hospitals has "sincerely apologised" for what happened to Kayleigh and claims it has since taken action in a bid to stop further incidents like this.

Quote Message: A full investigation has taken place and since this happened we have made a number of changes within our maternity services. For example we have reviewed practises around the monitoring of babies' heart rates and clarified the process about how and when to escalate issues to senior colleagues." from Andy Haynes Sherwood Forest Hospitals

Police target anti-social behaviour

A dispersal order has been put in place for Chesterfield Town Centre this weekend.

This means police officers and PCSOs have the power to move on anyone over the age of 10 years old who they believe could cause anti-social behaviour or crime.

Derbyshire Police said it's in response to reports of underage drinking and large groups of young people gathering in the area and playing loud music. Damage has also been caused to the market place and members of the public have reported feeling intimidated.

The order will be in place from 10:00 on Friday until 10:00 on Sunday.

Appeal to find injured peregrine

Can you help the RSPB find out what happened to this peregrine?

Leicester footballer banned for six years

Footballer Bradley Wood, who is originally from Leicester, has been banned from football for six years after being found guilty of two match-fixing offences.

A Football Association tribunal found he intentionally got booked in two matches in order to "influence a football betting market".

Wood denied deliberately being booked against Ipswich Town and Burnley.

But betting firms said there had been "unusual bets" placed on him being cautioned in both games.

Wood has been banned until 8 March, 2024.

Inconvenient but at least you won't miss the central heating.

Cricket: Talks to introduce 100-ball format

A new style of cricket could soon be coming to Trent Bridge.

The England and Wales Cricket Board wants to introduce an innovative '100 balls' format into its new eight-team, city-based tournament.

The concept could see innings consist of 15 traditional six-ball overs, and a final 10-ball over.

That would be 20 balls shorter than traditional T20 matches.

Those devising the competition believe a 100-ball 'countdown' would attract new audiences and be popular with broadcasters.

The ECB is proposing the competitions starts in 2020 and will feature a side playing at the Nottingham ground.

Sunbathing turtle at park pond

An unusual sighting at Brocks Hill County Park in Oadby. This turtle appears to be enjoying the sunshine in one of the parks ponds.

Oadby and Wigston Borough Council has told the BBC its staff at the park are not aware of any turtles in the water there.

Supermarket Sweep worker recalls 'friendly' Dale Winton

Geeta Pendse

Arts reporter, BBC East Midlands Today

I'm currently filming at the former Lenton Lane studios where Supermarket Sweep was made in Nottingham.

Ivan who worked on the show, described Dale Winton as a really friendly person who had time for everyone on and off set.

Your photos: East Midlands heatwave

The warm weather has seen plenty of you getting your cameras out. The pics below were taken in Matlock, Hoveringham, Chesterfield and Kegworth.