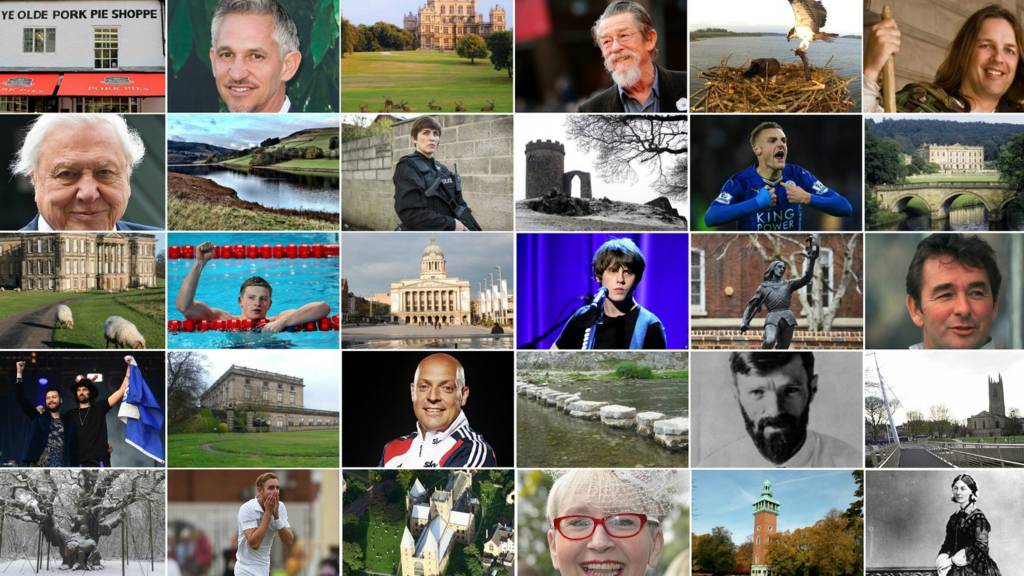 Severe disruption: M1 Derbyshire southbound

BBC News Travel

M1 Derbyshire southbound severe disruption, around J30 for A616.

M1 Derbyshire - Queuing traffic and three lanes closed on M1 southbound around J30, A616 (Worksop). In the roadworks area.

To report traffic and travel incidents dial 0330 123 0184 at any time

Chris Jones

BBC Radio 5 live rugby reporter

Our live coverage across the day

Dedicated live coverage has now ended, but some news, sport and travel updates will continue to appear on this page through the night.

East Midlands Live returns from 08:00 tomorrow.

Car park fire: Dozens of vehicles damaged

Quentin Rayner

East Midlands Today chief news reporter

The owner's of the car park in Stoney Street in Nottingham's Lace Market said drivers should be able to collect their vehicles tonight - if the fire service gives them the go ahead.

Driver Jon Morley suspects his car will be a write-off.

It's thought one car caught fire, destroying several others and damaging another 30.

Nottinghamshire Fire Service is investigating the cause of the blaze.

Severe accident: A628 Derbyshire both ways

BBC News Travel

A628 Derbyshire both ways severe accident, at B6105.

A628 Derbyshire - A628 in Crowden closed in both directions at Glossop Turn Off, because of an accident. Traffic is coping well. Also affecting B6105 at Glossop Turn Off.

To report traffic and travel incidents dial 0330 123 0184 at any time

Alexandra Hamilton

BBC weather presenter

Cloud will thicken this evening and overnight. A band of rain, which could be heavy at times, will move northwards in the early hours.

Lows of 11C (52F).

It'll be cooler tomorrow with showery rain expected on and off throughout the day. It'll be cloudy with the chance of some thunder. Highs of 15C (59F).

Woman sues council over Bakewell footpath fall

Gavin Bevis

BBC Local Live

A pensioner from London is suing Derbyshire County Council after she tripped over on a path in Bakewell and broke both her wrists.

According to papers issued at the High Court, the 65-year-old stumbled on "raised and broken tarmac" on a footpath between Coombs Road and the River Wye bridge that had left an 'exposed edge".

The woman is seeking damages of at least £300,000, claiming her movement has been restricted since the 2014 fall.

Derbyshire County Council declined to comment but says it will deal with the case through court proceedings.

Burglar 'crept through window and stole phone'

Gavin Bevis

BBC Local Live

A burglar stole a mobile phone from a house in Oakwood after getting in through an open downstairs window, police have said.

The theft took place in Lydstep Close between 02:00 and 10:45 on Saturday 15 July.

Police have now released photos of a man they want to speak to in connection with the burglary.

Copyright: Derbyshire Police

Man arrested on suspicion of attempted murder

Ben Truslove

BBC News Online

A 34-year-old man has been arrested on suspicion of attempted murder after a woman was seriously injured in Nottingham.

She remains in QMC but her injuries are not thought to be life threatening.

It follows an incident in Coniston Avenue in the early hours of Friday.

The man remains in police custody.

Ex-Rams boss McClaren fancies Hearts job

Gavin Bevis

BBC Local Live

Could former Derby County boss Steve McClaren be heading for the Scottish Premier League?

The 56-year-old, who was sacked by the Rams for a second time in March, has been linked with the vacant managerial position at Hearts.

BBC Sport says McClaren, pictured below dancing to YMCA, has registered interest in the role, and will be on the club's final shortlist, to be compiled this week.

Hospitals trial billing non-British patients

Amy Woodfield

BBC Local Live

Hospitals in Nottingham are taking part in a trial that's hoping to curb what's known as "health tourism".

Copyright: Science Photo Library

Patients attending their first appointment at maternity and fracture clinics will be asked to provide documents to prove their identity and that they're UK residents - those who aren't eligible for free treatment will be sent a bill.

The hospitals have confirmed that no one will be refused treatment.

Arrests and bans in Spice crackdown

Gavin Bevis

BBC Local Live

Police say they made at least five arrests in Derby city centre over the weekend as part of a crackdown on the use of formerly legal highs such as Spice and Black Mamba.

Derbyshire Police said its officers had also used police powers to banish at least ten users from the city centre for 48 hours.

The drugs, known as synthetic cannabinoids, are currently a major priority for forces around the country following complaints they lead to "zombie-like" or erratic behaviour in users.

Missing man could be in Wales

Amy Woodfield

BBC Local Live

The family of this man are "growing increasingly concerned" for his safety...

Copyright: Leicestershire Police

Garry Llewellyn from Broughton Astley has been reported missing.

Despite living in Leicestershire it's thought the 41-year-old could have travelled to Llangollen in North Wales.

He's been described as speaking with a Welsh accent and having a stammer.