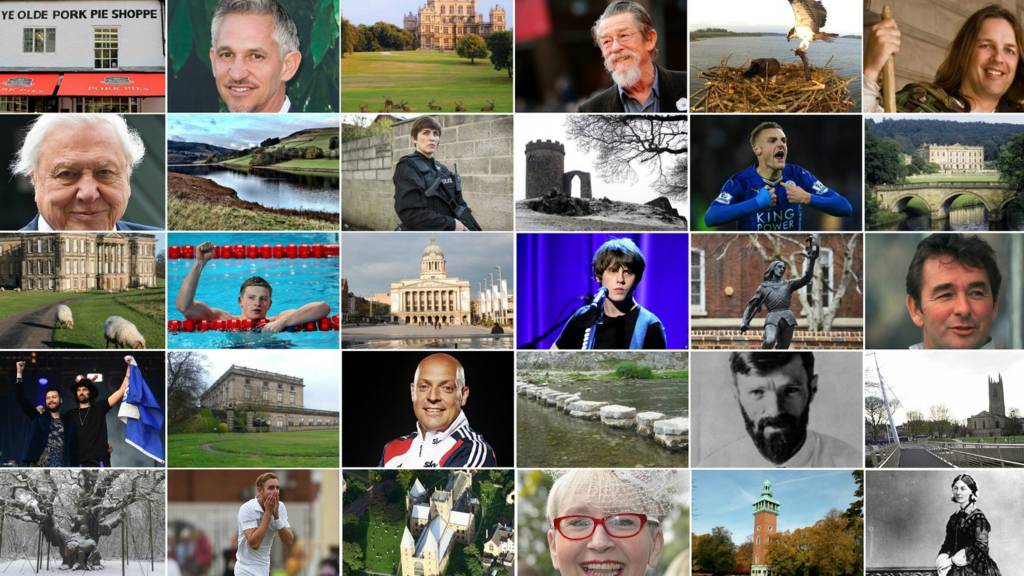 Summary
Live updates for Monday 17 July 2017
HS2 route will bypass East Midlands Airport
Final day of Glenfield heart surgery consultation
Pub 'saved' by community re-opens
Council repairing Leicester sink hole
Cricket: England hammered at Trent Bridge
Our live coverage across the day

Our dedicated live coverage has now ended for Monday.

News, sport and travel updates will continue to appear overnight, with hosted live coverage returning from 08:00 tomorrow morning.

Weather: Warm weather to continue

Maryam Qaiser

BBC Local Live

It will remain largely dry with plenty of clear skies with some light winds this evening.

Tonight will feel relatively warm with temperatures reaching 14C (57F).

Tomorrow will be another warm day with some sunshine.

There will be clouds in the afternoon but in the evening there will be some thundry showers.

Tuesday will see some temperatures reach 25C (77F).

Watch: Quarry opens to butterfly enthusiasts

A quarry in Derbyshire - normally closed to the public - has opened as a butterfly reserve.

Derbyshire school put in special measures

Wesley Mallin

Reporter, BBC Radio Derby

The largest school in Derbyshire has been placed in special measures after it was found to be inadequate by inspectors.

Ofsted's report into John Port School, in Etwall, highlighted several areas of concern including the quality of teaching in most subjects being weak or inadequate.

It also said pupils were put at risk because of safeguarding issues and incidents of poor behaviour had increased.

In a letter to parents the school said "significant changes and actions had already been put in place to move the school forward".

The previous inspection of the school rated it as good.

Plans to stop resettling child asylum seekers criticised

Maryam Qaiser

BBC Local Live

Plans to end resettling child asylum seekers in Nottinghamshire have been criticised.

Nottinghamshire County Council is looking at suspending the project because of a funding shortfall.

A small protest was held outside outside County Hall earlier today to oppose plans.

Eve Leadbeater said she arrived in the country as a child refugee in 1939.

"I can't believe it is the same country, I don't recognise it. I think yes, compassion has flown out of the window," she added.

Philip Owen, the Conservative county councillor responsible for children and young people, said the authority was in a "difficult situation" and had to make "every penny count".

A34 Crash driver "completely ruined" family's lives

The mother of a toddler killed in a crash on the A34, who also lost her unborn child, has said the driver responsible had "completely ruined" her family's lives.

Collette Wiggin read out a victim impact statement in Oxford Crown Court ahead of the sentencing of Thomas Hunter, 59, who had admitted causing death by dangerous driving and serious injury by dangerous driving.

Her daughter, Isla died two days after the crash on the A34 at Hinksey Hill, Oxford, on 25 August.

Hunter was jailed for six years.

Copyright: Thames Valley Police

Quote Message: "My perfect life was ripped away from me, as the result of the thoughtless act of another. I am broken, all I ever wanted to be was a mother, and I absolutely loved being mummy. He has completely ruined the lives of good people who did nothing at all to deserve it. A huge part of me died with my children." from Collette Wiggin

Diamond encrusted Cartier watch stolen

Calum McKenzie

BBC Local Live

An unusual diamond encrusted watch has been stolen from a house in Chellaston.

Copyright: Derbyshire Police

The Cartier Tank Francaise, was taken from a property in Orlando Court, Derbyshire Police said.

Standard models do not normally have diamonds and cost from about £3,000. Second hand Cartier Tank Francaise - with diamonds around the edge - can sell for almost £9,000.

The owner noticed it was missing in mid-June.

Britt Assombalonga undergoes Boro medical

Nottingham Forrest striker Britt Assombalonga is undergoing a medical at Middlesbrough, BBC Tees Sport understands

Assombalonga scored 14 goals in 32 appearances for Forrest last season as they avoided relegation from the Championship by goal difference alone.

The deal to bring the 24-year-old to the club is not yet complete.

HS2 to pass through Long Eaton via high level viaduct

Calum McKenzie

BBC Local Live

The government has also revealed that the HS2 high-speed rail line will go through Long Eaton on a high level viaduct, adjacent to the existing railway line.

Transport Secretary Chris Grayling has also decided not to proceed with a proposal to move the line to the east of Measham, Leicestershire.

The railway will run to the west of the village with a viaduct extended to mitigate the impact on commercial properties.

HS2 rail link through East Midlands revealed

Calum McKenzie

BBC Local Live

The government has revealed what route the high-speed rail link HS2 will take through the East Midlands.

Copyright: Department for Transport

Among decisions taken by the Department for Transport, HS2 will pass the eastern side of East Midlands Airport's runway, rather than via a tunnel underneath.

You can find all the finer details of the route here.

Listen: 'It feels like I'm coming home,' says Huddlestone

Returning Derby County midfielder Tom Huddlestone has admitted he is "very excited" about the challenge of attempting to get the club back into the Premier League.

Huddlestone, 30, who left the Rams 12 years ago to join Tottenham, has signed a two-year-deal, with the option of an extra year.

Your comments: Sheep has close shave with M1

The sheep that was caught by police wandering towards the M1 near Chesterfield (see 11:26) has certainly got you all talking on Facebook.

Richard Armes writes: "Police...stopping and searching...just because you look Sheepish?....Disgusting!!!"

Steve Murcott adds: "Arrested for ram raiding."

Basketball: Riders coach signs new four-year-deal

Calum McKenzie

BBC Local Live

Leicester Riders tweet...

Council repairing sink hole in Leicester

Calum McKenzie

BBC Local Live

There will be an investigation into what has caused a section of pavement in Leicester to collapse and create a sink hole, the city council has said.

It appeared earlier this afternoon (see 15:35) near the foot of the steps up to the Haymarket Theatre.

A Leicester City Council spokesperson said: "As soon as we were made aware of this hole, we fenced it off and will be investigating the cause before we fill and repair it."

Can you help find missing teen?

Have you seen missing Kyronne Grant?

The 17-year-old hasn't been seen since he left his home in the Sherwood area of Nottingham on Thursday.

Copyright: Nottinghamshire Police

Watch: England hammered in Trent Bridge test

Calum McKenzie

BBC Local Live

England have been beaten for the first time in a test match at Trent Bridge in ten years.

Joe Root's side were bowled out for 133 in their second innings, losing by 340 runs to South Africa, who have levelled the four match series at 1-1.

England's last test defeat in NG2 was a seven wicket loss to India in 2007.

Sinkhole appears in Leicester

Calum McKenzie

BBC Local Live

A sink hole has opened up in the pavement in Leicester city centre.

It is near the steps up to the Haymarket Theatre.