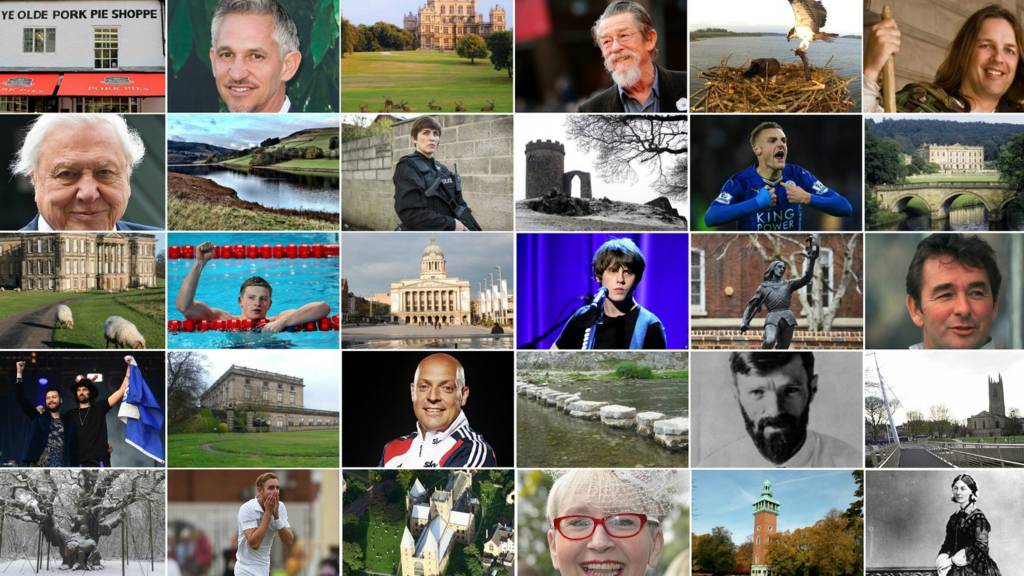 Our live coverage across the day

Our live coverage has now ended and will return on Monday from 08:00.

Watch: 'Stop and search may have saved my son'

Calum McKenzie

BBC Local Live

The mother of a 16-year-old who was stabbed and killed in Leicester has told the BBC she believes if the police had greater powers to search people for knives her son may still be alive.

Tyler Thompson, 16, was stabbed in the chest during a brawl on Freeman Road, Leicester in November 2015.

A Leicestershire Police spokesperson said: "We have a number of activities planned, including proactive targeting of known offenders and intelligence-led operations.

"These are continuous, and aim to find those responsible for carrying knives."

Meanwhile, Tyler's mother, Amy Morgan, said she also wants to see tougher punishments for those caught carrying knives and has set up a petition to try to change the law.

George Formby's banjolele hits the right note at auction

Samantha Fisher

BBC News Online

The banjo ukulele formerly owned by popular 1930s and 40s entertainer George Formby has sold at auction for £28,500.

Hansons Auctioneers, in Etwall, Derbyshire, sold the Gibson UB3 banjolele to a man who lives in the UK.

The instrument attracted worldwide interest, with bids from as far afield as America and Dubai.

Auctioneer Charles Hanson said the room broke out in applause when it sold.

"The room was abuzz with theatre, drama and excitement and I am pleased to say it has sold.

"It was a great honour to handle it. It came from the estate of George Formby's contents back in the mid-20th Century. It was quite a moment."

Call handler saves man's life

Maryam Qaiser

BBC Local Live

Today the emergency number 999 is celebrating its 80th birthday and grandfather Keith Arnold is thanking the call handler who saved his life.

The 84-year-old choked on his Sunday roast dinner at The Piano restaurant in Southwell but a quick-thinking waitress dialled 999.

Kerry Jackson, 57, Keith's nephew from Edwinstowe followed the instructions given by the emergency call handler to dislodge the blockage.

Man found dead in burnt out car

Calum McKenzie

BBC Local Live

A 72-year-old man was found dead in the car fire in Derby early this morning, Derbyshire Police has said.

Emergency services were called out to the fire in a car park just off Sinfin Lane in the city at about 05:50 this morning.

Police added that they believe there are no suspicious circumstances surrounding the death.

A cordon remains in place whilst investigations continue.

Man found dead on Oakham drive

Calum McKenzie

BBC Local Live

The death of man who was found on a driveway in Oakham is not being treated as suspicious, Leicestershire Police have said.

The force was called to Lonsdale Way in the town at about 05:30 this morning after a member of the public reported finding an elderly man on the driveway.

The identity of the man has not yet been confirmed.

Your comments: Four ambulances vandalised

People have been getting in touch on Facebook to share their views after four ambulances were smashed and had equipment stolen.

East Midlands Ambulance Service estimates the damage will cost them and the taxpayer £85,000.

Pat Allingham Morgan said: "Someone knows who did this, come on, this is not a normal theft and destruction of property, so man up and give names to the police."

Sue Powell said: "No words for this. Hunting for drugs I wonder? Or things to sell for drugs? It's not just the cost, the service is pushed to the limits and now it is 4 ambulances short."

Marie Crouch added: "Let hope that one of their relatives don't get seriously poorly and need an ambulance.What the hell is wrong with people."

Weather: High pollen count for the weekend ahead

Alexandra Hamilton

BBC weather presenter

This weekend will see a high pollen count with plenty of clouds.

There will be light showers with temperatures reaching 11C (64F) this evening.

It will be fairly cloudy on Saturday with some bright spells but rain showers in the evening.

Temperatures will reach 21C (70F) on Saturday.

Football: Foxes youngsters set to continue in Checkatrade Trophy

Leicester City's Under-21 side have accepted an invitation to compete again in the Checkatrade Trophy.

The competition features 16 Under-21 teams from clubs with Category A academies, in addition to the 48 League One and League Two clubs.

This means the Foxes' youngsters could face the likes of Notts County and Mansfield Town.

The tournament attracted critcism last season due to its low crowds, restrictive rules for the League One and Two teams, and the absence of most of England's major clubs.

Eyewitness recalls Derby car fire

An eyewitness has described how he saw the full extent of the car fire in Redwood Park in Derby earlier this morning.

Emergency services were called to the incident at the car park just off Sinfin Lane in the city at around 05:50 this morning.

"From us coming off the field, coming up the hill and going across, the car was up in flames," Clive Roe told BBC Radio Derby.

"You could see the slight colour of the car, but the interior was completely engulfed."

Tennis: East Midlands hopefuls learn of Wimbledon doubles draw

Calum McKenzie

BBC Local Live

Having narrowly missed out on qualifying for a place in the singles, Derby's Jay Clarke has learnt who he will face in the doubles.

Clarke, playing alongside former Loughborough University graduate Marcus Willis, will face the unseeded pair of Jared Donaldson and Jeevan Nedunchezhiyan in round one.

Elsewhere, Jocelyn Rae, from Nottingham, playing with Laura Robson will face the 11th seeds Raquel Atawo and Jelena Ostapenko.

Leicestershire's Katie Boulter and her partner Katie Swan have also been handed a tough draw. They'll face fourth seeds Timea Babos and Andrea Hlavackova.

Two men in court over Megan Bannister's death

Giles Taylor

BBC East Midlands Today reporter at Leicester Crown Court

Two men have appeared in court over the death of a teenager whose body was found in the back of a car after a crash with a motorbike.

Copyright: Family handout

Jason Burder, 28, of Braunstone Avenue, Leicester, and Adam King, 27, of Waltham Avenue, Leicester, are accused of the gross negligence manslaughter of 16-year-old Megan Bannister.

The pair, who appeared via videolink from HMP Nottingham at Leicester Crown Court, did not enter a plea during the short hearing.

Mr Burder and Mr King's case has been adjourned until 8 September and the pair are due to face a trial in November.

War of the Roses exhibition set to open

A new exhibition is set to open at the Richard III visitor in Leicester this weekend.

'Murder, Mystery and Mayhem' looks at the stories of the families who fought in the War of the Roses - a conflict that inspired the hit TV series Game of Thrones.

"We've been open nearly three years now and in that time we've welcomed over 200,000 visitors," Iain Gordon from the centre said.

"One of the recurring themes from those guests is to be told more about the War of the Roses."

Severe accident: M1 Leicestershire northbound

BBC News Travel

M1 Leicestershire northbound severe accident, between J24 for A6 and J25 for A52 Brian Clough Way Nottingham affecting J22 for A50.

M1 Leicestershire - Delays and very slow traffic on M1 northbound between J24, A6 (Kegworth) and J25, A52 (Nottingham), because of an accident earlier on. All lanes have been re-opened. Travel time is 35 minutes. Congestion to J22, A50 (Coalville).

To report traffic and travel incidents dial 0330 123 0184 at any time

Elderly cat 'attacked by teenagers'

Maryam Qaiser

BBC Local Live

A group of teenagers was spotted attacking an elderly cat, kicking it in the head and running it over with a skateboard, the RSPCA said.

The charity was contacted by a member of the public who saw the attack at 16:20 yesterday in Coleman Street, Alvaston.

RSPCA inspector Sarah Gardner said: "The group of teenagers - there were 11 of them, of which two were girls - had surrounded the cat and were throwing bottles and cans at her, clearly tormenting her.

"One of the teenagers then kicked the cat eight times in the head and another rode a skateboard over her."

The 19-year-old cat is now being cared for at a vets.