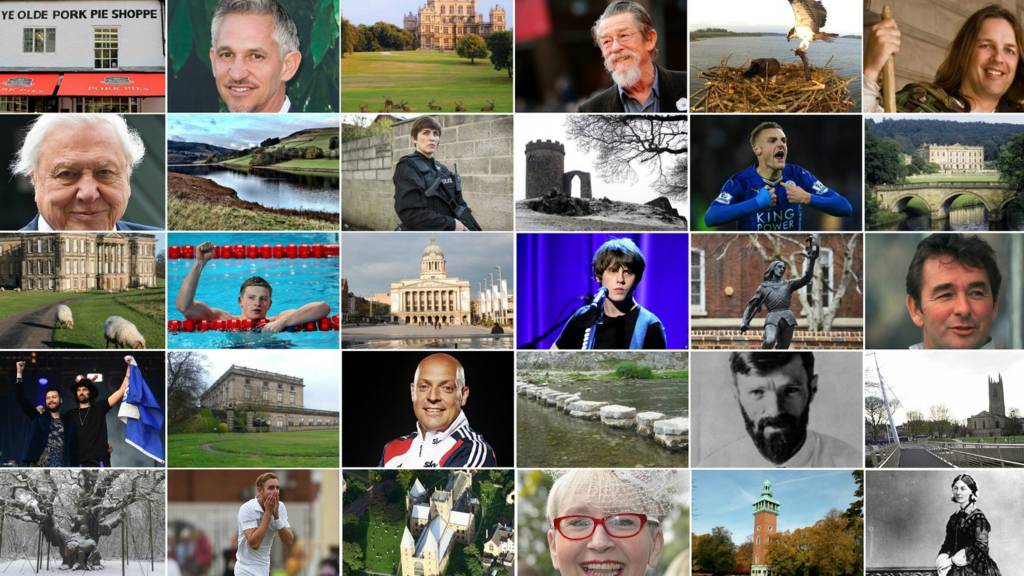 Latest updates: East Midlands Live
By Caroline Lowbridge

BBC News

Severe accident: M1 Leicestershire southbound

BBC News Travel

M1 Leicestershire southbound severe accident, at J22 for A50.

M1 Leicestershire - Slow traffic and one lane closed on M1 southbound at J22, A50 (Coalville), because of an accident.

To report traffic and travel incidents dial 0330 123 0184 at any time

Our live coverage across the day

Regular live coverage on this page has ended for the day, but breaking news, sport and travel updates will continue appear through the night.

East Midlands Live returns from 08:00 tomorrow morning.

Cash stolen during a robbery in Bilborough

Maryam Qaiser

BBC Local Live

A woman, who was threatened, had her bag robbed by a man in Bilborough, Nottinghamshire Police said.

She gave him the cash before he ran down an alleyway on 19 June at about 13:40 on Wigman Road.

The scruffy man is described as white, with light brown hair, a moustache and a beard.

Brave children enroll in Spider School

Maryam Qaiser

BBC Local Live

Children got up and close to a variety of spiders of all shapes and sizes.

Draycott Community Primary School were the first to attend Spider School at the University of Nottingham's SpiderLab.

As part of the project, London Zoo invited year five children taking part to exhibit their own work from Spider School at a special exhibition and to see for themselves a collection of spiders from all over the world.

NHS in the region failing to meet key targets

Maryam Qaiser

BBC Local Live

About a third of NHS organisations across the East Midlands are failing to meet key targets when it comes to referring patients for mental health treatment, figures have revealed.

This includes referring people for counselling if they suffer from anxiety or depression.

The mental health charity Mind says it's vital more is done to ensure those who are unwell get the help they need, when they need it.

Emily Waller, who is from Mind, said: "It is really disappointing to hear a third of the CCGs in the East Midlands are missing their targets.

"But we do now have a commitment from the government that additional money has been made available so we really need to see CCGs sit down and make a clear plan for how they are going to make sure that money makes it to the front line of services."

Watch: Thieves walk off with 'up to £5,000 worth of stock' from garden centre

Calum McKenzie

BBC Local Live

This is the moment thieves targeting a garden centre were caught on camera...

Thieves targeted Derry's Nursery at Cossington, near Leicester, in the early hours of Sunday morning stealing topiary, palms, hanging baskets.

Leicestershire Police has confirmed it is investigating the theft.

"This is the biggest hit we have ever had," the nursery's owner Alan Dayman said.

Weather: Dry night ahead as rain clears

Anna Church

BBC East Midlands Today weather host

Remaining cloudy to end the day with the rain gradually clearing to the north.

Mostly dry overnight and feeling cool.

Minimum temperatures of 11C (52F).

Bercow pays tribute to beaten North East Derbyshire MP

Tony Roe

BBC East Midlands political editor

Commons speaker John Bercow has paid tribute to former deputy speaker Natascha Engel, who lost her seat at this month's general election.

Ms Engel, who had been a deputy speaker since 2015, was ousted by almost 3,000 votes by the Conservatives' Lee Rowley in North East Derbyshire.

Ms Engel was replaced as a deputy speaker by Labour's Dame Rosie Winterton.

Houses damaged by car 'arson'

Two houses have suffered "significant damage" after police say a nearby car was deliberately set on fire in Burton.

Staffordshire Police says the white Vauxhall Corsa was parked on Thornley Street last night when a man got inside it and set it on fire before running away.

They say the fire spread to the houses but add that nobody was hurt in the blaze.

Severe accident: B6011 Nottinghamshire both ways

BBC News Travel

B6011 Nottinghamshire both ways severe accident, between Waterloo Road and Quarry Lane.

B6011 Nottinghamshire - B6011 Main Street in Linby closed in both directions between the Waterloo Road junction and the Quarry Lane junction, because of an accident.

To report traffic and travel incidents dial 0330 123 0184 at any time

Watch: Son's stabbing 'ended my life'

University to run 'hugely important' study into history of women's rugby

Calum McKenzie

BBC Local Live

One of Leicester's universities will be at the forefront of a major study into the role of women in rugby.

Copyright: Harry Trump/Getty Images

De Montfort University's research, working in conjunction with the World Rugby Museum at Twickenham, will also chart the growth of the women's game from its emergence in universities in the 1960s and 70s.

"The story of women and rugby has been hidden from history," Professor Tony Collins said.

"Women have played a huge part in the sport, whether it is playing the game, organising it or supporting it. But nobody has carried out this research before.

"We will start with a blank page. This research is hugely important to the study of the development of the sport."

Interestingly as well, Leicester Polytechnic's team was one of the founder members of the Women's Rugby Football Union in 1983.